There are many different scenarios that bring clients to our showrooms. One in particular is finding the right window covering product that can offer light control without compromising your beautiful landscape views. The search is over–at One Stop Decorating anything is possible. The list of 5 best window shades will open your eyes to what could be.
#1 The Silhouette
The look of the Silhouette is eye-catching, there's something about the floating vanes and view-through opacity that sets this collection apart. The Silhouette tops the 5 best window shades list because it's more than a pretty face. When you choose to enhance with ClearView®, a crystal clear view is yours. And that's not all, with our newest feature, Halo™, clients can adjust the vanes and customize their experience. Beautiful.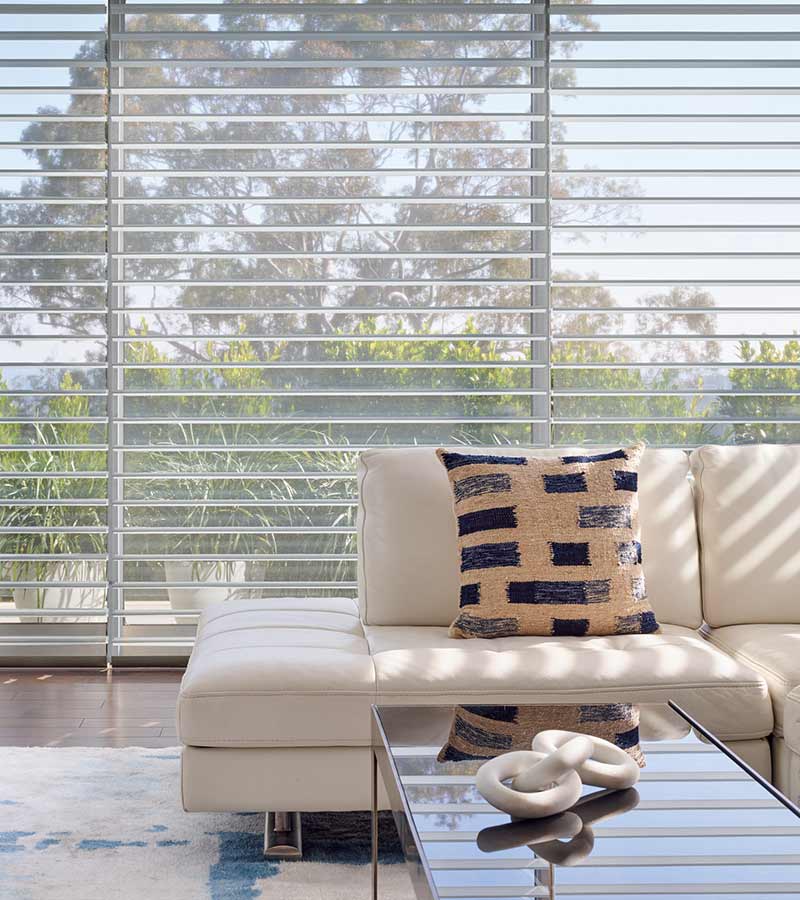 #2 The Pirouette
"Wow" is a common reaction from clients when we introduce the Pirouette. The dual shade design can expand the spectrum of light control and give incredible function. With Pirouette shades, enjoy the look of romans when set in the closed position. As they roll up to open, the shades disappear into the headrail and out of your line of vision. In addition, if it's filtered light you'd like, when the shades are in the lowered position, adjust the vanes to open, and the fabric will fold in place. With your landscape views revealed, enjoy a comfortable softened glow. Just WOW!
#3 Luminette Privacy Sheers
Yes, sheer drapery made the list of best window shades! The Luminette is a popular choice with clients. It's the sheer drapery folds that clients love. They act just like window shades with an elegant and softer look. Once they are in position, leave the light control to them. Luminette privacy sheers can block out the light, or, if you want complete privacy, they can close everything off too. Just one more option to make your home look beautiful while functioning as it should.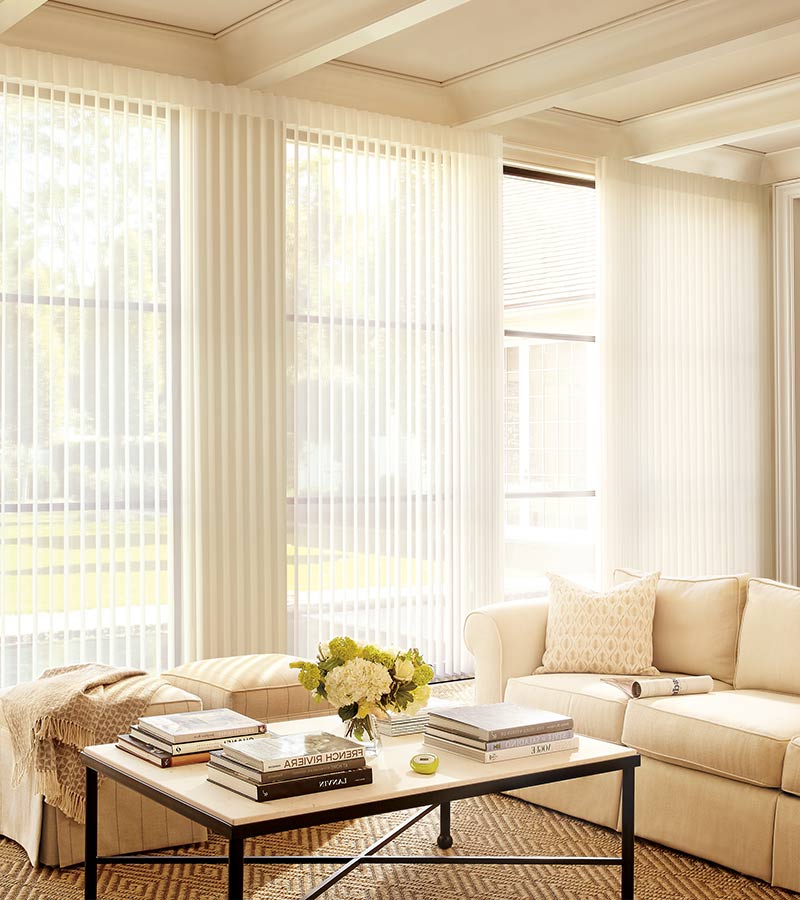 #4 Screen Shades
The simple design of screen shades shouldn't be overlooked, it's one of our best window shades to date. Screen shades offer a sleek, modern look–indoor or outdoor. They enhance landscape views while generating comfortable light. Explore a variety of colors and modern hardware that complete the look of your custom home. Screen Shades are a design savvy choice for those gorgeous large windows in your home. Enjoy the view, elevated style and added control with the dual shade option.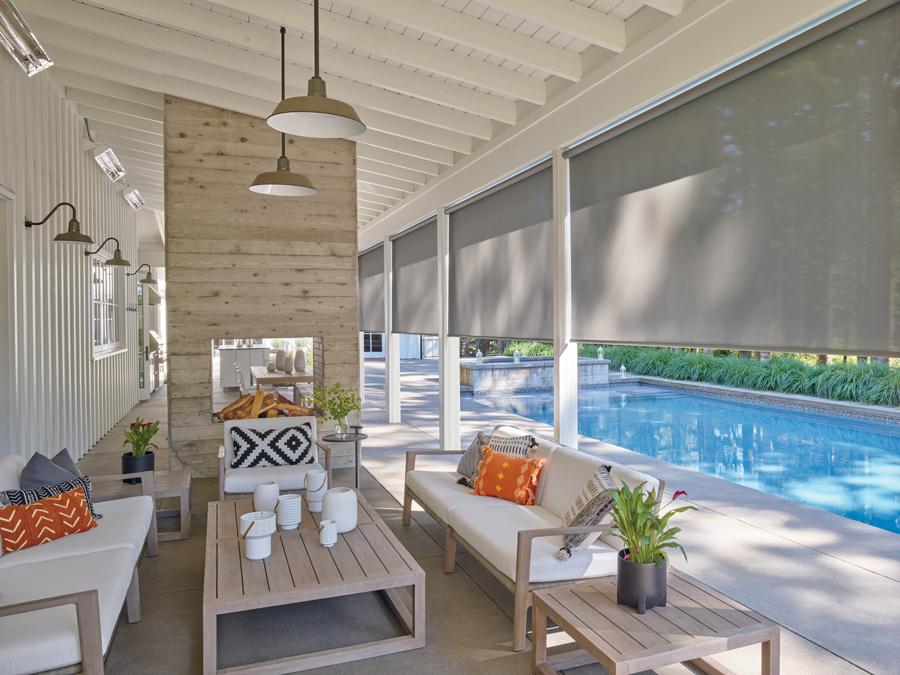 #5 Designer Banded
Designer Banded  shades are the statement piece you need to set your home apart from the rest. Adding a wide range of light control and a custom design look in one, these shades are remarkable. With endless style options, choose a pattern that works with the current interior of your home or create a fresh, new feature wall in your home. Enjoy a complete spectrum of options including; softened light, view-through capability and room darkening. Decide between vertical stripes for a clean look, or choose a unique shape to up the style factor of your home.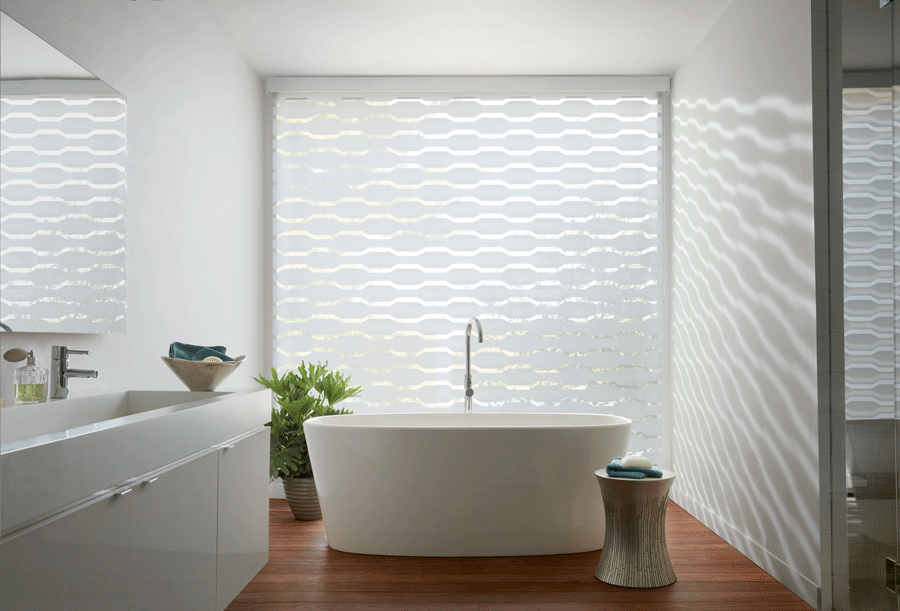 The 5 Best Window Shades to Reveal
Everyone appreciates style + function in one, and our list of 5 best window shades is full of options for every client looking to refresh their home and create a beautiful backdrop. Enhance the look of your home, enjoy your view, control the light and gain privacy where you need. Visit one of our showrooms today to see these options in person, or schedule a FREE in-home consultation. Our team is waiting to hear from you!