Did you know that The Pantone Color Institute made its announcement for the Color of the Year 2018? Every year, the color that Pantone chooses seems to become less about what's in style and more about where life in our world is headed. If you could peer into the crystal ball of our
culture right now, you'd see a longing for the future. We're constantly pinning our hopes on the days to come and anticipating how ingenuity and individuality will move us forward. So, what color symbolizes that? Pantone thinks it's Ultra Violet. An inspiring and dramatic shade of purple, the Color of the Year 2018 is here to push us into an incredible future. How can you capture the essence of this style trend and create a better life in the new year? We've got some ideas…
Foster Enjoyment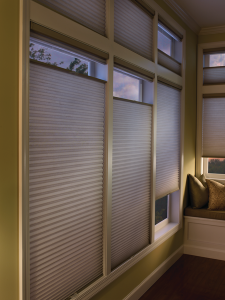 Do you ever feel stuck in negativity? Unfortunately, our digital world often has a way of bringing a constant flow of it into our lives. But, the Color of the Year 2018 is here to change all that. Ultra Violet, along with the whole purple color family, calls us to embrace the good. It infuses positivity into our environment. So, bring it into your everyday and be intentional about enjoying more in life. Watch a glowing sunset. Snuggle into a beautiful purple blanket. Savor the flavors, and spa experience, of lavender-infused water.
How can you enjoy your home more? Custom top down bottom up shades, like these, are the perfect way to bring in mood-boosting natural light without intense sunshine and glare.
Reduce Stress
If there's one thing we need in our fast-paced, schedule-packed world it's relaxation. And, the Color of the Year 2018 reminds us of that. Purple embodies mindfulness, calm, and peace. How can you bring a relaxing vibe into your busy life? Start small. Try using lavender oil. Decorate with a vase of fresh, purple flowers. Or, pick out a gorgeous violet accent piece. A little can go a long way toward helping you revive your home design and reducing your stress.
Another way to slash the stress in your life…automation. PowerView motorization makes sure that your window coverings are always in the perfect position, so you don't have to.
Be You
Purple is full of complexity and depth…much like we are. That makes it an incredible color for inspiring us to express our individuality. Whether it's in your wardrobe choices, artistic experimentations, or home design, the Color of the Year 2018 speaks to the importance of being wholly you. Incorporating your favorite shade of purple into your decor can help you imagine, connect, create, and remember to be true to yourself. So, where should it go? Anywhere, really! From art and upholstery to fabrics and wallpaper, you can color your world with soft lilac tones or Pantone's provocative Ultra Violet for a look that's unique to you!
Custom shades and blinds are the ultimate way to surround yourself with exactly what you love. They create a backdrop of gorgeous style with your personal choice of fabrics and designs.
Color of the Year 2018: Recolor Your Life & Lifestyle!
Are you feeling energized by the lessons expressed in Pantone's choice for the Color of the Year 2018? Do you want to enjoy more, stress less, and express who you truly are? Then it's time to let your friends at One Stop Decorating help you fashion a gorgeous home and an incredible lifestyle in the new year. We will even come to you for a free design appointment. We'll show you beautiful fabrics, convenient function, and amazing features that will change everything. Contact our team today!