Would you love to set an awe-inspiring scene with your dining room design this holiday season? It's time to get inspired! We've scoured Houzz for dining rooms that boast a range of styles from classic to modern–and everything in between! From beautiful backdrops to style statement accents, we've got our 10 favorites just for you!
#1 Classic Style, Modern Twist
Everything old is new again. We love the way interior design cycles through time-honored design elements. The gold accents in this space are both throwback and modern–gold is topping the trend setting charts. But, with wallpaper making its way around this room with geometric designs, set up against a black ceiling, all we can say is, "Wow!"
#2 Fresh Flowers, Instant Pop
The backdrop of this neutral dining room design is perfectly set to welcome any color. We love the happiness of yellow–even during the holidays when everyone else is focusing more on jewel tones. What goes above and beyond is the multiple bouquets. We love this combination of elegance meets happiness.
#3 High Contrast for the Win
Contrast has been a buzzword in the style world for a while now, and this dining room does it oh so well! The contemporary sparkle of this gorgeous chandelier is met with the rustic farmhouse appeal of the wooden table top and textured greenery. And, the blue wall accomplishes so much in this dining room design. The photography stands out, and it contrasts in a striking manner with the white trim of the space.
#4 Textured Fabric Shades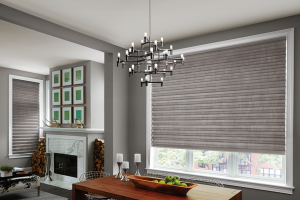 Have you seen Solera Roman Shades from Hunter Douglas? They are one of the favorites when it comes to stellar design and incredible function. Beautifully structured fabrics, showcasing textures of their own, add stunning dimension at the window. Perfect for your dining room design, they are simple to operate, letting you adjust the lighting perfectly for your guests.
#5 Lighting Goes Industrial
Would you like to know one of the most popular choices in lighting this year? Here it is. This particular light fixture is zinc, but the combination of lights encased in glass with a minimal metal frame is all the rage. Steel, brass, wrought iron…you can choose the one that goes best in your dining room design.
#6 A Personal Statement
This dining room design hints more at a traditional style, with the furnishings and accents. The space feels chic and luxurious with ample bouquets and beautiful finishes. The geometric wallpaper and upholstery offer a contemporary–and very personal–statement. Surround your space with accents you love, photos of family and friends and classic design pieces for an atmosphere that is ever-so yours. Another contemporary statement? That blue wall. Quiet character, rich design. It takes the style of this space up a notch.
#7 Simple, Yet Stunning
The natural elements of this dining room design show minimalist style–just the essentials. And it's totally chic. Each piece whispers sheer style, and it doesn't need anything else. We love how the various heights of the greenery come together to create the perfect centerpiece and pop of color.
#8 Black & White–Always in Style
One of the things we love most about black and white is that you just can't go wrong. The color combination allows you to mix and match patterns, textures and design elements. It all goes together. The timeless look of these colors also allows you to introduce color to the space, as well as metals, like the gold accents. Not sure what to do with your dining room design? Black and white is always in style!
#9 Beautifully Bold
This space is the exact opposite of minimalist neutrals. Eclectic design offers defining style in a whimsical–and highly personal–way. We can tell that each piece in this space is intentional and well-planned. It feels like home, but also like a designer space at the same time. We can't get over the striking look of the blue ceiling, the coordinating area rug or the modern chandelier. It's really a feast for the eyes.
#10 Tailored Elegance
Back to neutrals, this dining room design does it so well. We love the tailored look of this space. While seemingly traditional, the style of this space incorporates contemporary appeal with unique chairs and the color purple. Custom draperies can offer softness for the space with flowing fabrics, as well as the function of adjusting light control if needed for comfort.
Your Favorite Dining Room Design?
Did you find a dining room design that you love? Are you feeling inspired? We'd love to help you create a beautiful space in your home. From wallpaper to window coverings and everything in between, we are your "one stop" for all things design in the Kansas City area! Contact our team to get started!