Having large windows is a major bonus in a home. You get gorgeous views, warm sunlight, and a space that feels light and open. On the flip side, covering large windows can be a challenge when you want to get all of the benefits the hold. Check out our questions as you ponder on which window treatments will be right for you.
What lighting are you looking for?
The lighting that you get from large windows are a major perk until it isn't anymore. When your windows face certain directions and when they're in specific rooms in your home you need specific solutions. Bedrooms benefit from having light control and room darkening features when large widows are present. If your windows face west you need treatments with more light-blocking properties than if they face east. If rooms are not exposed to as much light then those large windows might bring in glare that you'll want to eliminate.
What about the view?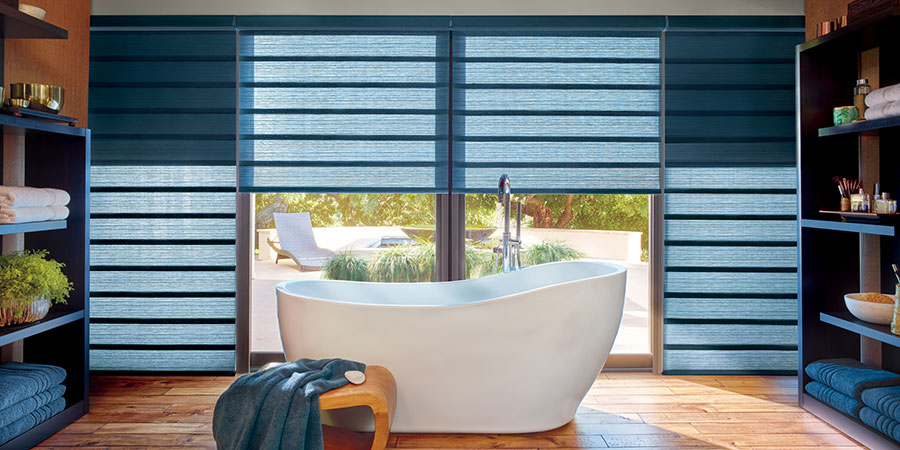 We all have different views from our windows. Some of them are incredible, and some not so much. You might have a window that looks out over a well-manicured backyard and you'll definitely want to capitalize on that view. On the other hand you might have a window that overlooks a side street that you wouldn't miss seeing at all. However, having the light that these windows bring in is important. Whatever situation you're working with, you'll want to find what fits the goal of your home so you can design the perfect home haven.
How can I get privacy?
Landscape views are a major advantage to large windows. However, protecting your privacy and your home can be a concern that window treatments can help with. Rooms at the front of your home, bedrooms, and bathrooms need an atmosphere of comfort. Making sure you get light during the day while maintaining privacy can be achieved by covering large windows with the right treatments. Another thing to think about is how easily others can see into rooms at night when the lights are on. Although you may have a beautiful home, the last thing you want is others looking in when you want privacy.
What if I need to adjust my window coverings a lot?
Large windows that need to be adjusted frequently can come with questions. You have options with manual and automated features. For the most part, if you're leaving your window treatments in the same place for periods of time, adjustments might be few and far between. If this sounds like what you'll end up doing a manual option might be better.
On the other hand, you might love how you can let the soft twilight glow in while keeping the harsh rays out no matter when and where you are. In this case, smart control features are the best fit for you. Whether you're at home or not, you can move your shades to make sure your home is always the way you like it.
Do I need energy efficiency?
When the summer sun comes strolling in, the heat can start to bake your home in an uncomfortable way. And when you are contemplating covering large windows this is definitely a feature to think about. Temperature has a huge affect on your home, not to mention your energy bill. Some spaces in your home might get the brunt of this rise and fall in temperature. If that's the case for you then you'll want to select options from this list of energy saving shades.
Ready to start covering large windows in your home?
If you've read through our questions and you've already starting thinking about what you want let's talk. Every person has different wants, needs, and spaces to work with. Plus, everyone prioritizes things like energy efficiency, privacy, and light control in a specific way. Working room-by-room lets you determine what the best solutions are for your desired outcome no matter what you're going for. Working with a professional team like One Stop Decorating can help you get to that outcome faster. Set up your FREE consultation and let's get started.