The design world is constantly changing. There are new styles to look out for, new colors to obsess over, and new trends to incorporate into your home decor. One huge trend right now is minimalism. Have you heard of style icon Iris Apfel? She believes in quite the opposite. Instead, she's a maximalist–inside and outside her home. Incorporating her personality throughout her decor, Apfel has redefined decorating. Take a look at how you can change your space to a place full of adventure. 
Get to Know Style Icon Iris Apfel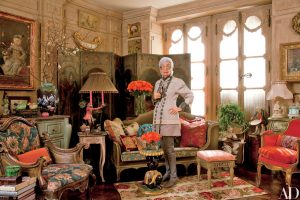 Source: Architectural Digest
At 84, style icon Iris Apfel gained her fame as a designer in 2005 when the Metropolitan Museum of Art dedicated an exhibition to her style and her life through clothing and accessories. Apfel put together the collections herself for the exhibition, "Rara Avis," which means "Rare Bird." Now, with 95 years behind her, she's still on the move! Apfel has recently partnered with Hunter Douglas to continue showing off her timeless design and style. Apfel's design taste goes beyond popular trends or the "in" styles…instead, it's all about creating your atmosphere; a place that represents who you are and what you love. Take a look at how you can create an Apfel-inspired atmosphere.
Self Expression
How often do you find yourself looking up pictures of the latest design trends, or adding new style ideas to your Pinterest board? It's fun to be in the know of the hottest colors, fabrics, and designs, but, what do you love? Let style icon Iris Apfel give you some advice. Apfel's Manhattan apartment features trinkets, decor, paintings, furniture, and so much more from her lifetime. The adventures of her life shine through her eclectic decorations, and she does quite the opposite of the popular "minimalist" design approach. Her home is full of history, memories, and most importantly, her life story. That's a place worth calling home.
Don't Rush Your Design
If you think you might be interested in trying out maximalism, like style icon Iris Apfel's apartment, it's important to not rush your design. At first glance, it may look like Apfel has a lot of "stuff" in her home…but, the reality is, she has spent her 95 years of life collecting unique pieces, which has perfected her home design. You may feel the need to start shopping for an abundance of new decor and furniture, but your design can be a work in progress. That's what makes it fun–adding to your design as you adventure through life. Your home will be a representation of your own adventures.
Be Daring
Iris Apfel spent much of her time traveling the world, discovering what it means to live life to the fullest, and exploring different cultures. She's adventurous, exciting, and daring. If you admire style icon Iris Apfel, incorporate her attitude into your decor. It's not about changing your space to fit the newest designs, but creating a space that speaks to your soul and personality. So, go for it. Paint your living room that bright shade of red you've been admiring. Buy that vintage painting from your local thrift shop, even though it isn't in pristine condition. Decorate with lively patterns and bold choices. You will love coming home to a space that represents who you are.
It's Your Home, It's Your Design
Classy. Fearless. Different. Style icon Iris Apfel is the perfect role model for those who want to show off their personalities throughout their home. Apfel lives her life to the fullest, making every day count. We love Apfel's lifestyle, and we want our clients to create a home that they love just as much. Are you ready to take your home design to the next level? Create an atmosphere that shows off your adventures…let us help. Contact our team at One Stop Decorating for design advice. We'll get you started on creating the home of your dreams.