Are you searching for the perfect window shades to finish the look of your home and add amazing benefits to your lifestyle? Custom Roman Shades will deliver. Pairing beautiful fabrics with modern innovation, they'll instantly upgrade the atmosphere and function of your home. Designing a look you love can seem like a daunting task. But we're here to tell you that it really isn't. With a little help from our experts at One Stop Decorating, it's easy to get the gorgeous styling you want and all the benefits you deserve. Check out the four simple steps we'll use to guide you through designing your very own custom roman shades.
1. Select a Fabric
The fabric of your custom roman shades becomes the backdrop of your home. And the most exciting part is that you get to choose it!
Do you love the fullness of rich textures or the softness of sheer linens? Are you looking for the perfect neutral or a brilliantly bold hue? We'll help you match your style preferences to a fabric that'll coordinate impeccably with your decor.
2. Choose a Style
Imagine opening a roman shade. You probably picture folds gathering in stacks as the shade adjusts open. That's the classic style of romans.
With today's innovations in window shadings, though, you now have the choice to create custom roman shades that roll. We'll help you determine the best option for your home based on the features you want and the fit you need.
3. Personalize the Features
This step is life-changing. Seriously. The features you select as you design your custom roman shades have an incredible impact on the atmosphere of your home and your life inside. Top down bottom up stacking shades offer you beautiful daylighting while maintaining your privacy.
And rolling romans with dual shade function enable you to enjoy both light-filtering and room-darkening on the same window. We'll help you personalize your shades with the ideal features to enhance your unique home and life.
4. Decide on the Operating System
With custom shades, the way you operate your window coverings is totally up to you! You decide what system will fit your lifestyle and the way you use your shades. Custom roman shades are available with both cordless and cord-safe manual operating systems. (These Solera Soft Shades are just another option when looking for stylish stacking romans!)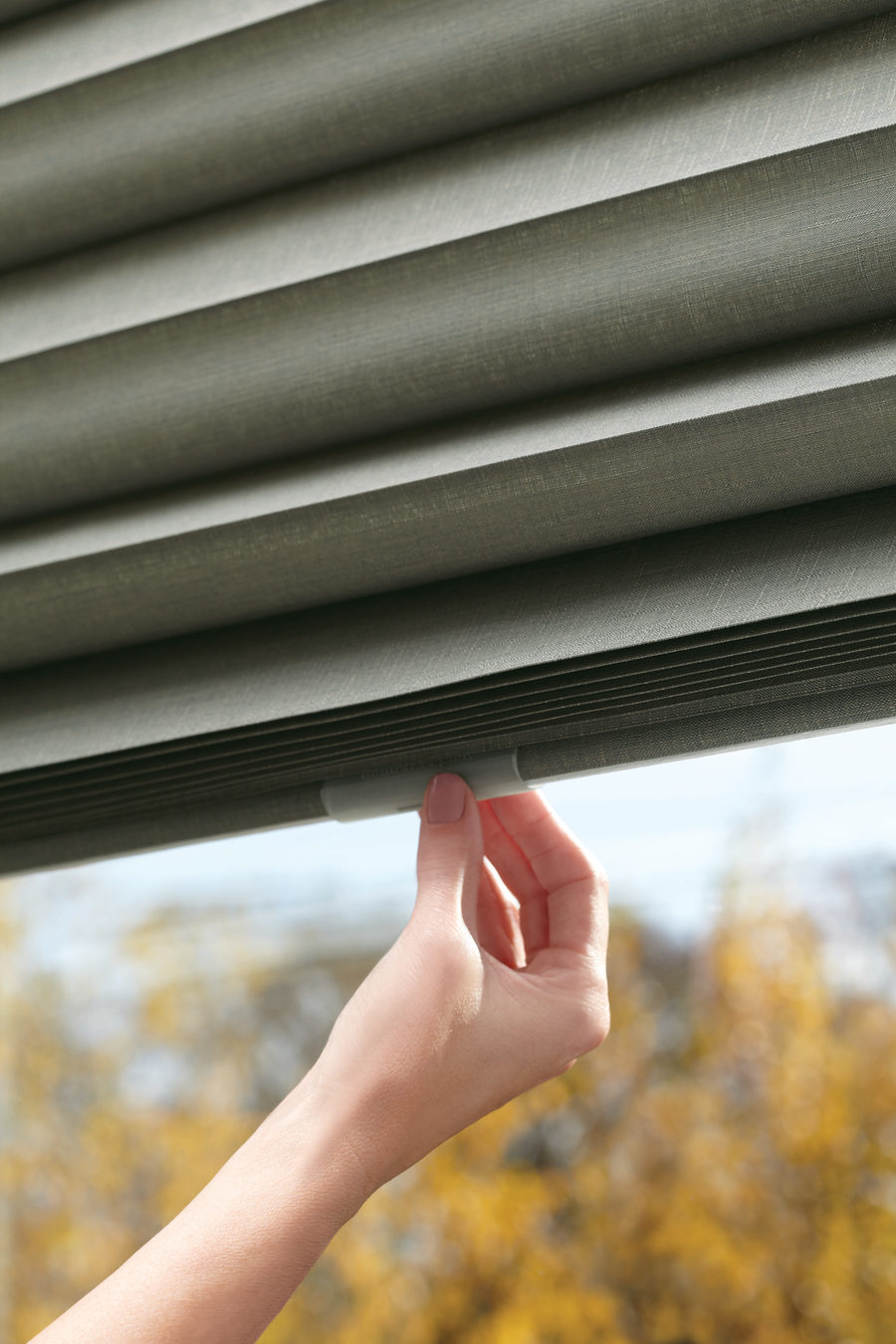 Adding motorization means touch-of-a-button- and scheduled, automatic-adjustments. And, integrating your shades into your smart home system brings a whole new level of lifestyle control. We'll help you find the system that'll meet your needs and flow with your life.
Custom Roman Shades: 4 Steps to Countless Benefits
Fashioning a space you love with the beauty and function of custom roman shades is that easy! 1, 2, 3, 4…and done! Are you ready to get started? The design experts at One Stop Decorating are here to help! Come visit one of our showrooms in the Kansas City area, or invite us to your home! We'll guide you through this exciting journey and bring samples and inspiration right to you. Get in touch with us today for your FREE, in-home consultation!