Ready to hear something exciting? Hunter Douglas is now offering their Palm Beach Shutters with power! These motorized shutters are the ultimate in classic styling and modern innovation. Use your voice, remote, or smart device for instant control, and savor the benefits of integrating them into your smart home system. You can bet that your life will be easier! Ready to see them in action? Visit the Hunter Douglas site to check out their latest video. Want to know more about our Palm Beach plantation shutters? Visit our Houzz project page for more photos. And, read on to find out all about their incredible features that will help you customize style, light control, view, and privacy in your Kansas City area home.
A Custom Look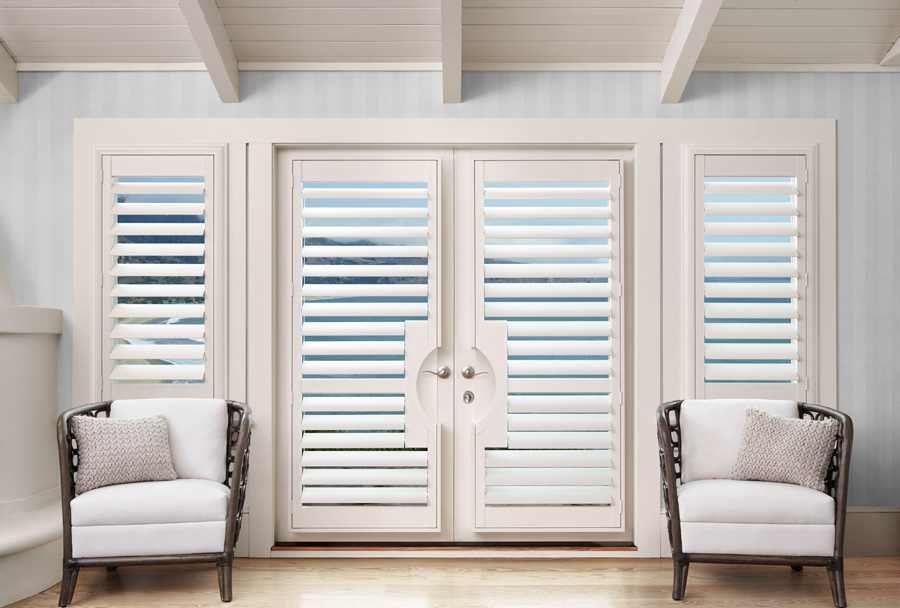 There's no doubt that plantation shutters will add gorgeous style to your home. And, with door handle cutouts and split tilt design, they'll also fashion a truly custom look. Add motorization into the mix, and you'll be able to customize your environment in an instant. Motorized shutters make going from daylighting to blackout a snap, and you can easily close just the bottom half of your split tilt shutters for privacy…without ever leaving your comfy spot on the couch!
A Phenomenal View
Designers love plantation shutters for a lot of reasons, and one of them is the magnificent landscape views they make possible. If you're looking for a dynamic backdrop for your home, shutters are the way to go! And, with motorized shutters, enhancing your view happens at the touch of a button, or automatically on a schedule you set. Plus, when you want more closed-off privacy, your smart shutters will respond to meet the needs of your life.
A Lifestyle Upgrade
Have you "gone smart" with a home integration system? If so, you know the outstanding convenience it brings to your life. A few simple words add appointments to your schedule, items to your grocery list, and an extra minute to the oven timer. Now, they can adjust your motorized shutters to the ideal position as well! Voice-control features help you customize your home's atmosphere. Simply save your favorite settings–based on the time of day or circumstance–and when you speak, they'll move!
A Durable Finish
Do you have places in your home that contend with humidity? What about ones plagued by intense sunshine? Our Palm Beach Shutters can help. Engineered to perform in virtually any environment, these shutters will look beautiful and function flawlessly even when faced with extreme heat and moisture on a daily basis.
A Perfect Fit
Windows aren't always a standard size, and they're not always in the most ideal locations. The beauty of plantation shutters is that they frame nicely for a perfectly custom fit. And, with motorized shutters, obstacles in your home are never an issue. You can adjust them with a command, a simple tap on your favorite device, or an automated schedule that fits your life. If you happen to be standing right next to them, you can also move the louvers by hand without fear of damaging the motor.
Motorized Shutters: Experience Modern Tech & Classic Styling
Plantation shutters have been a long-time favorite in the Kansas City area. Their classic elegance and amazing benefits make them both beautiful and functional in your home. And now, we're thrilled to be able to offer you the innovation of motorized shutters with our Palm Beach line. Have questions? Want a free, shop-at-home appointment? The One Stop Decorating team is always here to help. Contact us today!