No matter how lovable they are, chances are your pets may be dragging in a mess every once in awhile. Yes, we're talking about those furry friends of yours! We love a good four legged friend, and have amazing pet friendly window coverings to match their spunk, mess, and love. We've compiled some of the most frequently asked questions we receive when discussing window treatments and pets in the same space, and we have the answers for you!
Will They Stay Clean?
Between shedding fur, slobbery kisses, and muddy paws, this question is often the first we receive from pet owners. It makes sense! Window treatments are an investment, so we understand the importance of them lasting a long time and looking good in your home.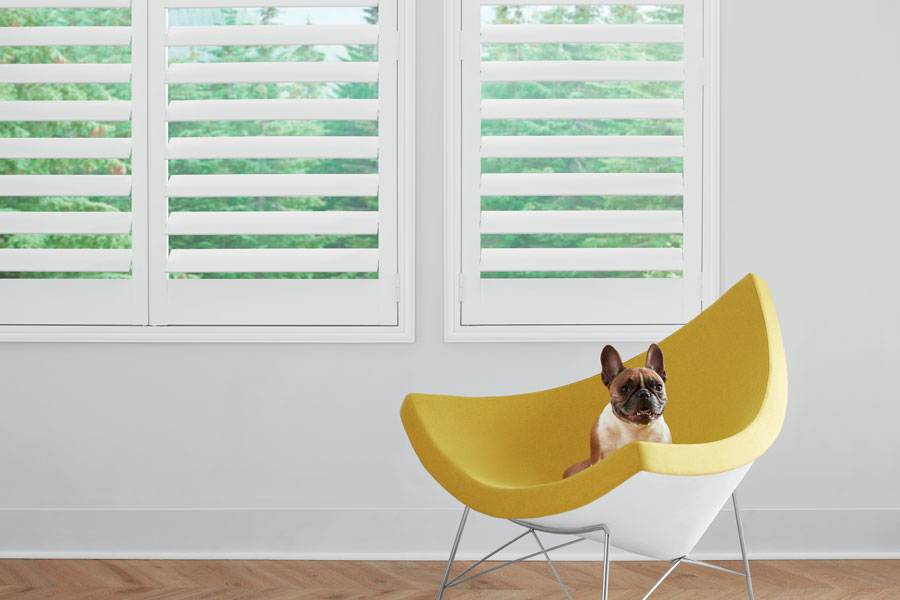 Shutters are a great, durable way to implement coverings throughout your home that will last the test of time. They are easy to wipe down and will look good as new as soon as you take a cloth to them. This means, even in high traffic and pet heavy areas, they can retain that fresh appeal.
Safety from Jumping Pets?
Many pets like to gaze out the window during the day–even jump up when they see their owner coming back up the front walk. It's important to pinpoint which rooms they jump up or lean on the windowsill often, this will help you know where exactly you need "jump" friendly shades.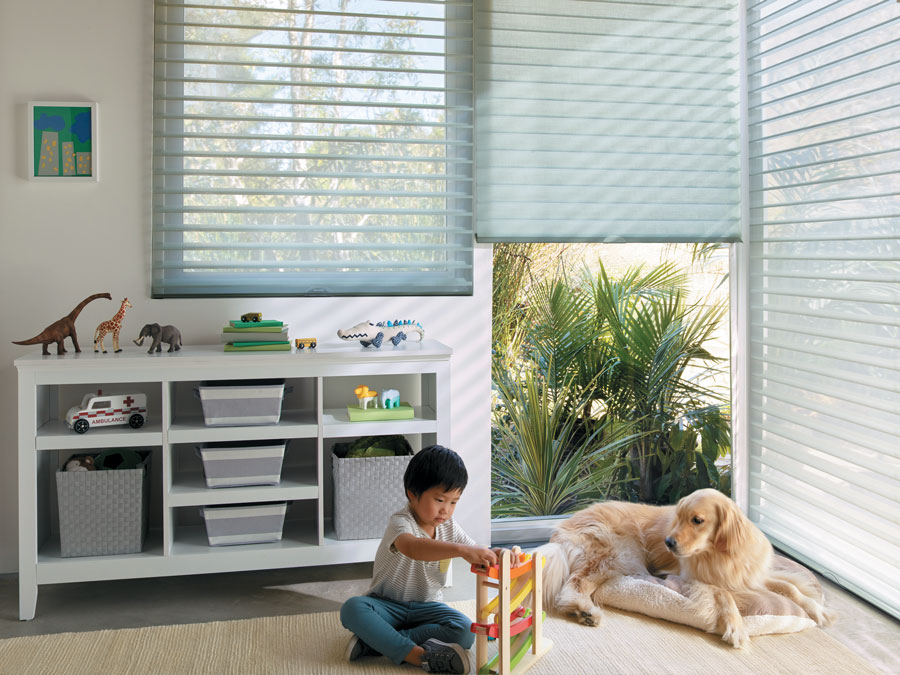 In this case, some of our favorite pet friendly window coverings are cordless options. This eliminates the temptation of the dangling cord to play with ensuring safety for both kids and pets alike!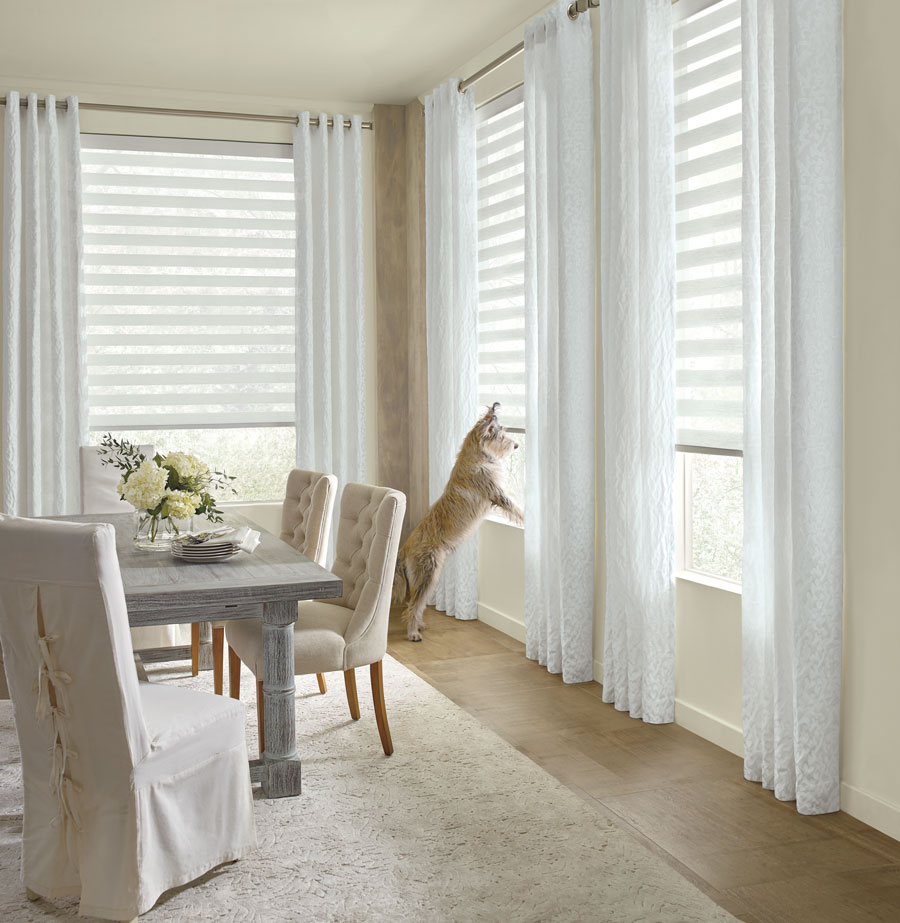 Another great option for those windows where your pets frequent often, are shades that can be adjusted to different heights on the window. When the pet isn't in the room and you need more light control or privacy, you can drop the shades all the way down, or you can raise the shades to the halfway point to be out of reach of pets, yet still functional for you and your family.
Our Pet Always Loves to Nap in the Sun, But It's Hot!
There's something about the sunniest spot in the house. They seem to be the coziest for animals. Now you can have a balance of their happy spot, with the ability to control the temperature and lighting throughout the rest of the house. It's the best of both worlds and everyone will be happy with this choice!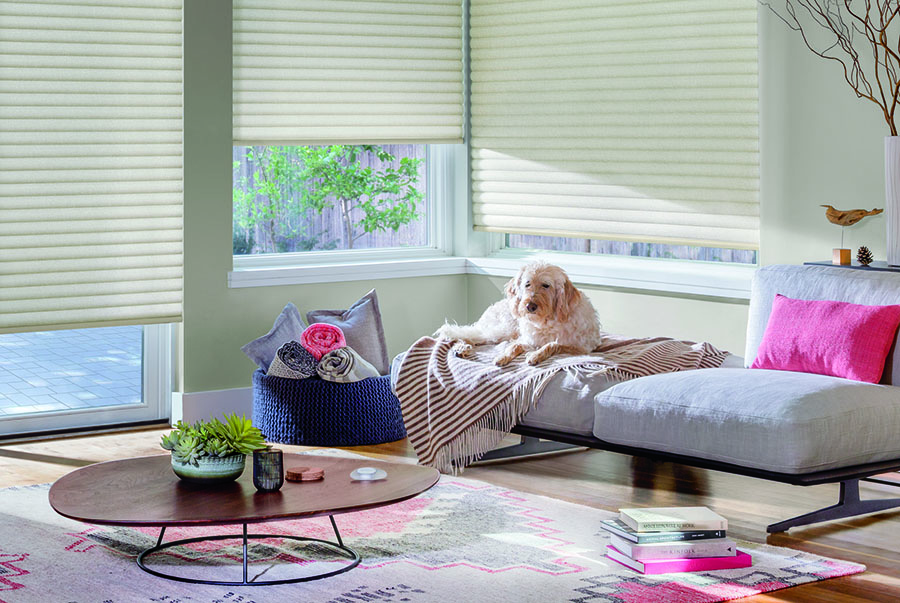 Energy efficient shades help to block out those strong summer rays and keep your home insulated and cool. You can simply keep your pet's favorite spot open while closing the rest of the shades around the room/home to save that electricity and keep your home the perfect temperature.
What About Pets with Anxious Tendencies?
Oftentimes, pets love to lounge around and gaze outdoors. But, sometimes for their own good, it's important to cut that view off so they don't get worked up or anxious.
Automation can be a game changer here! You can set all of your shades to you and your pet's schedule. So if you know your pet gets anxious when you leave for work, you can have all the shades close when you're on your way out the door. Then right as you're pulling back into the neighborhood, you can program them to open so your pet has the excitement of seeing you come home.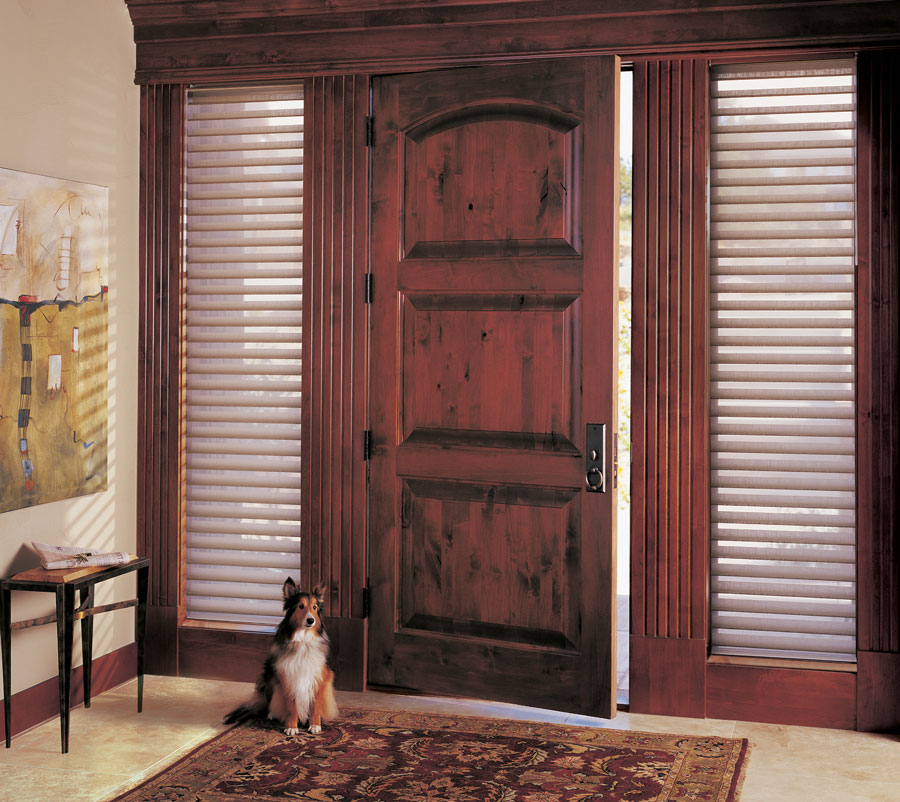 Automated shades make it simple for your pet to have their ideal setting during the day to stay calm and happy and you get the benefits of convenience, light control, additional privacy, and more!
Pet Friendly Window Coverings Are Truly for the WHOLE Family
Our team of experts here at One Stop Decorating is here to help you on the journey to figuring out exactly which pet friendly window coverings will serve you–and your four legged family members. Contact us today for your FREE consultation.