The eye is naturally drawn to a bit of contrast when it comes to design. It's why, for years now, we see dark and light colors or woods and metals being mixed together in one space. Another design idea we love with two parts? Two in One Shades. Not only do they offer a new look for your home, but their functionality is unparalleled. Let's jump in to all things two in one shades have to offer!
Range of Lighting Control
Sheer coverings have always been a favorite window treatment for people all over. They act as a filter for the natural light pouring into a space and add a bit of privacy to a home as well. Now imagine those paired with something that adds even more lighting control… It's the best of both worlds when it comes to window treatments.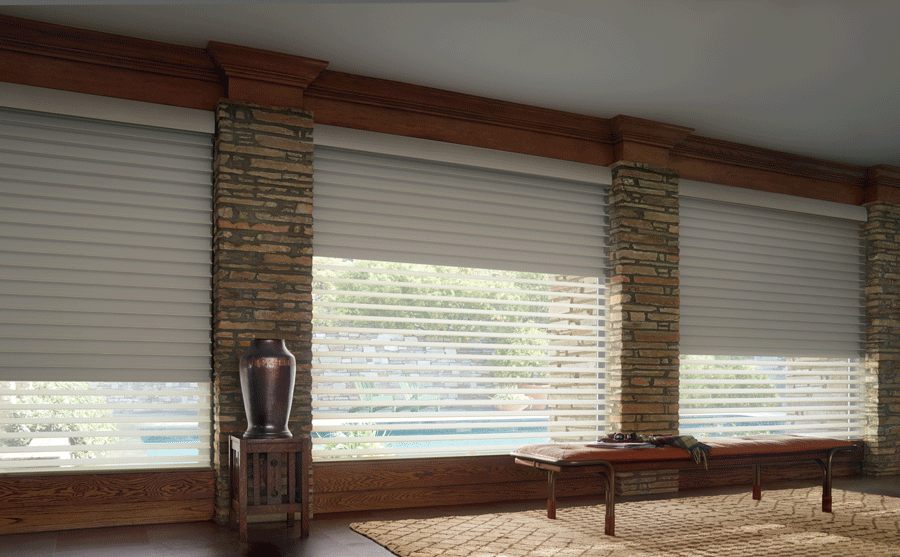 Pairing sheers with a secondary blackout shade, all in one system, allows for complete lighting control no matter the time of day, privacy, and convenience.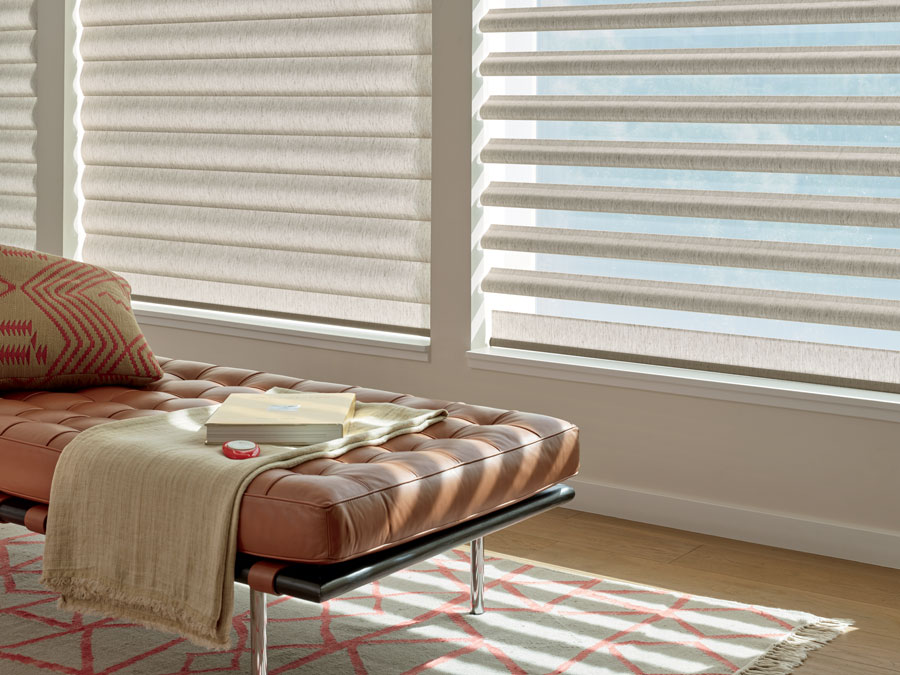 Another way to welcome the benefits of two in one shades are with the Pirouette Collection. This collection features a sheer portion perfect for when the sun isn't beating into your space, and solid vanes for when that summer sun becomes a bit too strong within your home.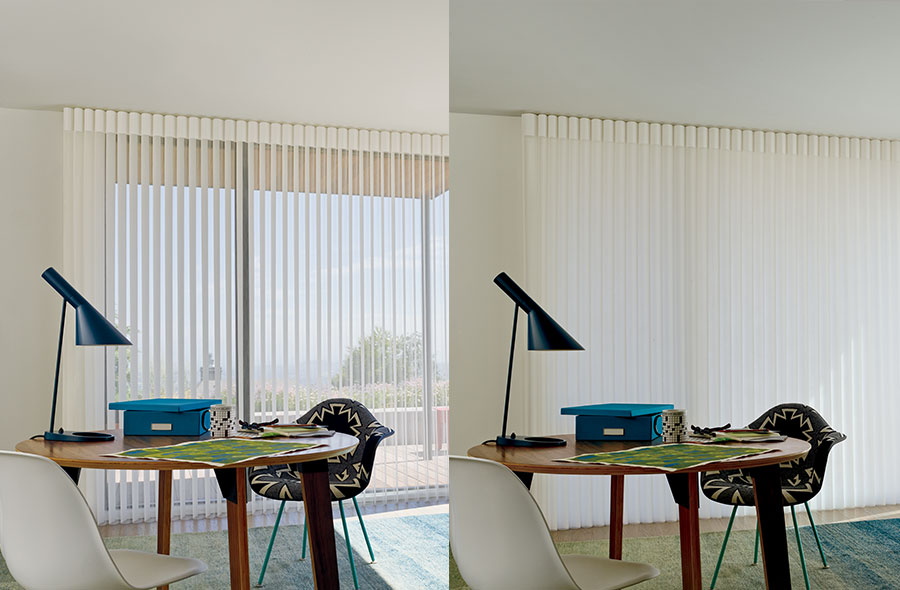 Luminette vertical sheers are a great option for large windows and doors as well. With just a simple rotation, it's never been easier to go from view-through and light filtering, to a more solid and extra light controlled option. 
Energy Efficiency, In Style
There's no denying the natural mood booster that the sunshine is. In the heat of the summer however, it's easy to go from the perfect amount to it becoming too much within the home. Direct sun rays pouring in through your windows can raise your electric bill, damage your furniture and walls with the UV rays, and create an uncomfortably warm space to go about your day in. That's where two in one shades come into play!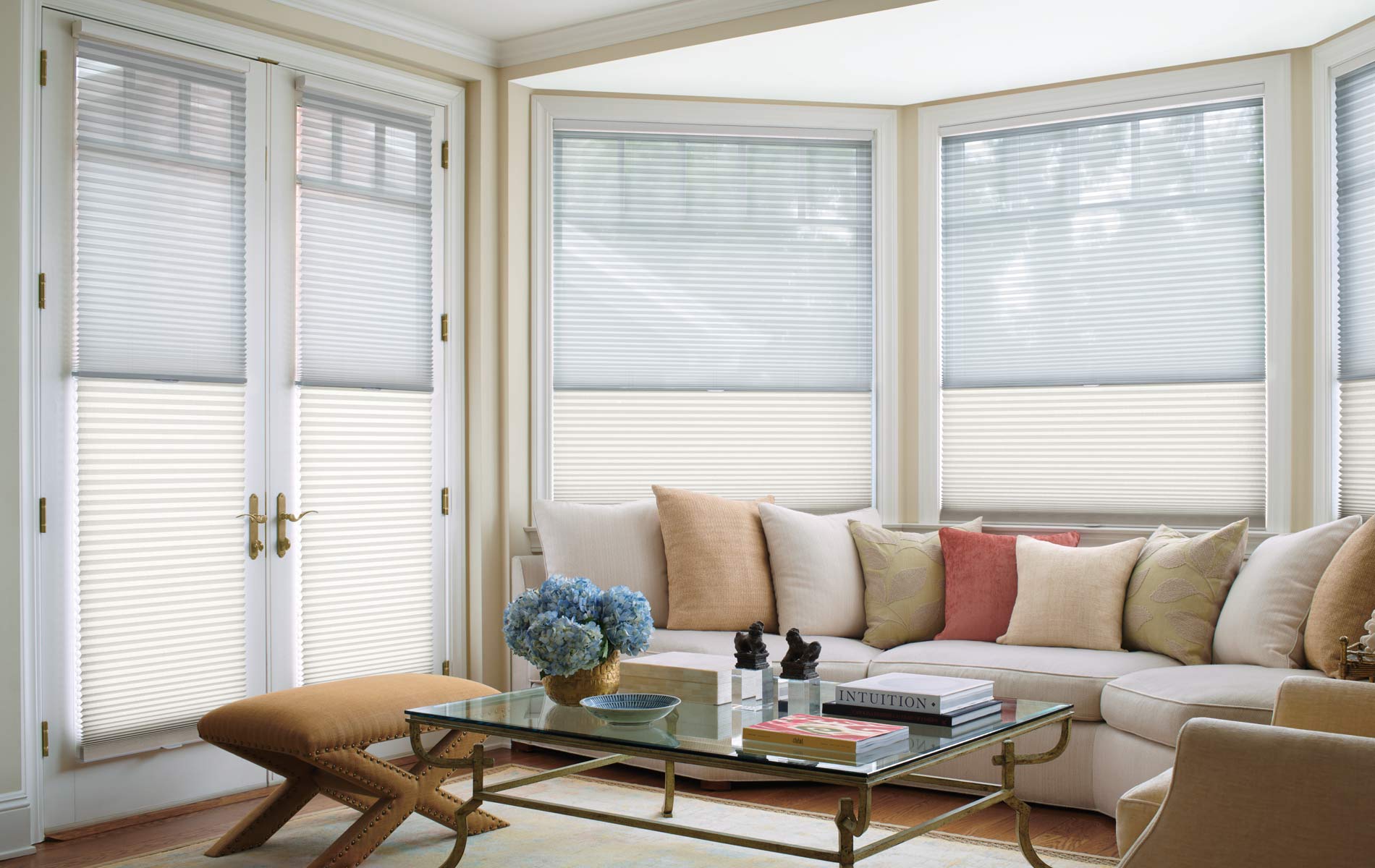 Honeycombs are a great way to implement energy efficient and style-forward design. Now available with the Duolite® feature, this operating system features an upper and lower portion ideal for all lighting scenarios.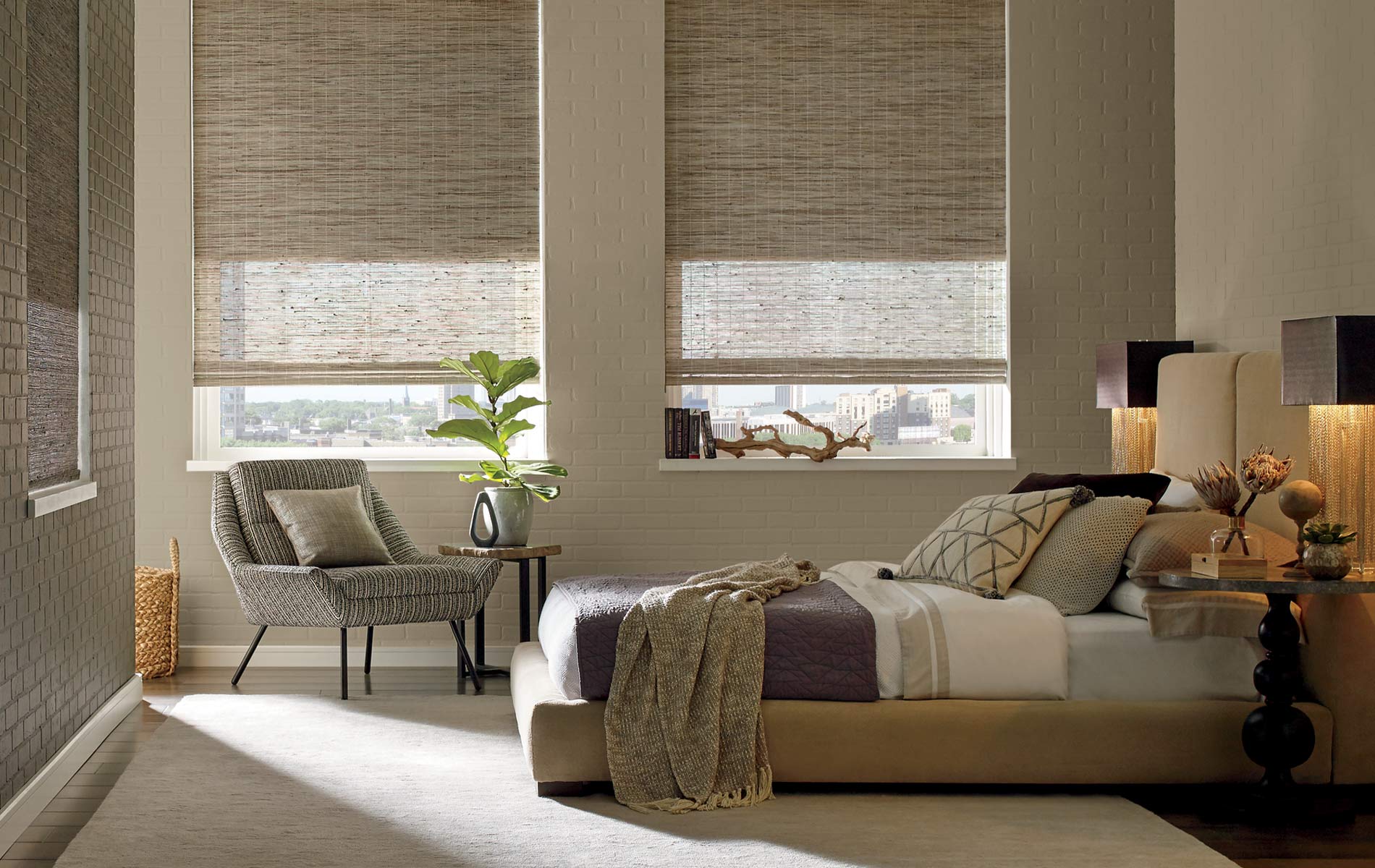 The most recent addition to the energy efficiency group of window treatments is the Provenance Collection. Along with the beauty of these woven woods, you can now get them paired with a secondary honeycomb shade. This leaves you with the sought after look of the woven woods and all the energy benefits of the honeycombs all in one!
Rollers VS Romans
Two popular styles that we see clients coming back to time and time again are rollers and romans. It's no surprise why! Both options have the primary light filtering shade and a secondary room darkening portion.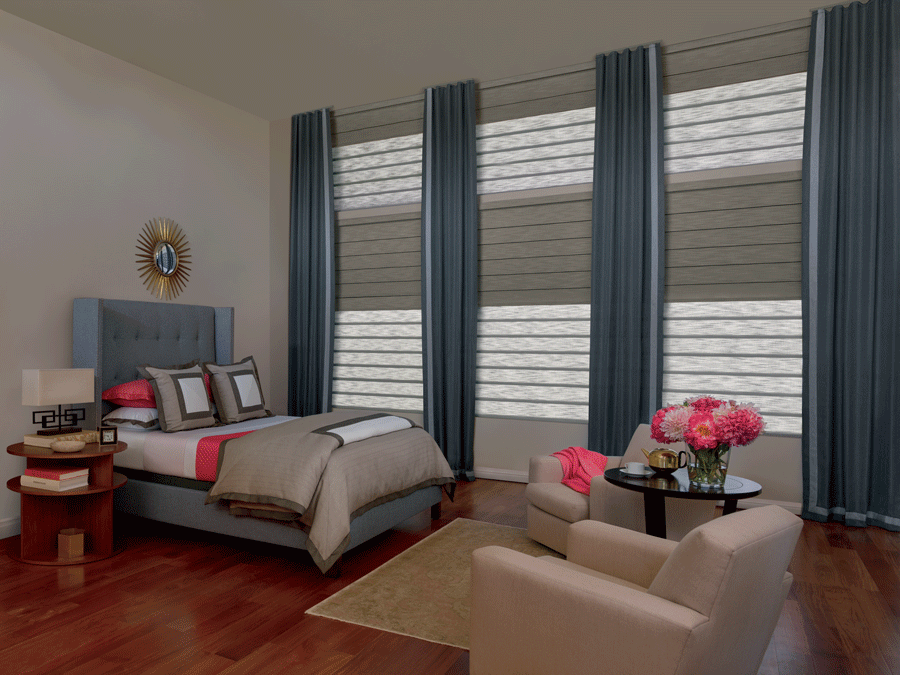 These two in one shades are all on one headrail, just like the other collections here, making them as slim as a regular shade.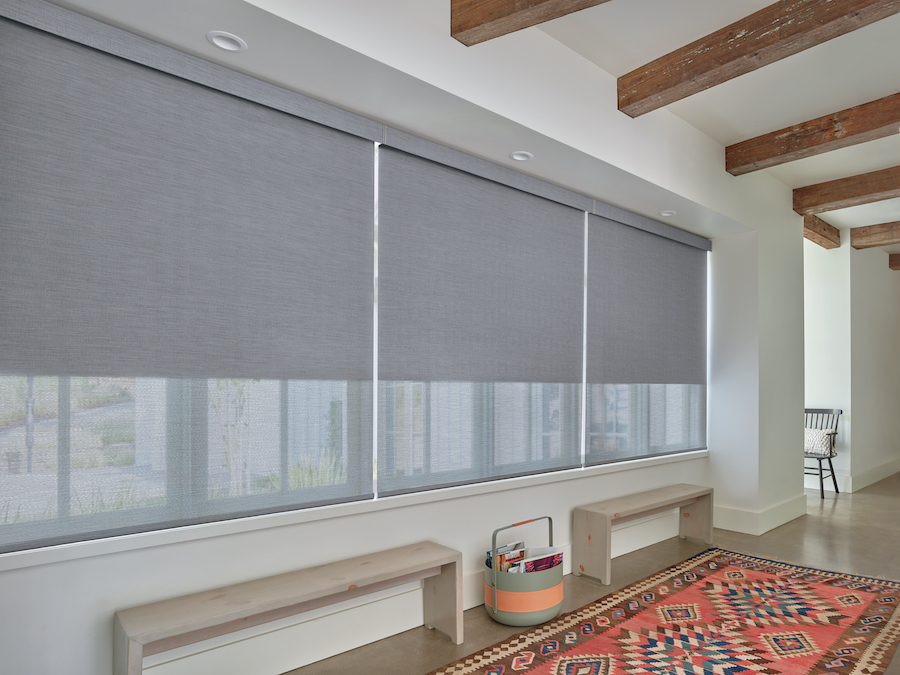 Recently we have seen a new style of roller shade flooding the design world. The sheer fabric allows for view-through and light filtering capabilities while the opaque fabric provides a room darkening experience. All of this is accessible with one quick rotation.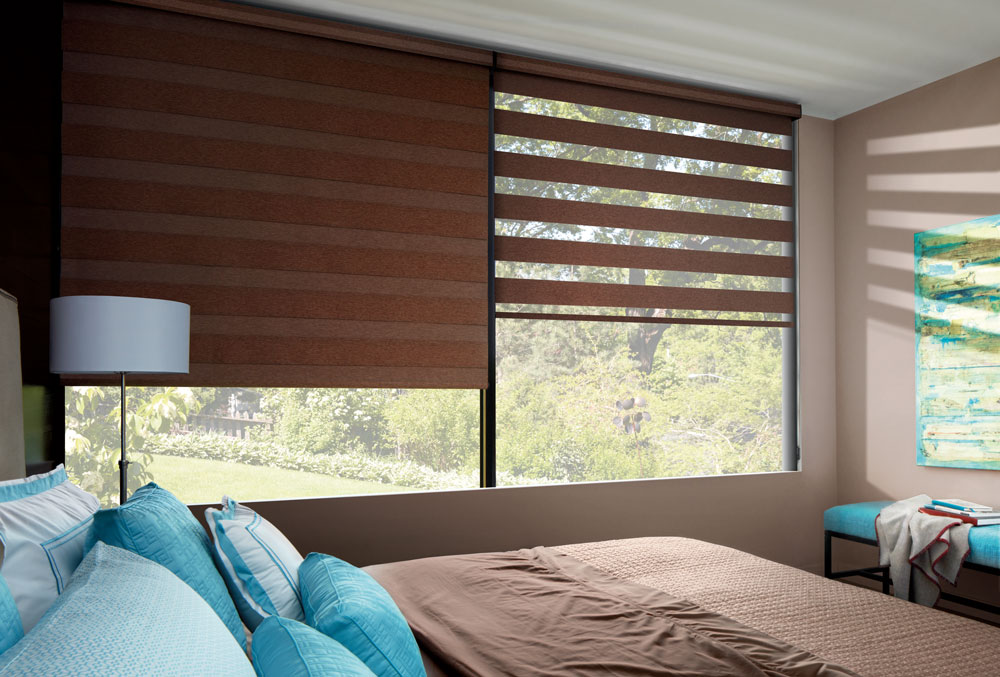 Which Two in One Shades Fit Into Your Home?
When it comes to window treatments, there are two main factors that should be considered: style and function. The good news is, all of our two in one shades offer both of these components, and then some! Our team here at One Stop Decorating is here to help you find the ideal window coverings for your home that you're sure to love for years to come. Contact us today for your FREE consultation.