One of the hottest colors in design, white decor illuminates the atmosphere of your home with a refreshing twist. Does the thought of white seem boring? You haven't seen the latest trends. And, the choices? The palette of whites range from charming cream to stark and bright–hues of white decor enliven your home from top to bottom! Take a look at the ways white can add timeless style and dramatic trend to your home…
Choose Your Shade–Or Mix & Match!
Once you start looking into the color choices, you'll have to decide on the undertones. Some white decor features a blue-ish gleam, while othesr appear yellow in certain lights.
It's really a personal choice for your individual home and style. While your decorating style might lean towards a singular color in white decor, don't hesitate to mix the shades for elegance and charm.
Contrast Is King.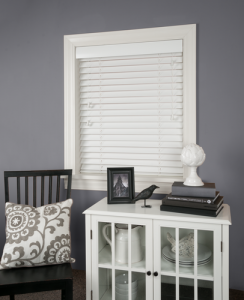 The word of the day in the design world, "Contrast" allows a space to showcase character through textures, patterns and colors. The great thing about white decor is that pairing colors with white is easy. It all depends on the look you want to achieve. A subtle statement? White combines well with pastels, soft grays and beige for a quiet atmosphere. An adventurous scene? Bring together the daring look of white with bold, bright colors for dynamic flair. Always in style? Black and white decor is classic and timeless for sophisticated style.
Add Character.
Like we said–contrast is important in design, and not just when it comes to color. Textures and patterns that use white offer definitive style. Whether you're pairing colors, or simply using a monochromatic design (white-on-white), you can't miss with the refreshing look that white decor brings. Soft textures, like white shag area rugs, invite a cozy feel, while wavy, glistening tiles add modern style with fluid movement to the design scheme.
Balance the Space with Collections.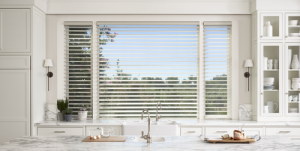 Collections of white decor offer a statement of style. From crisp and bright to milky calm, it's really the finishes that speak volumes about your accents. Choose pieces that can be multiplied–the eye adores odd numbers in design elements. And then, focus on size and shape. With varying characteristics, all in shades of white, you add dimension to your space, and it all looks very "put together."
Refresh Your Home with White Decor
Looking to upgrade the style of your home? From cottage chic to contemporary appeal, white decor steals the show this spring! At One Stop Decorating, we want to help you create the perfect look in your home. White looks amazing in window treatments. New products, features and fabrics are being launched from Hunter Douglas. That means you can style your home in fashion and function. Come visit one of our four Kansas City area Hunter Douglas showrooms for inspiration and advice. Or, invite one of our designers into your home for a free, shop-at-home appointment. Let us help you get started today!