Your furry friends…loyal, charming and–sometimes–mischievous, they've found their way into your heart. Just as easily, they find themselves in challenging situations in your home. Sometimes intentional, but often enough, it's accidental. Do you have pet safe blinds, shades or shutters in your home? Dangling cords can turn innocent play into frustrating tangles and even fatal injuries. It's time to make safety a priority. But, that doesn't mean you have to suffer. You can customize your home with pet safe blinds that meet everyone's needs–including your pet. We think there are three kinds of pets in the world. Which one do you have?
The Active Pet
They love the view, staying entertained for long periods of time by foot traffic and squirrels.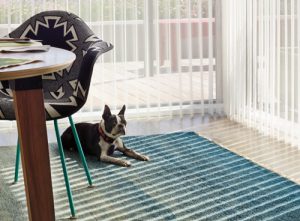 Does your pet have 2-3 favorite spots around your home? This is the pet with a schedule. They lie at one window, soaking in the early morning sunshine. By mid-day, they are resting–or even sprawled out–on your bed. In the late afternoon? They're positioned perfectly to see the kids walking home from school. You can't give up all the benefits that window shades bring just so your pet's schedule isn't interrupted. PowerView motorization allows you to schedule adjustments based on daily activities and lifestyle so you and your pet can have it all. These pet safe blinds and shades remove the cords, making both safety and your pet's schedule a priority.
The Anxious Pet
The mere glimpse of someone walking by–they go crazy, overwhelmed with anxiety.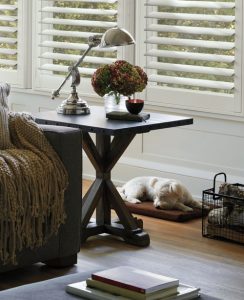 You can't bear the thought of your pet closed off from the world all day, feeling lonely and bored. Boredom can also lead to mischief. Getting tangled in cords due to innocent behavior can be frustrating and dangerous. We have great choices for your home. The louvers of plantation shutters, and the slats of cordless, pet safe blinds can direct light (and outdoor views) toward the ceiling for a home filled with daylight, while restricting the view. Top down shades are another option when you want to invite in natural light across the ceiling for valuable daylighting while blocking a view to the landscape and foot traffic.
The Combination Pet
The view outside is great, but only of the landscape. Passers-by can be too much for them.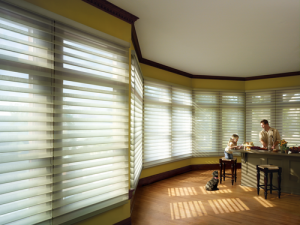 This pet loves certain kinds of activity, but anything else can send them over the top. The consistent view of the backyard could be enjoyable at different times throughout the day, allowing them to be entertained. But the front of your home is off-limits…one too many joggers gets them riled up for the day. The answer? Customization. The great thing about pet safe blinds, shades and shutters is that you can select the products and operation that work best for individual rooms in your home based on you and your pet's needs.
Customize Their Space: Pet Safe Blinds
At One Stop Decorating, we're committed to safety. With multiple options for pet safe blinds, shades and shutters in cordless and cord-safe operating systems, you're sure to find exactly what you need. Everyone in your family, including your furry friends, will stay happy and healthy with these custom choices. Stop in for a visit at one of our four Kansas City area locations, or contact our team today for a free, in-home consultation. You'll be glad you did!