What is one thing in your home that comes to mind when you hear the words "Wow Factor"? Have you ever thought about having your window treatments be that impressive piece in your space? This is where the Pirouette shade comes in. From function to style, this shade will leave you wanting to switch out all of the shades throughout your home. 
Choose Your Favorite: Crisp or Soft View
There are two different backings when it comes to the Pirouette collection. The original sheer fabric is used to diffuse the light and provides a softer view. But, recently added, we have Clearview® which makes for a more crisp view, clearly showing off the landscape. Both have their benefits, and it is simply up to you to choose!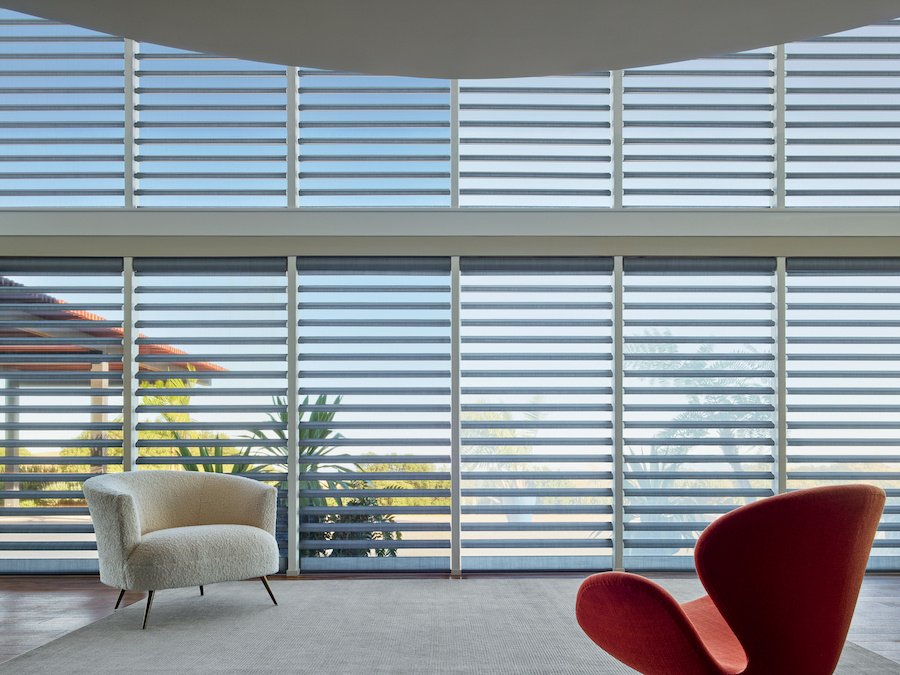 In this photo Clearview® is on the left side, and the original sheer fabric is shown on the right. Both choices bring you natural light control, so it's completely up to your personal preference. 
Simple Coordination
When it comes to open floor plans, many of our clients hit a bit of a rut when trying to select the best window treatments for their homes. Each window has it's own shape and function, so the needs are different. But you still want a cohesive look, since they're all viewable from one spot…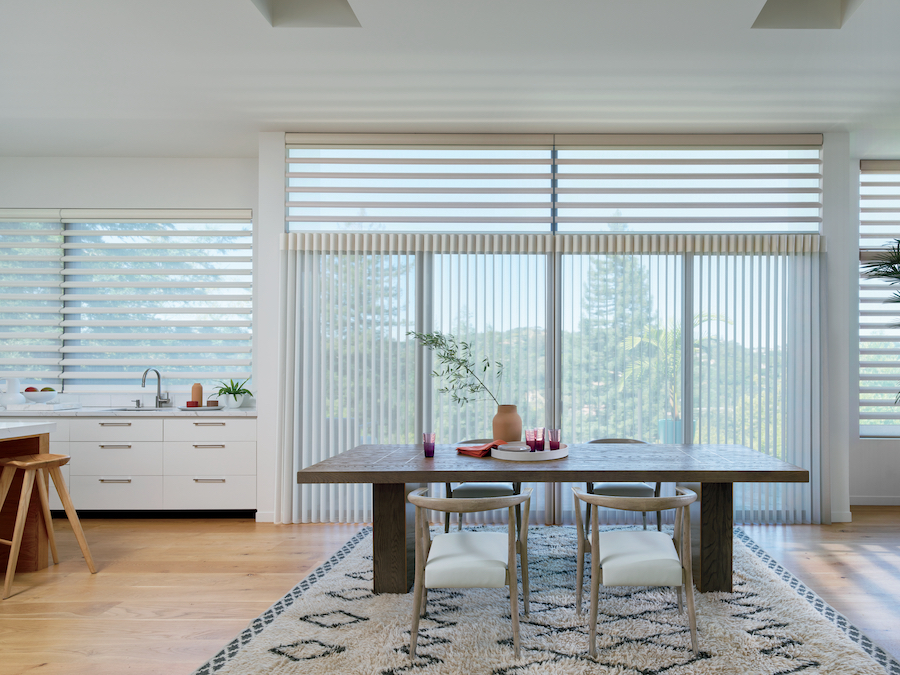 You no longer just have to choose one shade, and make it work for the entire space. Each window treatment can be customized to fit to each window's functionality needs. Our designers have kept open floor plan designs in mind and have made sure that our collections stylishly flow together. Even better yet, you get added UV protection from the Pirouette collection. With the sheers drawn, you are 81% protected and 99% with the vanes shut. 
Outfit Your Large Windows
Pirouette shades and large windows are the ideal pairing! They offer a beautiful backdrop in any room and are simple to control too! You don't have to worry about adjusting the entire shade to switch up the lighting. It's as easy as opening or closing the vanes, or raising the shade as high as you'd like.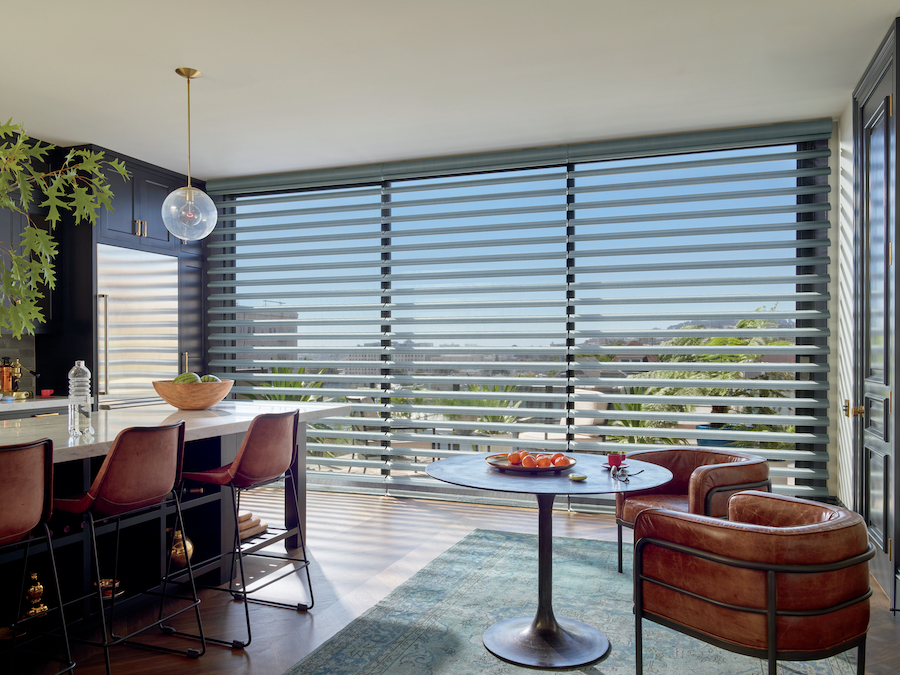 With sizes reaching 144 inches by 144 inches, these shades will fit even your floor to ceiling windows. If you need more than 12 feet in width, several sets work together to create an almost seamless look.
Operating Systems
How dreamy do automated shades sound? You can choose to have your Pirouette shades set to adjust with your smartphone, so that you can completely change the atmosphere with a quick tap–now, even voice controlled! SoftTouch™ is another system that has a motorized wand at the side of your window for easy adjusting.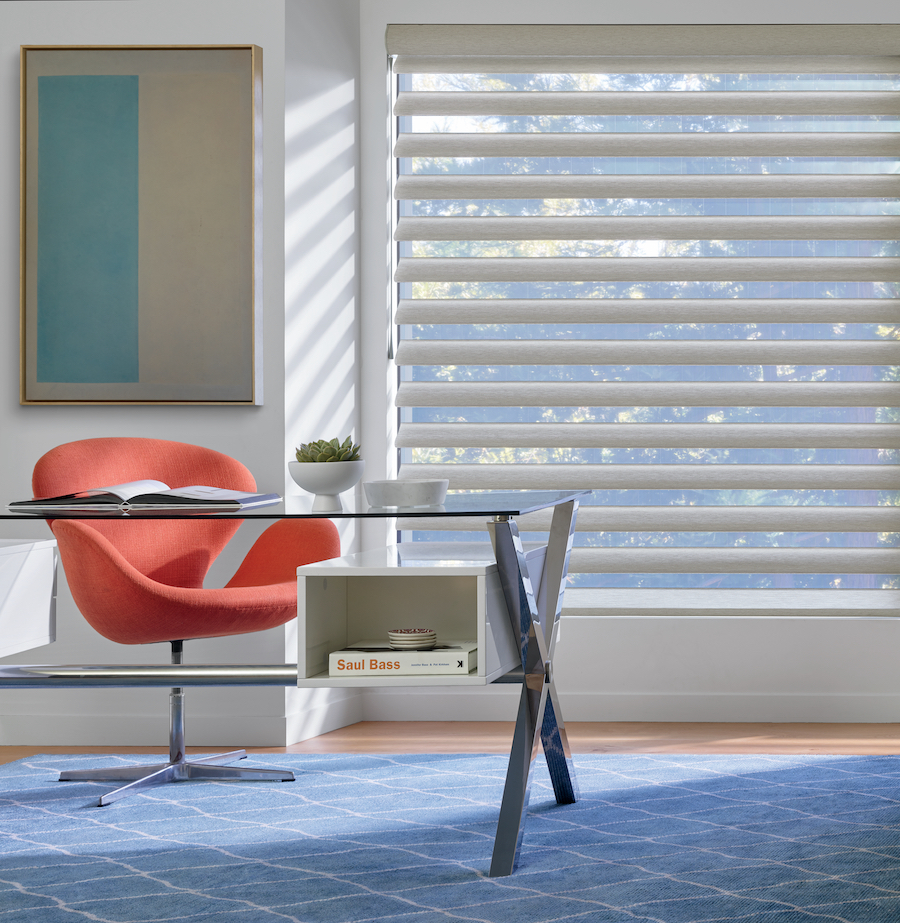 But, if you'd still like a cord, we offer two different child and pet safe corded options. Ultraglide features a shorter cord that retracts. The EasyRise system is a continuous loop that fastens securely to the window frame. 
Now that you've been introduced to the Pirouette, are you as eager as we are to add them to your space? Contact us today for your FREE design consultation. Our team here at One Stop Decorating cannot wait to help you with your window treatment needs!