With all of the excitement just beyond your windows and doors, can you blame your pets for wanting a front row seat? They bark, whine, scratch and climb…and you love them all the same. Your pets are part of the family. Are they safe in your home? Featured in an article on Houzz, pet proofing your home is an important task. We've gone one step further to make sure you know how to choose pet safe window coverings for your Kansas City area home.
Choose Durability.
If you have curious pets – as if there were any other kind – they spend a great deal of their day investigating what's going on outside their home. Especially around entryway doors and large-scale windows, your pets interact with your window shades. You have durable choices for pet safe window coverings.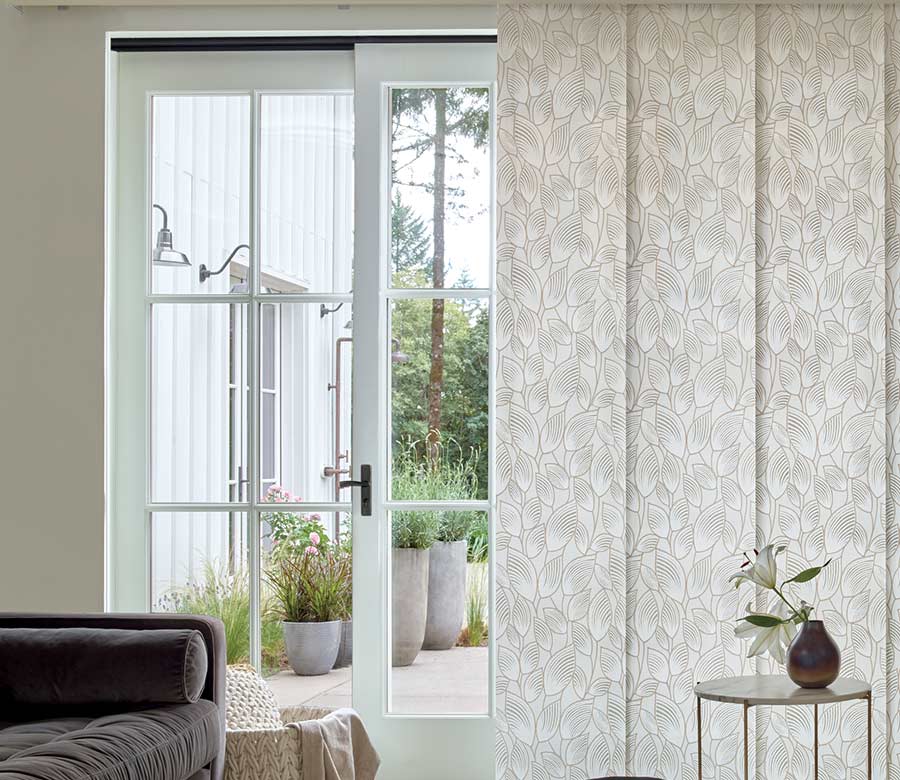 Like the panels of Skyline Gliding Panels, which offer a vertical solution for your home, pets can easily push window blinds aside to inspect the world around them. With quality and durability, these panels slip right back into place after your pet has moved on. Meant for high traffic areas, they offer ease of access and function for your children and pets – no muss, no fuss!
Choose Cordless.
Regardless of how many squeaky toys you provide them, the cords on your window shades and blinds appeal to your pet's playful nature. Pet safe window coverings ensure that your pet won't be tempted to play. Take the cord out of the equation completely with cordless options like LiteRise and PowerView. If cords are necessary, look no further than UltraGlide that features an innovative, short, retractable cord that stays out of harm's way.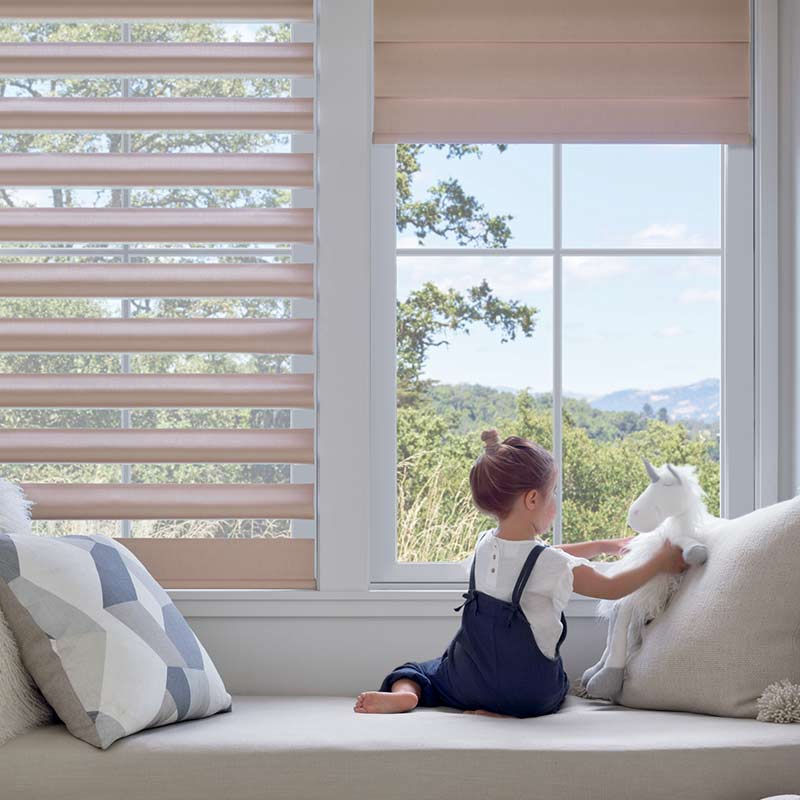 Another must-have with cords is the secure feature of the continuous cord loop, which fastens the loop of cord against your window frame. Hunter Douglas window coverings, like the versatility of our Pirouette Window Shades, offer you your choice of operating systems so you can make a decision based on your needs. No dangling cords, no chance of entanglement – and a lot less worry for you. 
Choose a View That Works for Both of You.
Windows and entryways are prime real estate for pets. They can watch as neighboring pets pass on their morning walks, or enjoy the excitement of squirrels and rabbits scampering across the lawn. Some pets need to be more secluded, as this passive interaction with the outside world – especially during specific times of day – can be overwhelming. You know your pets best.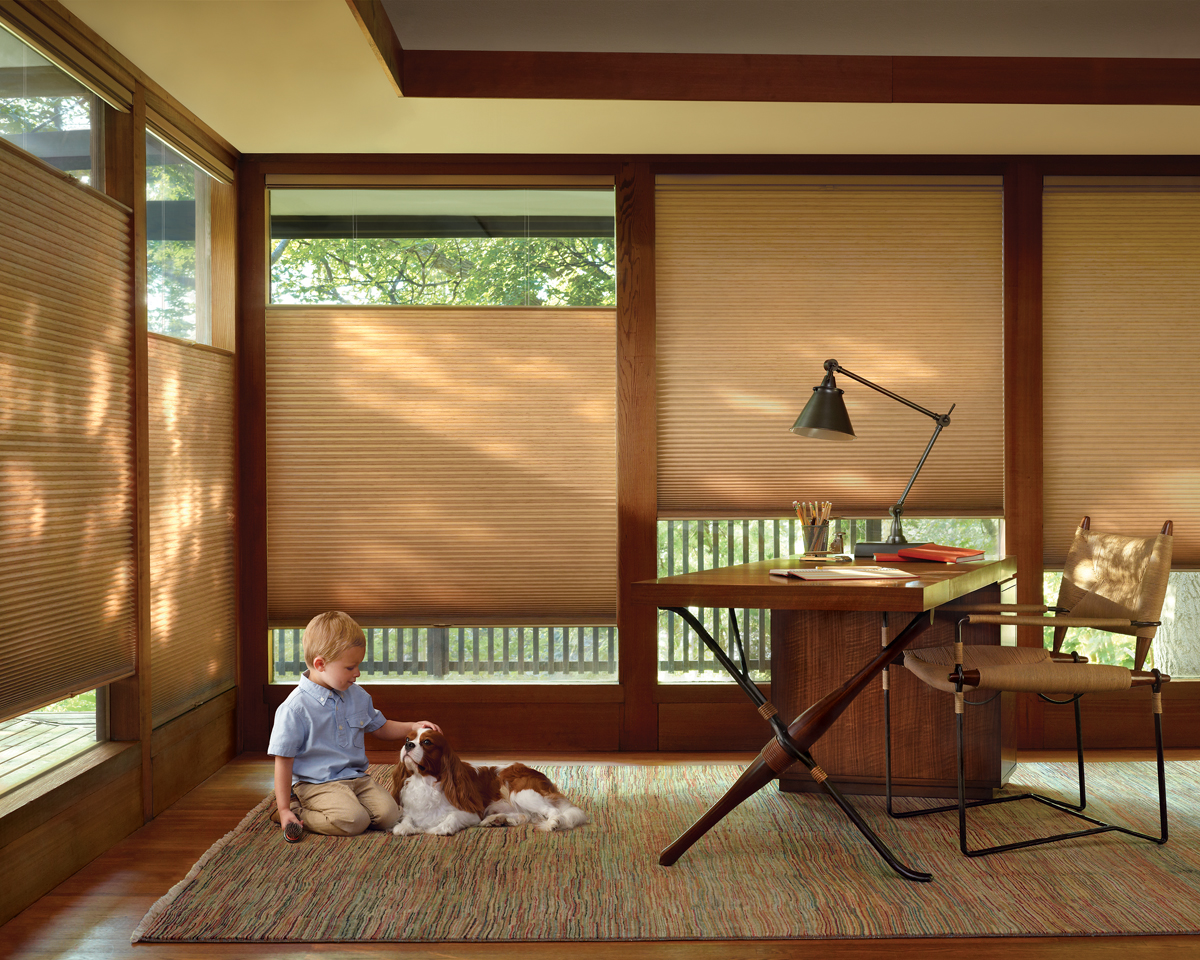 That's why the feature of top/down, bottom/up is such a popular choice. With the beauty of window shades, like our Vignette Modern Roman Shades, adjust your pet safe window coverings for the perfect view. Bringing the top down allows you to let in just the right amount of natural light so your home still retains the energy efficiency and light control you need.
Choose Dust & Soil Resistant.
As a pet owner, you know how hard it can be to keep up with the maintenance of cleaning a home with furry friends that bring in dust and dirt on paws, or continuously shed hair. 'Pet safe window coverings' means that your investment is safe FROM your pets, as well as safe FOR your pets.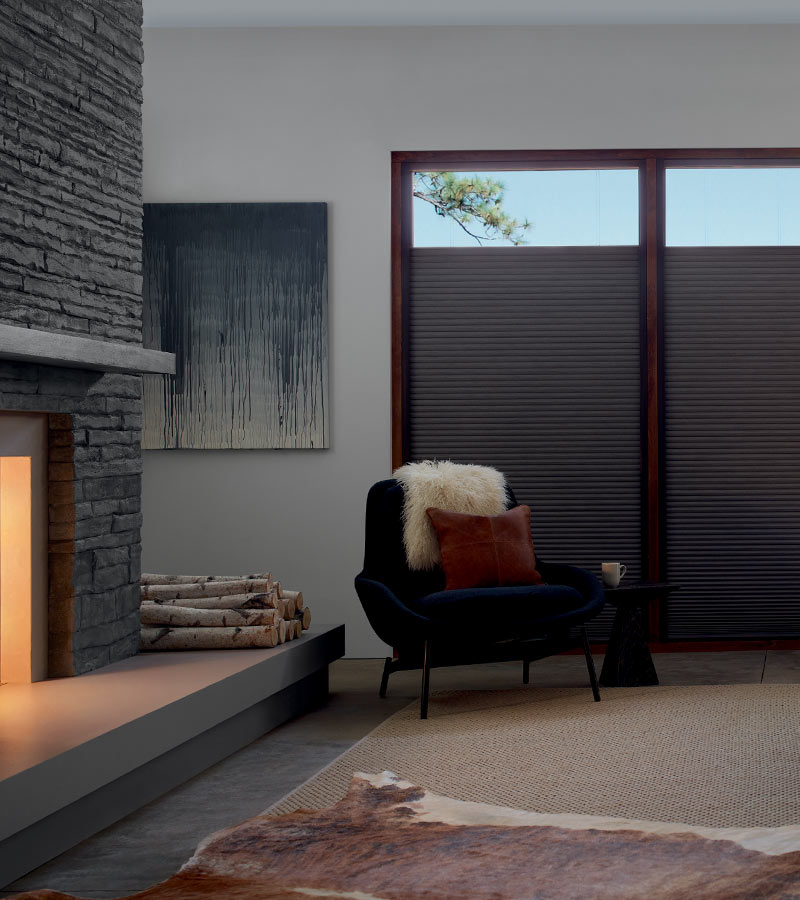 When you choose Hunter Douglas products, like our Duette Architella Shades, not only can you choose materials that are dust & soil resistant, but you will receive the innovation of TruPleat technology. The pleats remain uniform so your window shades look fresh for years to come.
Choose Outdoor Living.
Exterior Solar Screen Shades are the perfect solution for your pets to enjoy your outdoor living space. Your pet can enjoy filtered light, with cooler outdoor temperatures, while relaxing in the fresh air of the outdoors. In Kansas City, it's nice for pets to be able to go outside, but with the extreme temperatures we see, they just can't be out long in the direct sunlight.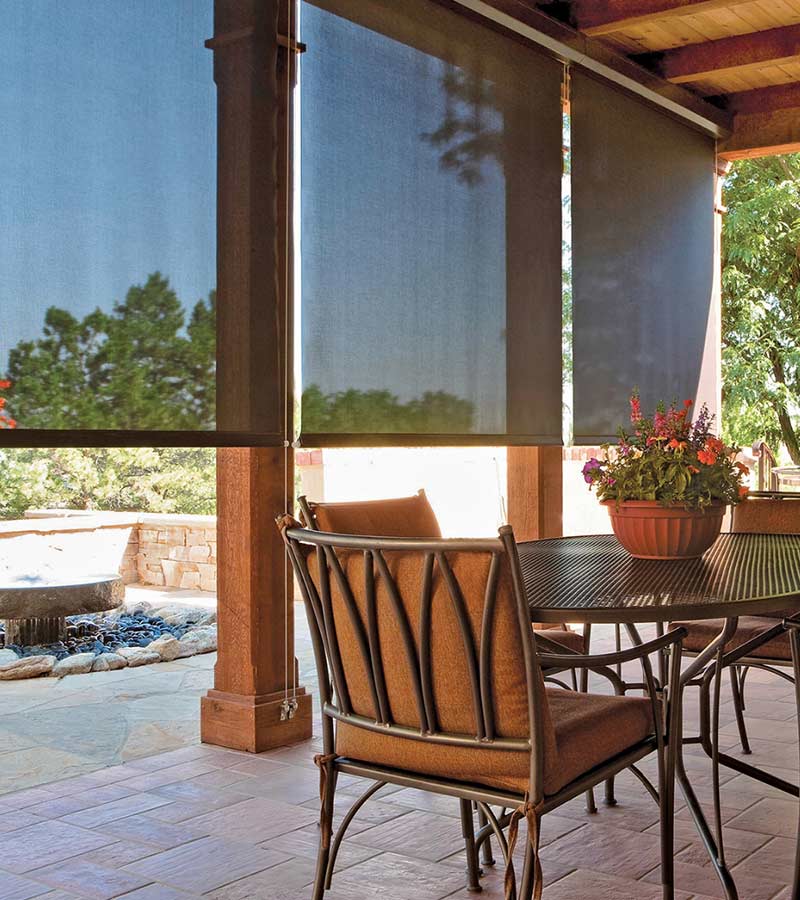 The addition of exterior solar screen shades means more outdoor time for your pets. With these pet safe window coverings, they can enjoy the outdoors in a controlled environment without the intensity of the sun. These patio shades provide incredible benefits, including the reduction of insects, keeping your outdoor living space a summertime oasis for you and your pets.
Your pets are part of the family. Your Kansas City area home can offer an environment that fits your lifestyle and your pets' needs. Our team, at One Stop Decorating, would love to help you find solutions and features in pet safe window coverings for their comfort and your peace of mind. Contact us for a free, in-home consultation.