The world around us is constantly changing. We all want the coolest phone, the hottest styles that we see celebrities flaunting, and we like to be in the know of the newest design trends in clothing. The interior design world is no different. Trends are evolving and the excitement is growing for the upcoming styles of 2017. Have you seen the newest design trends yet? Full of gorgeous colors, fun designs, and a palette that is irresistible, you'll surely want to add it to your home. Check out the newest design trends for the upcoming season.
Learn the Trends
The best part of the upcoming styles for 2017 is how they can speak to your personality and surround you with your favorite things. Sharing the spotlight for the newest design trends are Old Havana and Cove. Old Havana is full of vibrant colors, playing off of the rich countryside and vintage styling of Cuba. Cove is reminiscent of relaxing days by the seaside, the ebb and flow of the ocean and colors inspired by the sea.
Cove: A Nautical Paradise
Step onto the shore with one of the newest design trends of 2017: Cove. Bring the relaxing essence of the sea into your home for the trendiest atmosphere. What's the key to this look, you ask? Minimalism. The sea, in its natural state, is a beauty in itself with soft sand and rippling waters. Organic materials mixed with clean lines and natural tones will make your home feel like a getaway.
Old Havana: An Eclectic Dream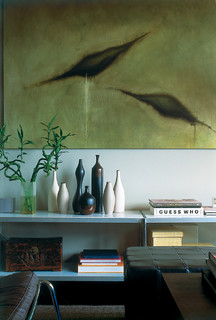 Bring an abundance of culture into your home by embracing what Cuba has to offer. As one of the newest design trends, Old Havana features bold colors, vintage elements, and the beautiful traditions of this Caribbean island. Include elements of your own heritage to make it personal; this trend is sure to add culture and craft to your home.
3 Ways to Bring the Newest Design Trends Home
#1 Find Some Accent Pieces
What's great about the newest design trends of 2017 are the amazing palettes they have to offer. Whether you want calm accents or dramatic pieces, these trends have something in store for any style. Does Cove speak more to you? Add natural accents, like a deep green plant in a wooden vase or a marble coffee table. Are you looking for a bolder transformation, like Old Havana? Hang up a colorful piece of art or brighten up your couch with edgy pillows. We love how these Duette shades coordinate with the abstract art, making a stunning design statement.
#2 Amp Up Your Walls
Sometimes your walls just need some freshening up. This is the perfect time to consider painting your space with the trendiest colors. This season's newest design trends can take your home from bland to fabulous. Pick from natural colors, like a sandy beige or salmon pink. Create a rich environment with a creamy lilac or sky blue. Don't have time to repaint everything? An accent wall will transform your entire room– all while embracing the newest trends.
#3 Add personal Touches
When you go to the beach, it's hard to resist touching all of the shiny seashells. Do you have some laying around from your last vacation? Add beachy elements, like sand and shells in a vase, to bring together your cove. You have your own culture in your home. Why not have it for all to see? Place vintage objects or old memories on shelves to add a retro touch to your home. Want the cozy softness of custom bedding and accent pillows? At One Stop Decorating, we can help you add these special design elements to your home.
Are You Ready For The Newest Design Trends?
You are now! Cove and Old Havana offer a little something for everyone: trendy colors, embracing culture, rejuvenating your home–the possibilities are endless with the newest design trends. We're ready to help put your ideas to use and create the perfect space. Contact us today at One Stop Decorating for design advice, answers to your questions, and a free, in-home consultation.