Window treatments have come a long way since metal blinds and roller shades. They have become an important element in the overall design of your home, providing fashion and function. But how do we achieve such art at the window with layered fabrics? Let's learn more about this popular trend. Stunning fabrics may be just what you need to get started creating art at your windows.
Your Unique Design
Trendy may not be what you're looking, but refreshing your home is always important. Contemporary textiles take traditional style elements and make them new again. As you discover fabric collections, you'll feel an old world influence that never falls out of favor. Create your unique design with layered fabrics and find an everlasting look. Find out more about Custom Window Treatments.
Soft Neutrals
Another popular trend in home design today is the soft neutral aesthetic. It's beautiful, magical, and calm. But it's also difficult to pull off. With layered fabrics at the window, you can avoid a boring monotone look. This living room space uses draperies to create height and dimension without interrupting the soft neutral vibe.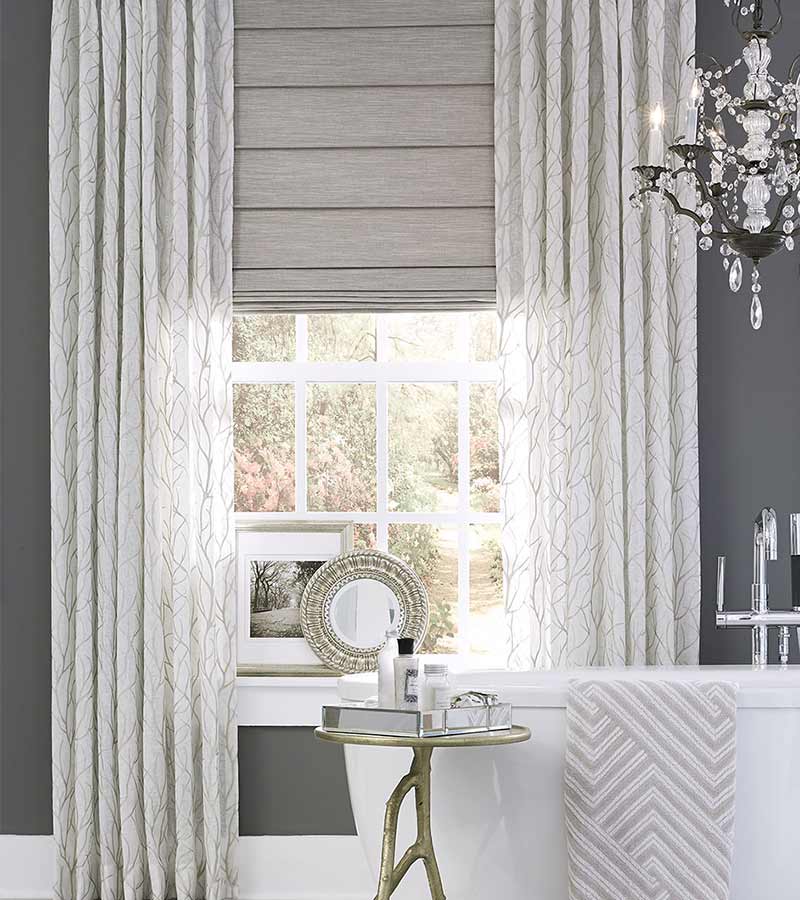 As we see it, high hung layered draperies improve the look of the custom windows here by drawing the eye up. The roman shades with textured fabric protects the home from UV exposure and provides privacy, a winning combination. With this thoughtful touch, the loveliness remains.
Moody is Back 
For those of you who love a little drama, this is great news! Moody color palettes are on-trend again, but be sure to know when to stop. Choose a color you've been missing and style it with layered fabrics. The goal is to break up the darkness by mixing solids with patterns or colors that contrast with each other. Now, this is important…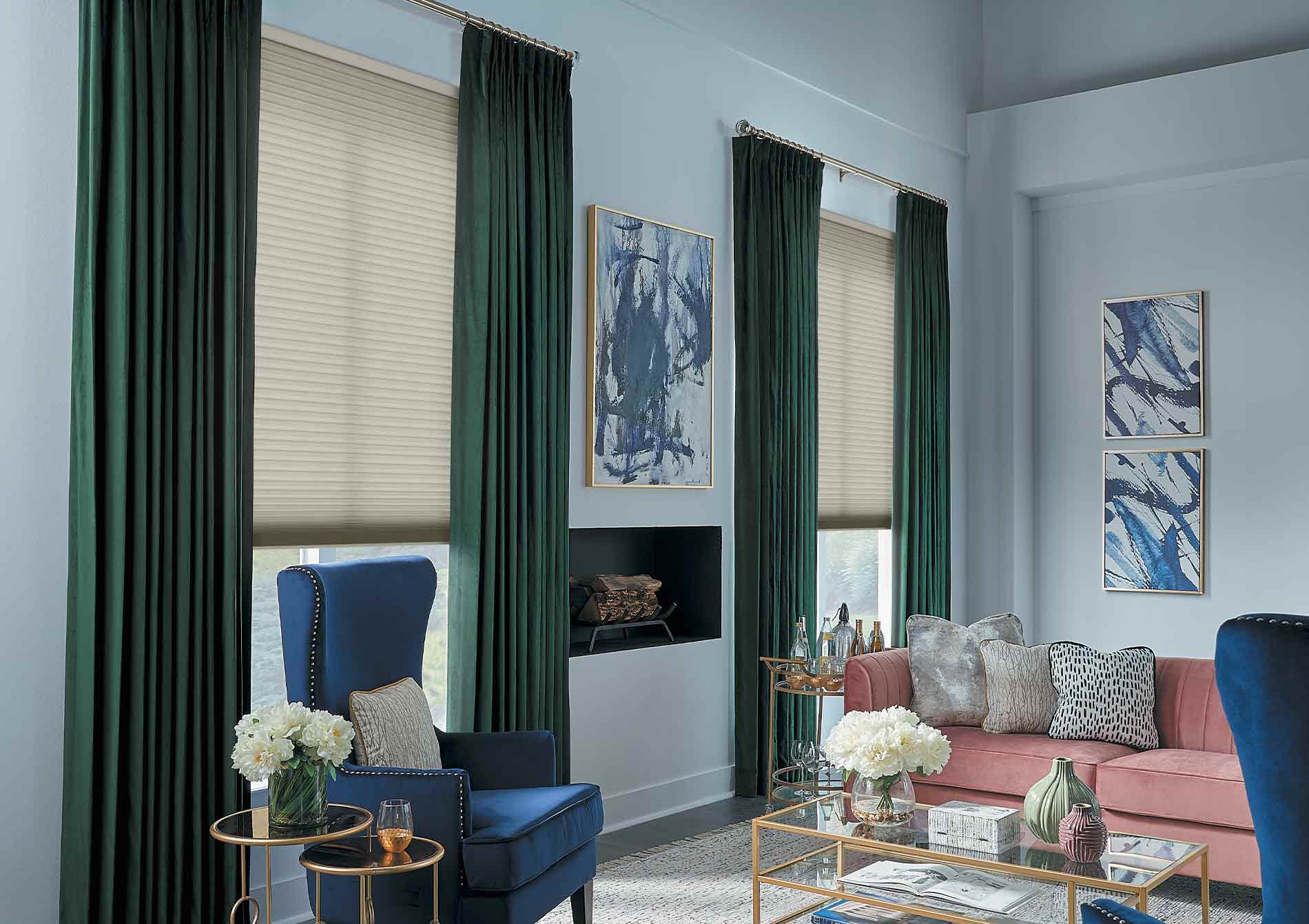 Be sure to balance your look with light colors. Look around your home, do you have light wood floors? Light furnishings and accent pieces?  This is the perfect environment to infuse a moody shade. The ensemble above is a beautiful model of what could be in your home. It shows off timeless design and stays true to your design. Remember layered fabrics offer function as well. Let us explain the benefits. 
Style + Function
Now that we know the style you're going for, let's complete the room by adding function too. At One Stop Decorating, this is our favorite part and layered fabrics make it easy. Today, there are so many options in window coverings. Will you choose a base shade offering light control or go with a roman shade for added insulation? Allow the needs of your home to lead the way. You may also consider room darkening or automation as an extra benefit.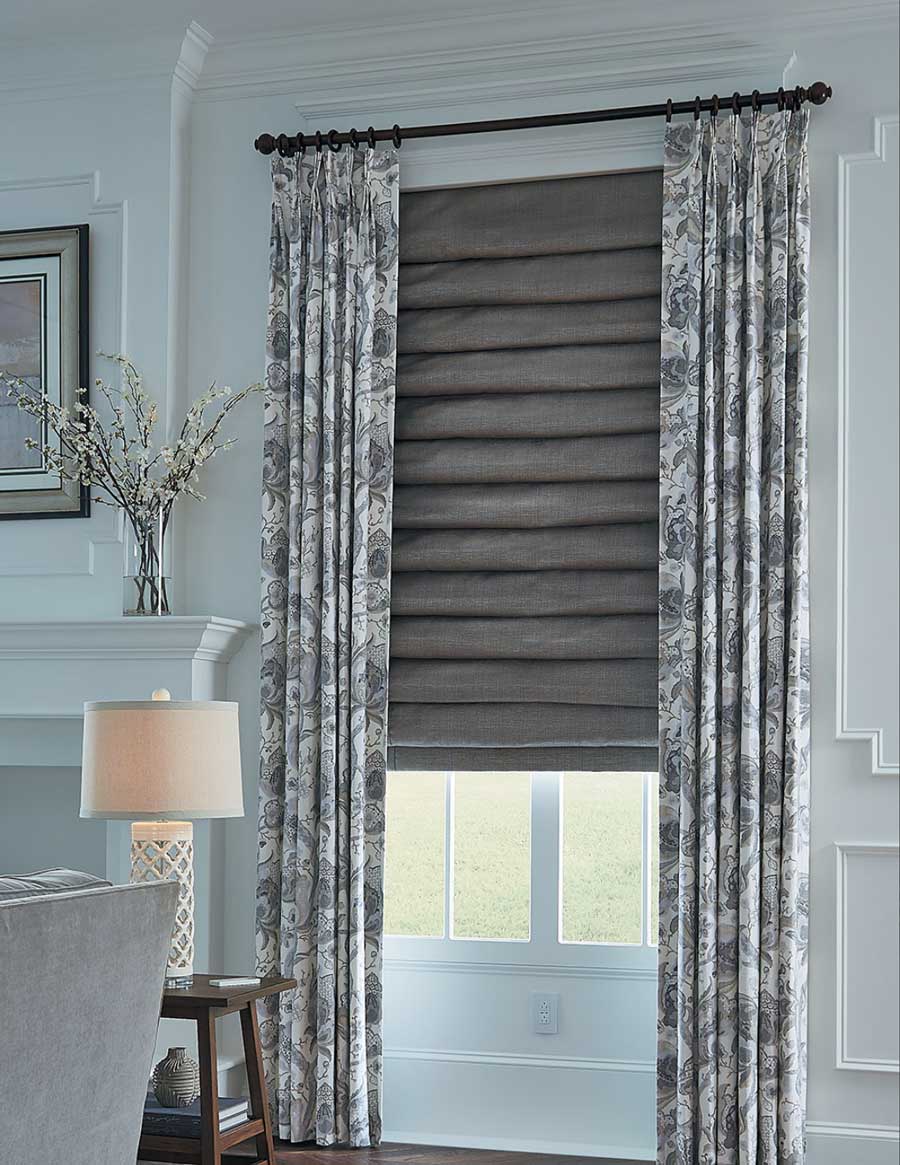 Now, once you've addressed the needs of your home, the fun begins. You can beautify your space with the many colors, fabrics and patterns we offer. This living room is a perfect example of how fabrics can elevate the look of your home and provide the function to make your home comfortable and inviting.
Ready for Layered Fabrics?
We are! A window dressed perfectly is so satisfying to us. Let us bring style and function to your home with layered fabrics. Our expert designers can anticipate the needs of your space and make suggestions, but your own unique style will be the driving force and our inspiration. Get in touch with us for a FREE in-home consultation or see for yourself the incredible choices we have in our Kansas City area showrooms.