The way the sunlight enters your home plays a big part in the overall atmosphere. The direction your windows face, and the specific location of them, will influence the environment greatly. When choosing window coverings, those characteristics are important factors to consider. It's all about achieving balanced light.
Rise & Shine
The sun rises in the East. If your bedroom windows face East, you're very familiar with the sunrise. Most people want blackout shades for bedrooms that get Eastern light. But, how do East facing windows affect the rest of your home?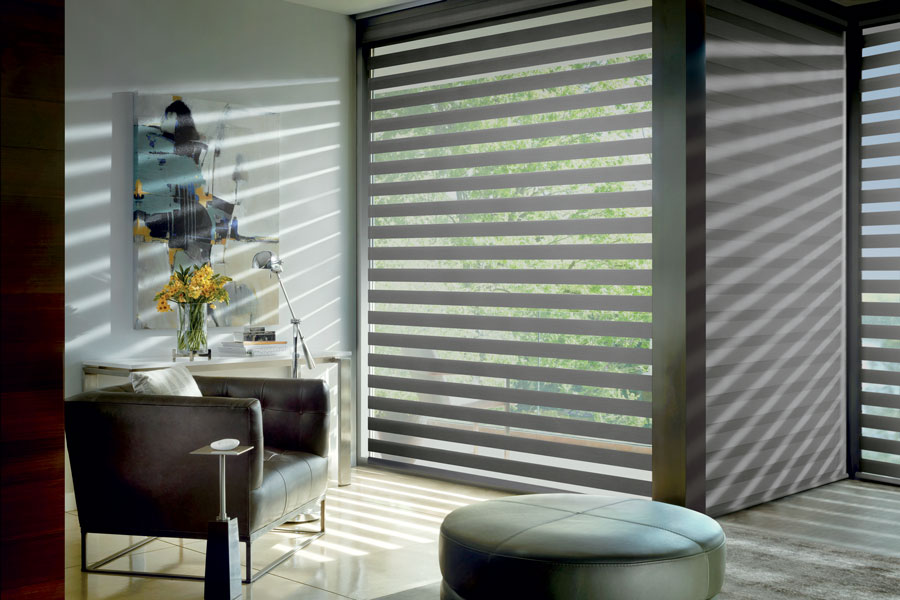 East facing windows offer a beautiful spot to take in the sunrise; the light warms up your home. But, those morning rays will start to chase you away around 10am. Too hot and too bright, you'll need something to shield you from direct sunlight. We love the idea of window coverings that offer a range of control, like Designer Banded Shades. The sheers let you enjoy the view and light. One quick rotation helps you block the light when it gets to be too much. And, later on, when you're not getting direct rays, they roll all they way up and out of the way.
Bright & Hot
West facing windows in the Kansas City area will make any room feel like a sauna. These spaces are hot. Sure…the morning can be pleasant. But, as the sun heads across the sky, into the afternoon, West facing windows begin to bake. And, in the evening, you're sitting down to relax, enjoy dinner. What's the sun doing? Flooding your home, right at eye-level. What works best for West facing windows?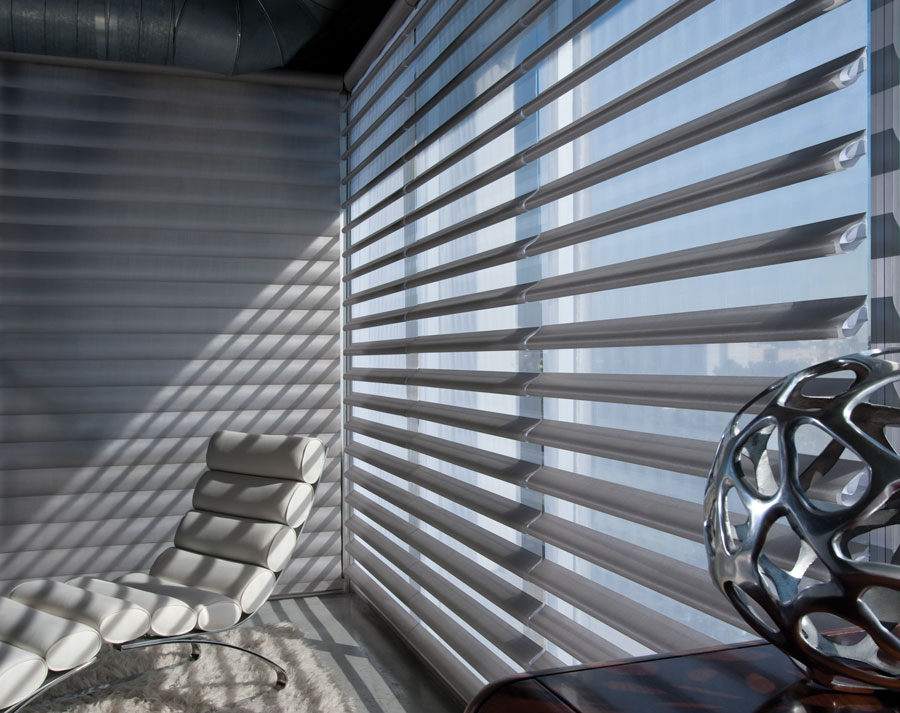 Smart shades. We often say, "Automated shades adjust without you–they're always in the right place at the right time." And, if you're hoping for balanced light in these rooms, smart home technology will deliver. You can enjoy the indirect morning light and view until the afternoon. Then, your shades will automatically shut to block the afternoon sun. If you want the adjust them, it's one tap–or a voice command. They know at dinnertime, they'll adjust closed, opening right as the sun is heading down into the horizon so you don't miss that beautiful scene.
Sun, Sun & More Sun
Most people don't realize that South facing windows get the most light. Because we're in the Northern Hemisphere, South facing windows have sun all day long. It's kind of like having the best–and worst–of both worlds. You'll take in the morning warmth, but around 10am, you're starting to feel the heat. The sun is in your eyes.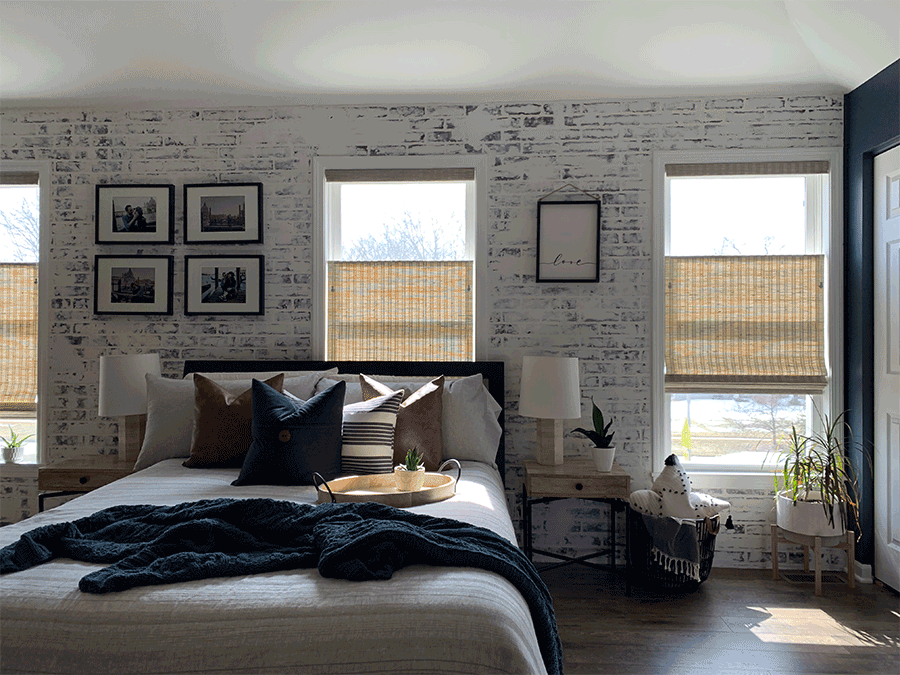 If you want to achieve balanced light on South facing windows, a favorite feature is top down bottom up. All that bright, natural light enters across the ceiling, brightening your room. But, eye-level sunshine is blocked. And, depending on the time of year, you can also bring the bottom up for some extra rays, but be careful–these rooms can feel harsh affects from UV rays.
Flooding Glare
The one thing that you don't have to worry about with North facing windows is direct light. But, if you feel uncomfortable in those rooms, you probably have the wrong window treatments–or none at all. It's a misnomer that North facing are best left bare. While you have access to light all day long, it's not direct, but it can be blinding.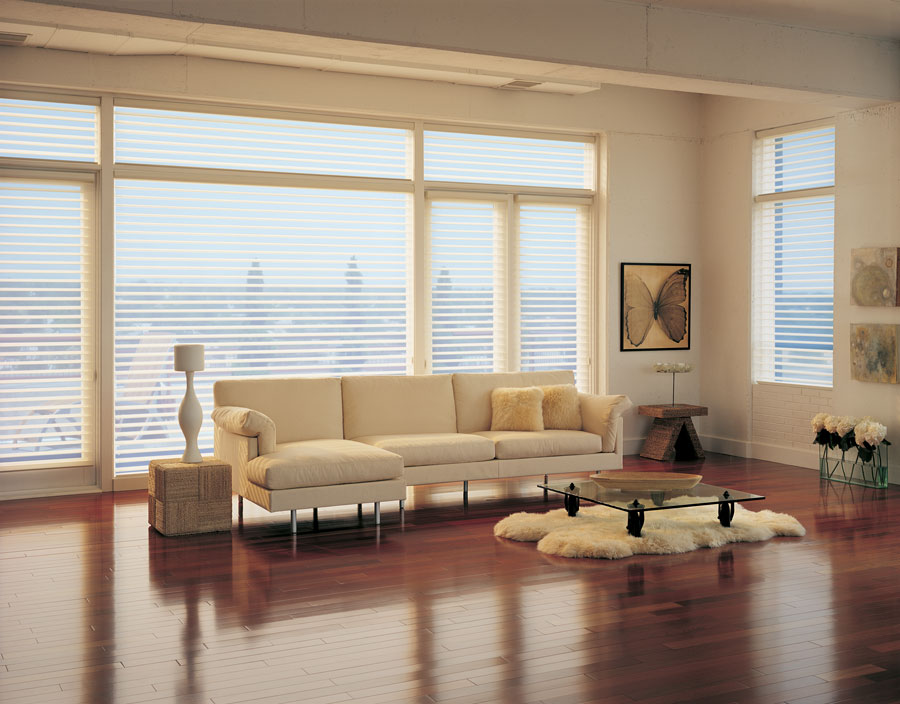 The glare from these windows is harsh. The UV rays will subtly fade your flooring and anything near the windows over time. We love how sheer shades soften the entering light without taking away the view. They also protect your interiors from fading. And, with some sheer shades, you'll have access to privacy when you need it.
Windows on Multiple Walls
Many homes have areas with more than one set of windows–often on adjacent walls. That means, you could have both North & East facing windows. You might have South & West facing windows. With these combinations, you need window covering solutions that deliver a range of function–adjustable based on the set of windows you're dealing with.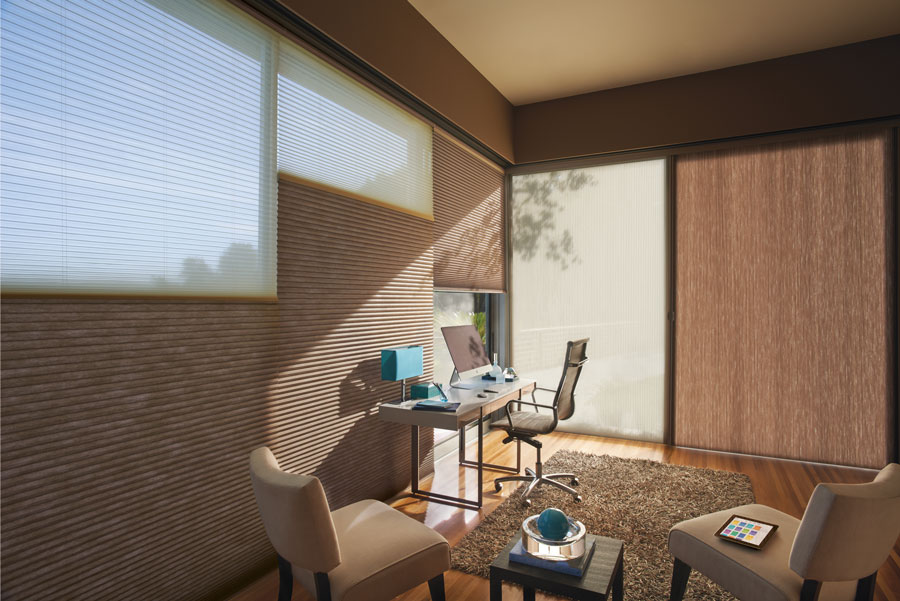 For this scenario, we often recommend dual shades. If you want to find balanced light in your home, these are and ideal way to do so. You can place the light filtering shade in place when the light needs to be softened. On the other windows, they can have both shades in place–the light filtering and the light blocking to truly customize the control. Because they share the same headrail, they can also both disappear away when you want the entire space opened up.
You Can Experience Balanced Light.
We certainly have our favorites when it comes to customizing the light control within Kansas City area homes. But, each and every home is unique, from the window direction and layout, to how the homeowners use the spaces. So, let's sit down together to plan which window treatments will best suit your home. We'd like to help you create the best atmosphere for you family. Contact the team at One Stop Decorating for your FREE consultation.