The largest windows of your home are one of the most eye-catching parts of the design. Stunning landscape views, flowing natural light–even the rising and setting sun can be captured at times through these dynamic windows. However, having huge windows can come at a price–even more so if you choose to leave them bare. Is there a way to achieve balance? Can you "cover" your largest windows, but still enjoy their best features? Yes, you can! Take a look at a few of our favorite ways…
Pirouette Shades: Landscape Views
It's no secret that Pirouette Shades, among other sheer shades, offer the ability to enjoy the view without the harsh issues. Pirouettes can bring in filtered light through the sheers, close up the solid vanes for blocking the light, or simply roll all the way up into the headrail.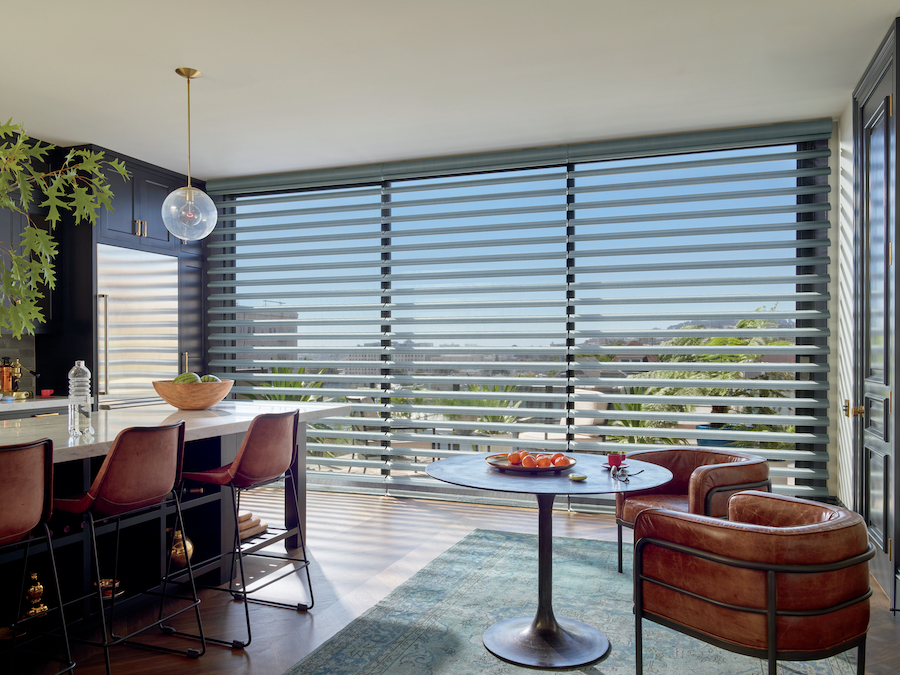 The designer look of these unique shades is awe-inspiring. Guests will utter a "wow" upon entering a room with pirouettes on your largest windows. And, with ever-changing circumstances, you'll use this space so much more because it will boast the perfect atmosphere no matter what.
Designer Banded Shades: Art at the Window
Sometimes, you find yourself torn. You want to be able to show off your largest windows and bring in beautiful, indirect light. However, when privacy is key, how can you manage? You make art at the window with Designer Banded Shades.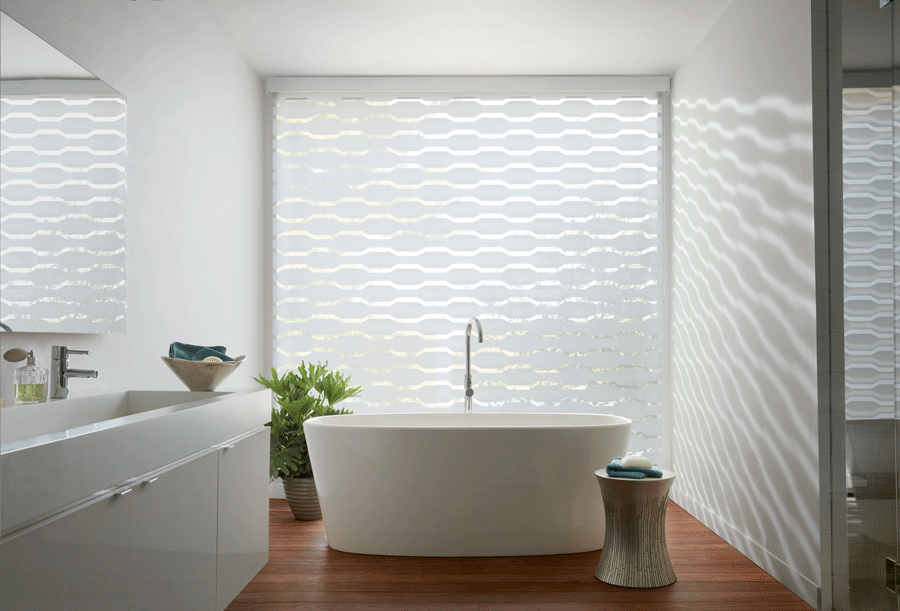 These layered roller shades can roll entirely up out of the way. More importantly, with a single rotation, in the lowered position, they change from light filtering, partial view, to closed-off solids. In the lowered position, they really create a stunning feature wall.
PowerView® Automation: Voice Control, Device Control, Smart Control
We offer a complete list of window covering products for your largest windows on our solutions page. You know which shade is the best? Anything with PowerView® Automation. Smart home technology is changing the way we use our homes, and adding motorization and smart features to window treatments is no exception.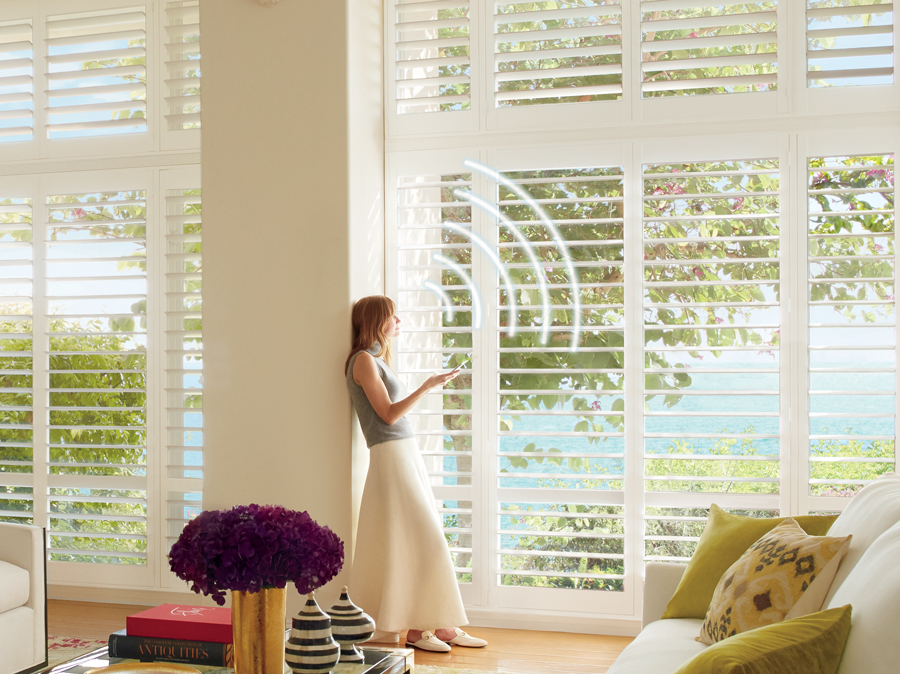 One of the reasons people might shy away from covering the largest windows is because they don't want to manage the coverings. Making adjustments can be difficult due to window size, layout and schedules. Smart coverings allow you to use the smart home system you love to control the atmosphere, lighting and privacy of your home:
Voice control
Scheduled adjustments
Smart home integration ("if this, then that" technology)
One tap on your smart device
Push button remote control
Love Your Largest Windows
You don't have to sacrifice what you love to get control of the largest windows in your home. You just have to schedule a consultation with the experts at One Stop Decorating! We want to know what you love about your windows, what annoys you, and what style trends you've been eyeing.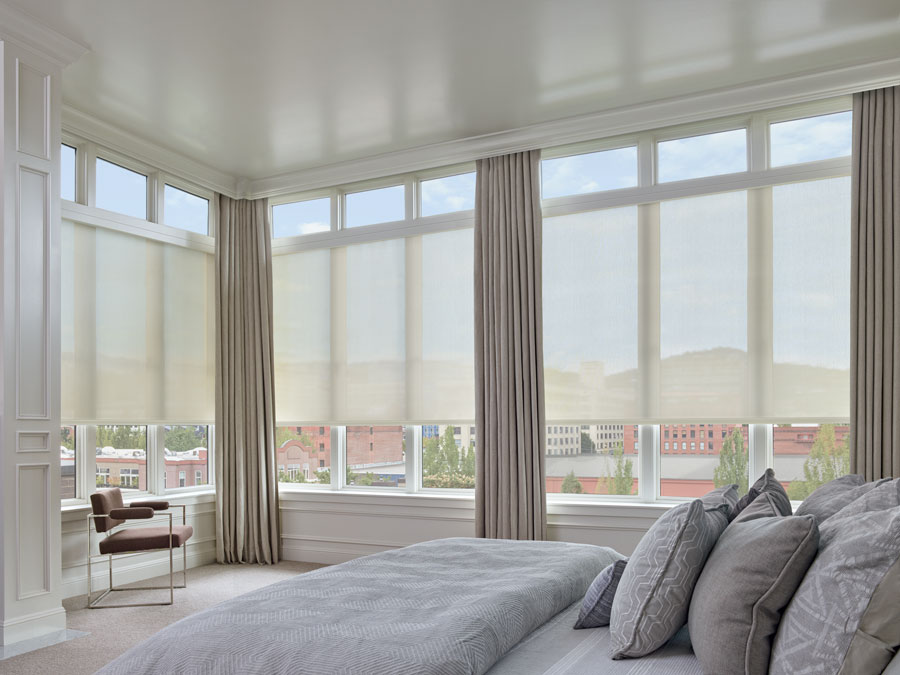 From there, we can show you window covering products for the best of both worlds, all while making your Kansas City area home a more beautiful place to live! Get in touch for your FREE consultation.