If you describe your bedroom in one word, what would it be? Chances are, you wish that word could be "sanctuary." But like most people, this time of year brings restless sleep as the light of day lengthens. The good news? We can help you change that! Let us show you how blackout curtains, blackout shades and our other custom home treatments can be used to transform your bedroom into a sanctuary for sleep and relaxation!
Why Blackout Curtains?
When it's time to sleep at the end of the day–or the chance to sleep in on the weekends–your worst enemy can be light. Whether it be sunlight, street lights or the headlights of passing cars, these intruding lights can keep you from falling to sleep or wake you up before you're ready. Who wants that? Custom blackout curtains can transform your bedroom into a dark, comfortable haven, where you can be free to sleep as much as you want without the interruption of those pesky lights! Whether it's a nap in the middle of the day, going to sleep at night or sleeping in late on the weekends, our blackout curtains turn your room into a sanctuary from light.
Why Blackout Shades?
With the daylight sticking around longer in the evening, and waking you earlier each day, you need solutions that are going to help you get a good night's sleep. With our custom blackout shades, you'll have the opportunity to adjust your shades open when you want natural light, or close them when it's time to rest. We have a range of blackout shades that can provide your bedroom with the perfect atmosphere for sleep. Whether you love the simplistic function of roller shades or roman shades, or the levels of light control that come with blackout sheers–yes, you read that right–we have innovative products just waiting for you!
Why Is Custom So Important?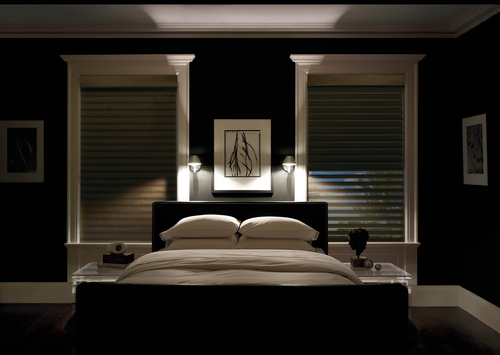 Even when your blackout curtains or blackout shades are open and you're awake, you want your bedroom to be warm, cozy and, well…yours. What better way to accomplish that than to choose custom draperies and window coverings that can be made to coordinate your entire bedroom. Custom bedding, accent pillows and even upholstered furniture? At One Stop Decorating, we can do it all! You can choose the patterns, textures and colors that speak to you, and we can use that to transform your bedroom into your own one-of-a-kind personal space that comes together with gorgeous results. You'll get a good night's sleep and be able to relax in your own special sanctuary of design and comfort.
Blackout Curtains, Shades, Bedding & More!
Our design professionals are ready to take your vision and add inspiration and expertise to create your one-of-a-kind bedroom that will be the envy of your friends and family for years to come. We can't wait to work with you to create the bedroom of your dreams…somewhere you can sleep without interruption and relax in any time of the day or night. Contact us today to set up your free, in-home consultation or visit any of our showrooms for inspiration on how to use our blackout curtains and custom home treatments to turn your bedroom–or any room–into your very own sanctuary for sleep and relaxation!