It's hard to believe, but In just a few months 2017 will be in the history books and a new year will begin. With the beauty of fall now out in full-force, we know that holidays and chilly weather are just around the corner. As we attempt to savor the sound of leaves crunching underfoot and the gorgeous weather before they're gone, designers and trend forecasters are already immersed in Spring 2018. The newest trends are beginning to emerge. And, we've got a sneak peek at some color combinations that are going to be big. So, if you've been looking for some inspiration to transform your home design, this is it!
The Classics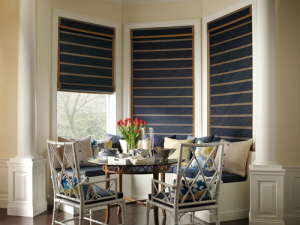 Before we jump into the color combinations that are expected to rise to fame in 2018, it's worth mentioning that classic color pairings are always on-trend. Incorporating the classics into your design will refresh the look and feel of your home with timeless elegance and style. Use black and white to bring sleek sophistication, or orange and blue for a burst of energy. Try yellow and green to summon nature, or purple and brown to evoke warmth and power.
A Bold Spin on the Classics
Today's world is more innovative than ever. We're constantly looking to the future, but not without remembering the past. As we push into tomorrow, we continue to find novel ways to move the classics with us. That's happening in all spheres of life–from technology to interior design. So, when it comes to color combinations, 2018 is going to be ripe with bold, new spins on the classics. Navy and orange enter the new year as turquoise and coral. Robin's egg blue and soft yellow arrive as an array of vibrant, watery blues and warm, golden yellows. And there's going to be more room to play with color in the coming year. As we passionately celebrate individuality and champion everything that makes us unique, we see the doors opening wider for dynamic self-expression through color in the home.
The Soft Side of the Earth
These days, life is hard, fast, and loud. It's not just that the present day brings difficult challenges, keeps us constantly on-the-go, and fills our ears with endless noise. Most of us are literally surrounded by hardness–cities filled with concrete and metal. And our high-speed connectivity gives us instant access to everything while also overloading us with never-ending communication. It's no surprise, then, that another set of color combinations in 2018 is embracing the peace, tranquility, and quietude of nature. Leaning toward softness and tones from the outdoors, these color pairings step away from harsh lines and dark/light contrast. Soft, washed neutrals blend to hazy greens and then to muted pinks. Sandy browns mix with subtle grays and soft, sky blues. The earthen fluidity creates an organically beautiful calm that can help us be mindful and meditative–a true gift in our increasingly digital world.
Color Combinations: Bring Them Home
If you've been thinking about changing up the colors and design in your home, now's the perfect time. Holiday craziness is still more than a month away, and the new look can be complete in time for your guests to enjoy. Our design team here at One Stop Decorating would love to help you find and incorporate the right color combinations for your personal style and home. We can show you how they'll look on custom window treatments, bedding, fabrics, wallpaper, furniture, rugs, accents, and more! Stop on in to one of our showroom locations to take a look and talk to us. Or, let us come right to you. Contact our team for your free, shop-at-home consultation today.