Fall is in the air, and October will begin National Window Covering Safety Month. The campaign, which urges homeowners to remove hazards from their window treatments, aims to prevent injuries to pets and children caused by cords. One Stop Decorating is pleased to offer advice, solutions, and many cordless options. Safety is a top priority of ours. Whether it's motorization you prefer or one of our cordless operating systems, we'll show you how each system will keep your loved ones safe. Here are a few ideas for incorporating child-safe window treatments into your home.
Bedrooms: Rest Easy Every Night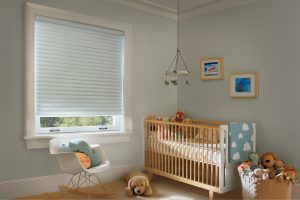 You and your family deserve a good night's sleep. You should leave your child's room knowing they're safe and sound. There are many cordless options for bedrooms. One great option for your child's room is the LiteRise lift system. Simply use your fingers to raise or lower your window treatments. If your little one wants to open their window in the morning, they can safely adjust them. Bedroom shades also help with quality of sleep. We have blackout options and shades that offer adjustable privacy for a calm, cozy environment. Get the peace you deserve and rest easy knowing your children are safe.
Playroom: Protected Playtime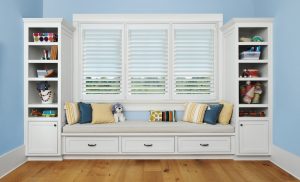 Our cordless options are both stylish and easy to use. Shutters are a great choice for a playroom because they're durable, easy to clean, and child-friendly! Easily control the amount of entering light and privacy by adjusting the louvers. Cordless by design, shutters will make your child's playroom environment safe and secure. Another wonderful way to make your space child-safe is to add PowerView motorization. Create a "playroom" setting and easily adjust your motorized blinds and shades to be up and out of the way in seconds. Or, let your little ones raise and lower with the simple, safe touch of a button. Playtime never looked so great!
The Whole House: Comfortable Living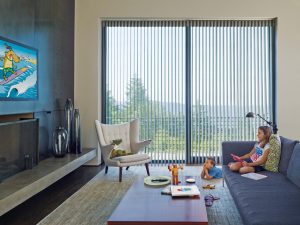 Just like children, pets are also curious creatures and love to explore. And, let's face it, little kids can get into everything. Cords suddenly turn into the coolest toy. Keeping them out of harm's way is a top priority because you deserve peace of mind. Cordless options for window treatments will add that extra level of safety to your home. One of our newest operating systems, SoftTouch motorization, has added another choice to our cordless options. The wand requires a soft pull or push to raise and lower the shade. If the wand is pulled on too hard, it detaches from the magnet. Nothing to get tangled up in, meaning your household is safe!
Cordless Options You Can Trust
Your loved ones deserve a safe space to wander and grow, and you deserve peace of mind. We're dedicated to making your home child safe! Our cordless options will take your home's safety to the next level. Want to see safe solutions that will add style and control to your space? Let us help. Come visit one of our showrooms or contact our team at One Stop Decorating for a free, in-home consultation. We can't wait to get started!