We love the moms in our lives. So much so that we forget that they used to be someone before they were a mom. Moms dedicate their lives to the comfort and happiness of their families, usually sacrificing their own needs and wants. With the overwhelming emotional event that was Back to School, the moms in our lives may have just a little time to themselves right now, and they need it! What we found, when surveying some of our favorite Kansas City area moms, surprised us. The Bathroom is a Sanctuary. This idea of the bathroom sanctuary seemed to lead the conversation when moms talk about their 'me' time. Because the bathroom has become a sanctuary for moms everywhere, we dedicate these tips to making your bathroom all it can be! Our design team, at One Stop Decorating, would love to help you create the perfect atmosphere for your bathroom sanctuary with window treatments for ultimate light control and privacy. The bathroom is your sanctuary. Design it that way.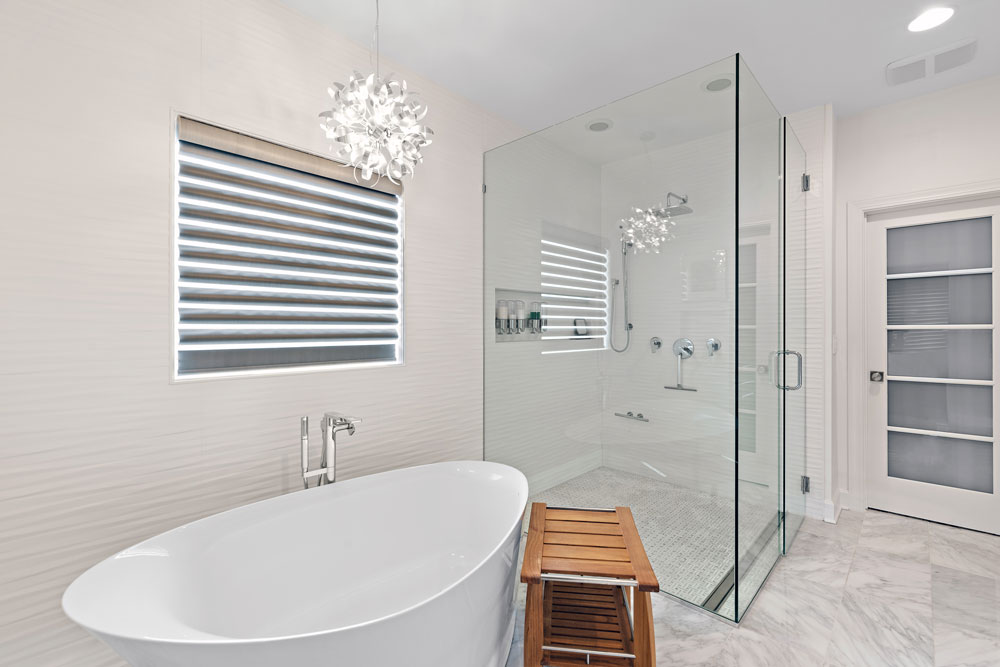 "When my husband finally gets home from work, I tell him I have to 'use the bathroom', and that he has to take the wheel for just a little while. This is the only time I have to myself. Sometimes I laugh at the latest trending article on Buzzfeed. Sometimes I plan my next DIY project, scrolling down through Pinterest. And sometimes, I just take a deep breath, enjoying the silence, embracing those rare moments that let me feel like myself again."
A sanctuary of peace and relaxation that provides you with just the right amount of light, depending on what you want and need. With Pirouette window treatments, featuring the technological innovation of PowerView, enjoy levels of lighting with just the push of a button. The beauty of fabrics, with the light control of shadings, make Pirouette window shadings a remarkable choice for your bathroom sanctuary.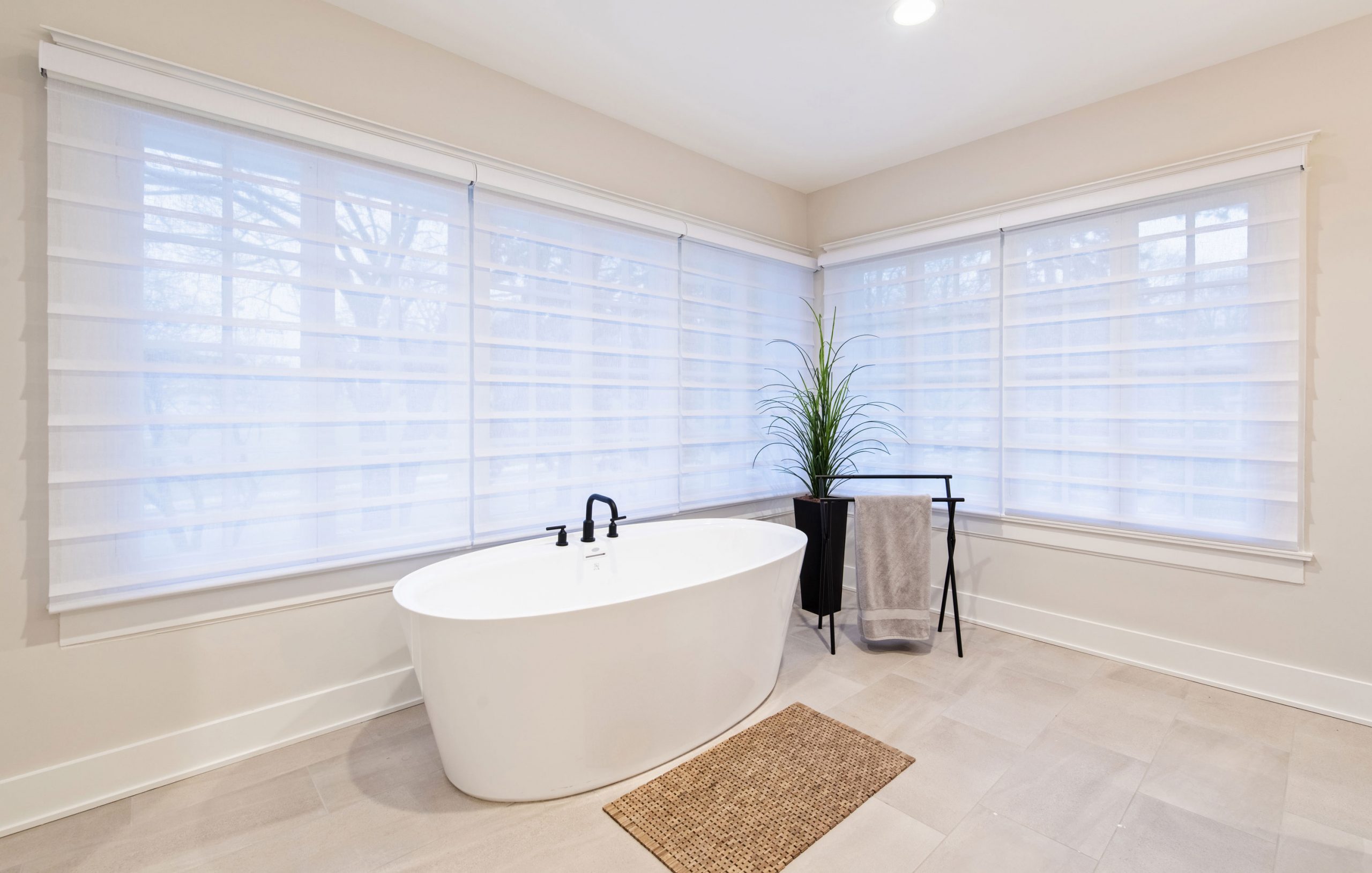 "During the renovation of our first floor, we made the master bath our 'everything'. The coffee pot was next to the sink, the microwave sat in a corner and we ate many of our meals cozied up together in that room. It sounds horrible, and it was, but sometimes the worst moments end up being your family's favorite memories."
Make the most of your bathroom with window treatments that offer a fashion forward stylistic quality, while providing the privacy you need, with the ease and convenience of light control for every moment.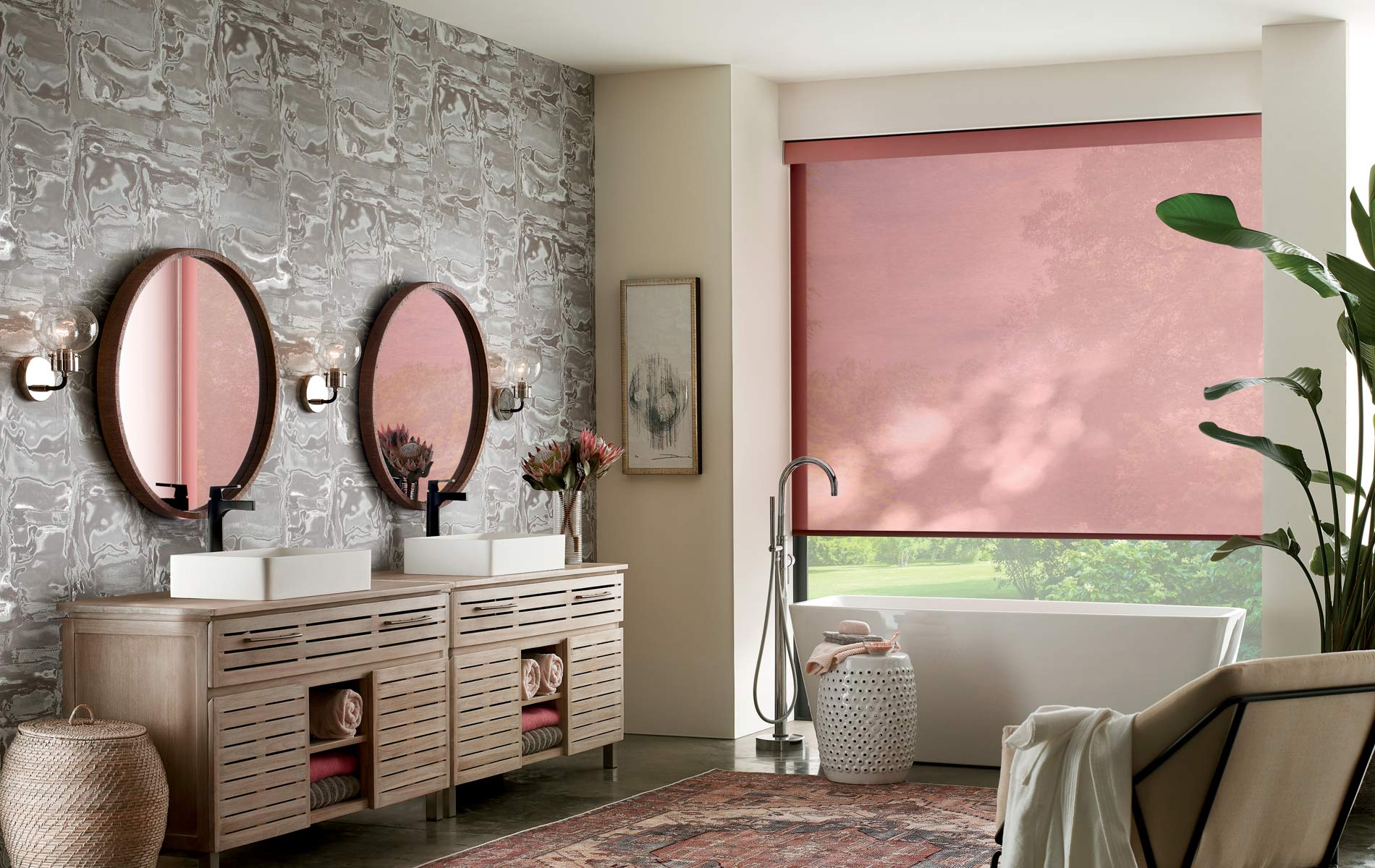 "My trick is mascara. As long as I can put on mascara, I feel like myself again.  Also – no one tells me I look tired when I'm wearing it."
Life gets busy, and while you are focused on taking care of everyone else, taking time for yourself takes a backseat. The EasyRise operating system makes controlling the light in your bathroom a split second decision. Lighting is important for you in the bathroom so you can feel better about yourself. With the beauty and light control of window treatments for your bathroom, enjoy your privacy, and access the perfect amount of light quickly. Never leave the house with two different colored shoes again!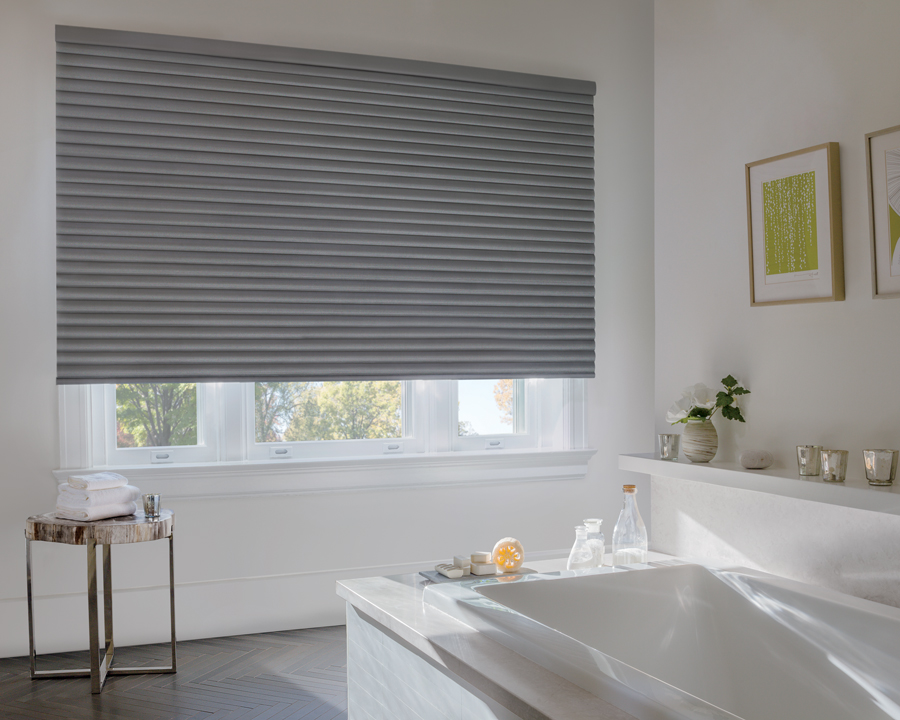 "When we moved into this house, I remember taping up packing material on the bathroom windows. Every neighbor is so curious about who is moving in next door. I kept thinking, 'I know they're watching me – and I don't care if they judge me for half-empty boxes lying around, but what goes on in the bathroom is my business!' I made an appointment for window treatments that day."
Privacy. Light control. You should never have to sacrifice either. With the beauty of  window coverings, you get dynamic control: The highest levels of privacy with light control at your fingertips. They provide a stunning look, with durability to withstand the humidity that is so common in your bathroom sanctuary.
Window treatments for your bathroom can create a sanctuary of soft light and privacy, just for you, in your Kansas City area home. Read, relax and rejuvenate yourself amidst the quiet of your bathroom. And when those little fingers slide under the door with a tiny voice calling out, "Mommy…where are you???" Realize that you are loved and needed, and smile, knowing that you may get the chance to escape back to this place of calm for five minutes tomorrow. We'd love to help make your bathroom your own personal sanctuary of relaxation, privacy and valuable light. Contact our team, at One Stop Decorating, for a free, in-home consultation.