Adding life, energy, and personality to a space is simple…just incorporate patterns. If you're rolling your eyes and thinking, "Easier said than done!" you're not alone. Decorating with patterns can seem a bit intimidating–especially when two or more are involved–but it doesn't have to be. While there's no one right way to infuse and mix patterns to perfection in your home design, there are a number of tips and tricks that can help ensure your end result will be fabulous. Here are some expert pointers from our One Stop Decorating design team.
Working with One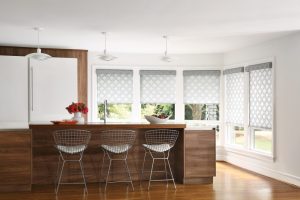 When it comes to decorating with patterns, a single print can truly speak volumes. Look for ways to coordinate and contrast with the other design elements in the space to bring a sense of composure and completeness. Also, consider the pattern's placement and scale. Large patterns need space to repeat and be seen in their entirety, so they work best on large items–such as walls, large window treatments, and rugs. A medium-scale print is great for furniture and shades or draperies too, and small patterns are well-suited to accents because they can sometimes come across as busy when used in large amounts. Here, a medium, gray and white geometric pattern on the kitchen shades adds a bit of cool, calculated contrast to the organic warmth of all the wood. It brings balance to the room while also pairing perfectly with the squared design on the metal stools.
Mixing Like a Pro
Layers of complementary patterns captivate the eye and make a space feel vibrant and welcoming. So how do you avoid creating a visual mishmash that just doesn't work? Here are five quick formulas for achieving a gorgeous look when decorating with patterns:
1. Stripes and Dots: Stripes and polka dots are probably the easiest patterns to work with, and they mix very well together. The sharp lines of stripes offset the rounded softness of dots for a beautiful balance. Simply combine a few different sizes of stripes with a dot pattern, and you'll have a look to love for sure!
2. Florals and Angles: The curving, natural, and wild look of florals pairs incredibly with angular geometric patterns. Triangles and basic stripes are real winners next to blossoms and leafy botanical prints.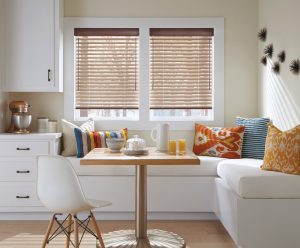 3. Reign in the Colors: Another approach to mixing patterns is to work within a restrained color palette. It allows you to coordinate a variety of patterns, and makes the designs the central focus. Try different patterns in the same two colors, choose a favorite patterned piece to inspire the colors of other accents, or find patterns that have the same background color.
4. Different Scales: When it comes to the size of patterns, it's often best to make them all different. Too many of the same, and things can start to look cluttered. Decor pieces will compete for your attention, and your eyes won't be able to decide where to look. If you stick to one pattern in each scale-size–small, medium, and large–the odds of ending up with a perfect mix are much better. For instance, large-scale striped drapery panels can layer gorgeously with a medium geometric print on a daybed and small-scale patterns on pillows.
5. Pillow Collection: Creating a collection of pillows in all different patterns is a fun way to mix a lot of designs for a great result. It's also nice because you can easily add and subtract from the collection over time. The gathering of pillows in this dining nook adds beautiful pops of color and lots of energy. Each print is an equally small accent, and the collection is balanced with patterns featuring both curves and lines. It also includes a solid–which helps to settle the eye.
Style Spotlight: Trellis Patterns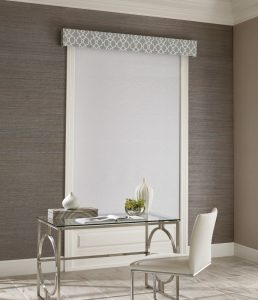 Trellis patterns are extremely trendy right now. Their interlocking designs are incredibly versatile–with variations from graphicly bold to modestly muted. When decorating with patterns, a trellis print is pretty much a sure win in any room. To fully appreciate this classic pattern, choose one in an enticing color with crisp white. You can put it on windows, walls, upholstery, rugs, accessories, or anywhere else you want to add some zing. This office spaces takes a more subtle approach. Highlighting with a gray and white trellis-like top treatment, the effect is purely breathtaking.
Decorating With Patterns Your Way
Your home is unique–your style is all your own. The way you go about decorating with patterns should be all yours, too. Whether you choose to infuse a space with a single pattern or mix and mingle three different designs, the end result should be one you absolutely love. And our team at One Stop Decorating is here to help. We can guide you toward patterns that tickle your fancy in all areas of decor. Stop into one of our four Kansas City area locations, or let us come straight to you. Contact our team for a free, shop-at-home consultation to get started today!