Preparing your dining room for guests can be an exciting task, especially during the holiday season. As the focal point of your celebration, it's important to make your dining room style look special by showcasing your unique taste this season. Get everyone into the spirit of things with designer inspired ideas that will make your guests feel right at home.
Transform Traditional Into Transitional
It's time to step it up! Take your traditional styling and hit refresh. If you're unsure what the term "transitional" means, here's an explanation. Transitional style takes a traditional look and adds a contemporary twist to it. Take your home's dated paint palette for example. Lucky for you, transforming warm tones is a simple task. Updating your dining room style can be accomplished by adding a few simple modern elements. Here's an example below.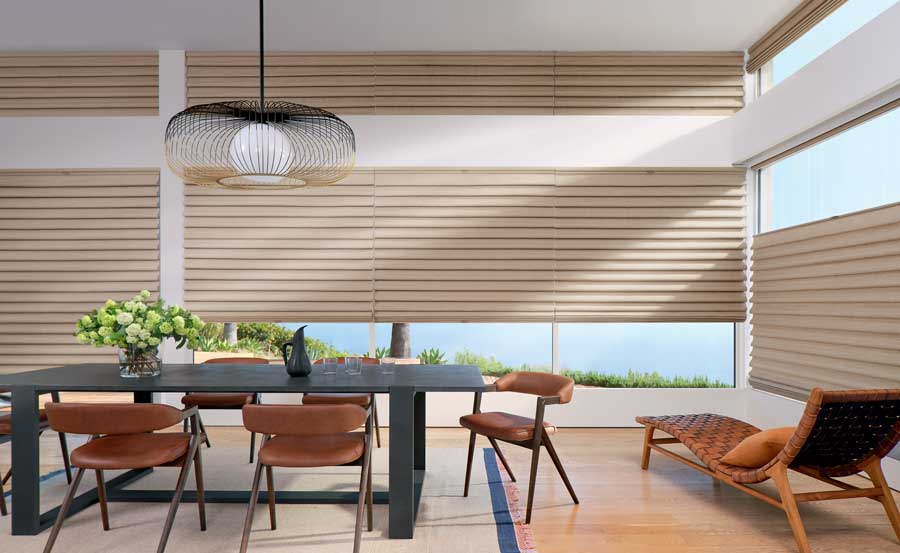 Consider adding black design features to your space like this dining room. The color black adds a sleek, clean, fresh look to an ordinary warm space. Don't forget to exchange outdated hardware with some new styles, this will complete your transformation. Look how simple.
Make It Your Own Dining Room Style
There are no rules when it comes to dining room style. In this featured dining room, Peggy of @onepearcourt, creates a "contemporary-meets-traditional" dining experience.  Here, a formally set table incorporates modern design elements with seasonal must-haves.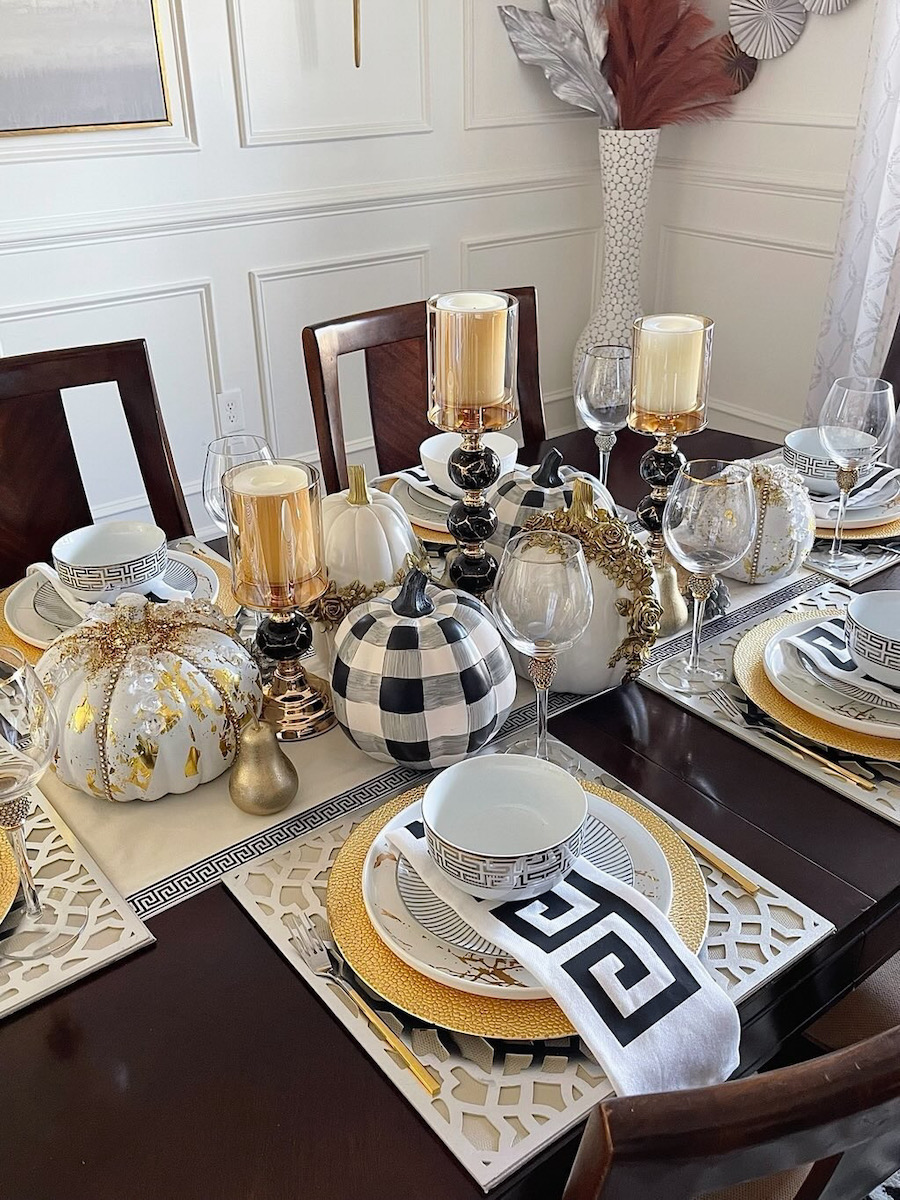 Designing a tablescape with such intimate detail sends a message to guests: We're so glad you're here. Take in Peggy's thoughtful design. You can almost taste the autumnal flavors. We love the geometric patterns on the napkins, along with seasonal pumpkins in traditional buffalo plaid (in black and white of course). This warm and welcoming tablescape sets the scene for a wonderful fall evening. 
Consider the Size of Your Space
Everyone's dining room is unique, so work with what you have. Create your own dining room style by accenting your favorite features.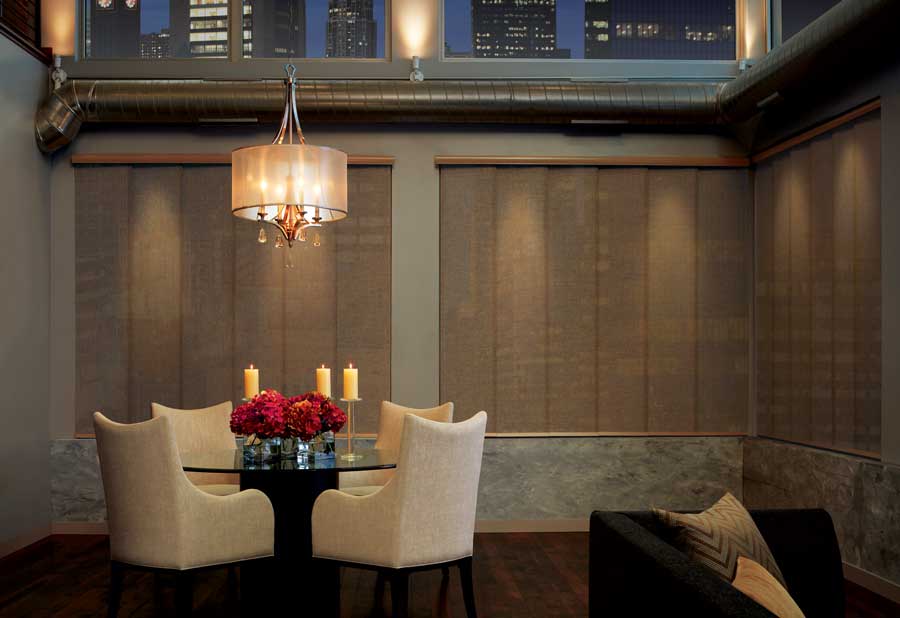 If your dining table doesn't fit your crowd, improvise. Use the dining space as a seasonal cocktail lounge for guests, or host a dinner for a small, intimate party. Or, better yet, reveal the dining room tablescape after dinner. Head out to dinner, and upon returning home, display a beautiful fall dessert charcuterie–everyone will gather for truffles and pumpkin roll. 
Maybe you have the opposite problem–too much space? How can you make a ballroom size dining room feel cozy? One way is by creating multiple small spaces within the large area. Try setting two chairs off to the side to create an intimate sitting area for private conversations. If you have the square footage, consider a sofa for people to relax after eating while still being part of dinner conversation. Whether your space is small or large, creating your own dining room style is key to hosting a successful event.
Put Your Story on Display
Revealing little things about your life can make guests feel like they know you more intimately. Think about your hobbies and life experiences. If you love to travel, fill your dining room with items you've gathered along the way. Book collector? Add bookcases featuring your favorite authors. After all, dining rooms are where we celebrate life's special moments.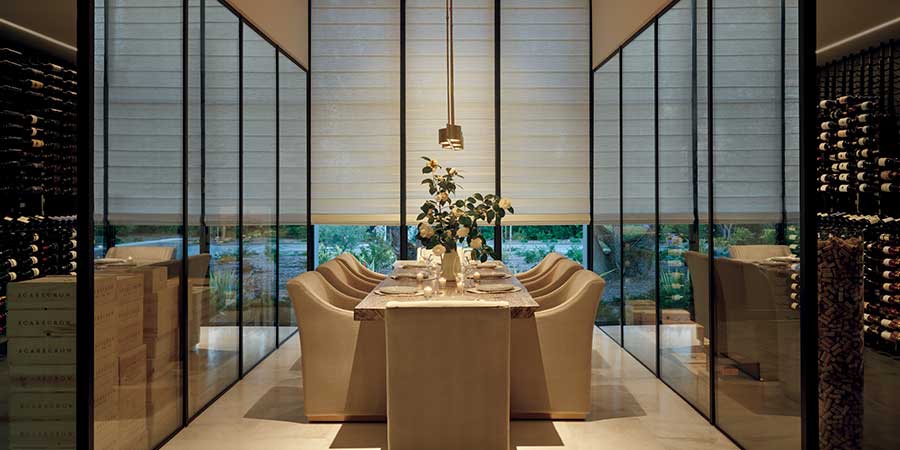 On the evenings when you're not entertaining, your own dining room becomes a place to reflect on the good times you've had while being surrounded by things that mean the most. 
Discover Dining Room Style
One Stop Decorating can be part of the creative process for your home. With expert knowledge in home styling, custom window treatments and more, you're well on your way to establishing your own dining room style. Get in touch with our team to begin the process and take advantage of our years of design expertise with window treatments, home accents, wallpaper and more. Enjoy a FREE Consultation at one of our showrooms, or in the privacy of your own home. Let's transform your space together.