Are you ready to experience the transforming power of a dual shade system? This incredible innovation is truly changing homes and lives every day. And your options are continually expanding! Just this spring, Hunter Douglas has added roman shades to its list of collections that are available with this revolutionary upgrade. So, which dual shade system is right for you? Let's find out!
I want daylighting, but I can't leave my windows uncovered.
Do you long to enjoy the daylighting benefits of top-down shades, but fear what will happen if you leave part of your windows uncovered? Then you will love a Duette or Applause dual shade system. A top, light-filtering shade brings in soft natural light while a room-darkening bottom shade adjusts up or down to meet your needs. And the best part? You get the valuable protection of full coverage of your windows with cellular shades. Your home's interior is completely protected, so your mind can be totally at ease! (Duolite is also available in vertical shades!)
Sometimes I want light and view. Sometimes, I don't.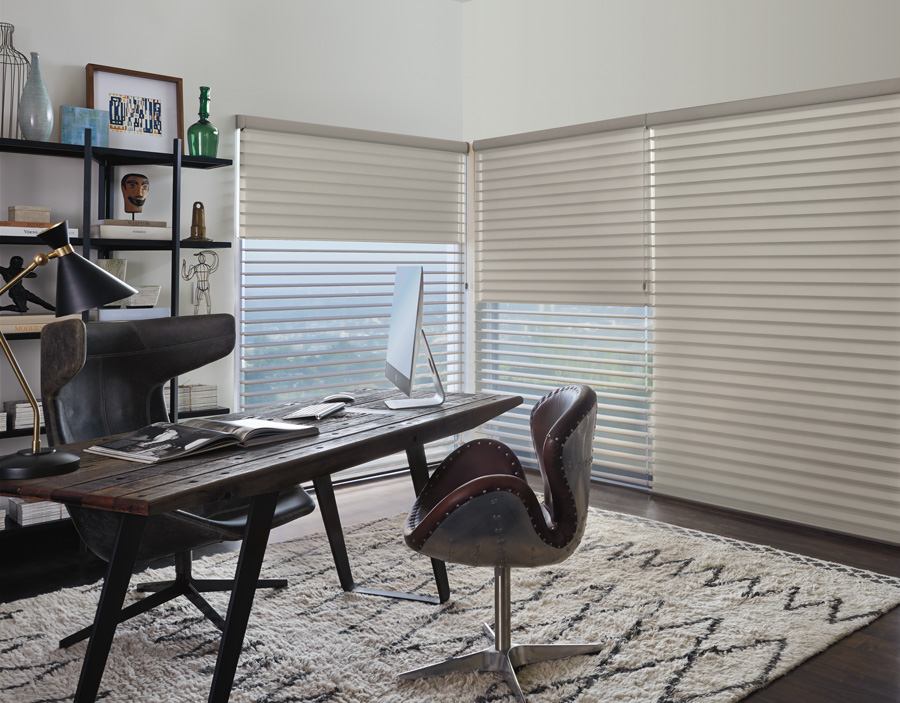 Are you struggling to decide between outfitting a room with sheer or blackout shades? You want to enjoy natural light and your view, but there are times when blocking the sun is an absolutely necessity. With a dual shade system, you can have it both ways! Soft, filtered light can flow in through the sheers. And when you need to block light, simply adjust the secondary room-darkening shade. This works really well for rooms with west-facing windows where using the space depends on blocking sunlight part of the time. It's also great for bedrooms where your needs for light and privacy change based on the time of day. If a range of control from sheer to blackout appeals to you, here are the collections that'll suit you best:
Silhouette Shades with Duolite
Designer Screen Shades with a Dual Shade
Designer Roller Shades with a Dual Shade
I want it all: light-filtering, daylighting, privacy, and blackout.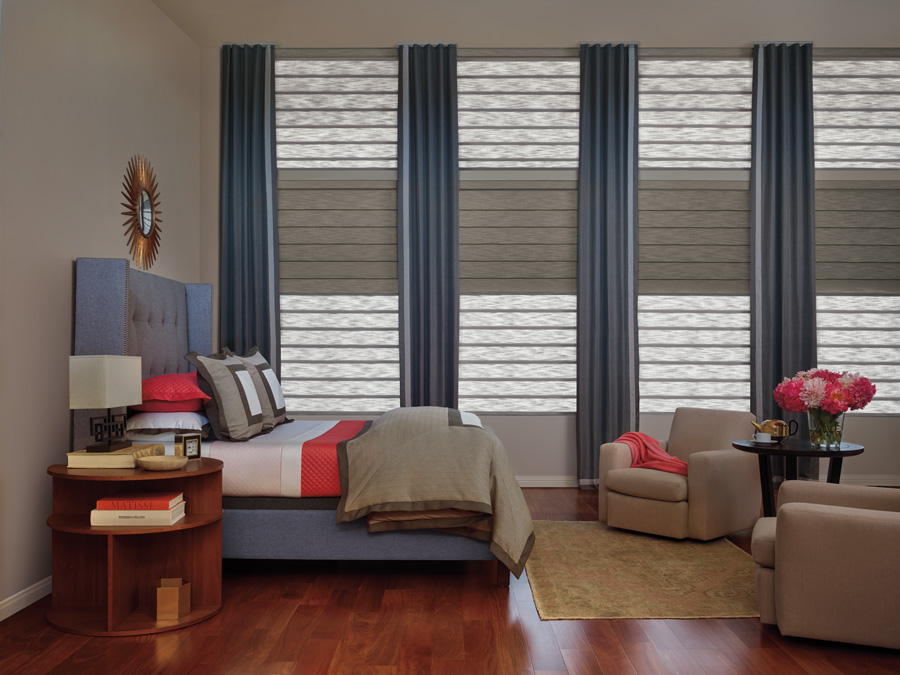 If you're looking to truly customize the environment of your home for every circumstance, then you have to meet the newest addition to the collections available with a dual shade system: Vignette Modern Roman Shades with Duolite. You can enjoy a sheer or light-filtering front shade with a secondary room-darkening back panel that rolls into place, adjusting to exactly where you need it. It's now easier than ever to achieve the perfect levels of light and privacy! Since this is a PowerView motorization exclusive option, delivering the ideal atmosphere happens at the touch of a button or automatically on a schedule set by you!
Ready for an Innovative Dual Shade System?
Whether you know exactly what you want or still have questions, our designers are here to help. We'd love to visit your Kansas City area home to help you decide which dual shade system is just right for you! Contact our team at One Stop Decorating for your FREE, in-home consultation today!