Close your eyes, and imagine your favorite vacation spot. No matter the location, I bet it was filled with time to relax, exhausting fun, and cherished memories. How could everyone's favorite getaways be so alike? Because time away literally takes you away from the daily grind–no matter where you go. Combine that with the ability to get a peaceful night of sleep, a comfortable environment and the company of those you love? It's a winning combination. What if we told you that your home design could help you create a staycation in your own home? Take a look at how you could relax and revive yourself year round.
Take a Breath. Simply Relax.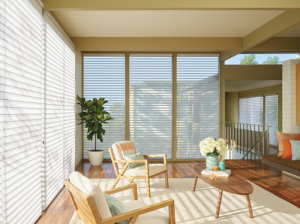 Time away for vacation gives you simply that–time away. There's cozy comfort and a peaceful setting. You can collapse into an overstuffed chair and let the cares of the world wash away. Sit around with friends, enjoy conversation, or just take in the view with a cup of coffee in the early morning. In your home? This overall atmosphere is absolutely achievable with the right elements of home design.
Your Living Room: Seating, Storage & Light Control
When you choose elements of home design for your living room, there are three specific categories that will help you create a staycation in your own home. Seating should be comfortable and plentiful, whether you want to admire the view alone, or sit around relaxing with friends. Light control allows you to change the atmosphere based on the activity, as this space can seem like a revolving door throughout the day. You'll need window treatments that allow for adjustable control and comfort–as well as offering view-through to the landscape. And, when you think of a vacation, the last thing you have to consider is clutter. Nothing will help you feel better about your surroundings than the right storage–putting things away in their own place easily.
Get a Good Night's Sleep.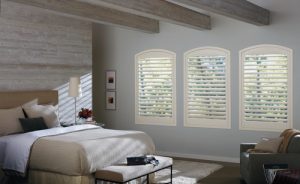 Peaceful sleep is vital to restoring health and wellness. When you think about "vacation sleep," you probably have fond memories of plush bedding and room darkening that drifts you off into dreamland. And you need it. Most of the time that vacation sleep follows days of travel, excursions and unique fun. But, your daily life calls for that same restorative magic, and wouldn't it be amazing to be able to create that same sleep sanctuary in your own home?
Your Bedroom:

Room Darkening, Privacy & Comfort
Comfortable bedding may go without saying–but when was the last time you treated yourself to a new set of high quality sheets? If you can't remember, it's been too long. And, a beautiful duvet cover will contribute to the overall feeling of staycation living in your home design.  When it comes to the most important element of vacation sleep, it's most likely the room darkening you'd like to duplicate. Whether you choose blackout blinds, shades or shutters, you'll be able to sleep in–even on the brightest days. (This is a good strategy to get children to sleep longer as well!) Then, there's privacy. The best kind of privacy for your bedroom is the adjustable kind, so you can customize how the light and view affects the space and your comfort. Top down shades are a great option. Window treatments with louvers, like shutters or sheer shadings are one simple adjustment away from adding comfortable privacy.
Eat, Drink & Be Very Merry.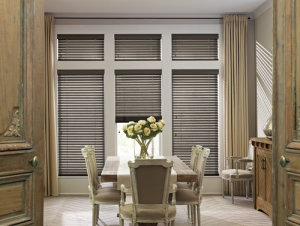 Vacation memories are sure to conjure up images of time spent with those you love, good food and laughter. When you have a vacation agenda, this tops the list, right? There's nothing better than spending time with those you love while enjoying some delicious food and drinks. In our daily lives, however, we often have to schedule these things in advance. But, the end result is totally worth it. And, if your home design is ready for this kind of enjoyment, you're only a phone call away from creating lasting memories.
Your Dining Room: 

Atmosphere, Comfortable Seating & Friendship
In order to relax with friends, your dining room should be ready with the right combination of elements. Comfortable seating is important for friends and family as you all sit around together reminiscing, laughing and enjoying favorite recipes. Do your dining room chairs need a new look? Reupholstering chairs is a sure way to add both upscale design and comfort to the space. The right atmosphere is often found with the perfect balance of lighting and landscape views. Directional light control can be key to providing your dinner guests with comfort, and those adjustments create a "dimmable lighting" experience. Who doesn't want to sit around in comfort while a soft glow fills the space?
Choosing the Perfect Home Design Elements…
When you want home to be your favorite destination, you may need help. Our design team at One Stop Decorating is exactly that–your one stop on the way to ideal home design choices. We are your source for interior design in the Kansas City area. From window treatments to upholstery, and everything in between, we can help you design the staycation of your dreams. Want some inspiration? Stop by one of our four area showrooms, or contact us for a free, in-home consultation. We'll come to you with fabric and style options to make the most of your space!