Looking to freshen up your space and add incredible function? Energy efficiency, child safety, gorgeous design…these are just a few things to look forward to with our newest products. Hunter Douglas has introduced amazing new products that bring the latest innovations to your home design. Take a look at what's new in the world of window coverings.
Designer Banded Shades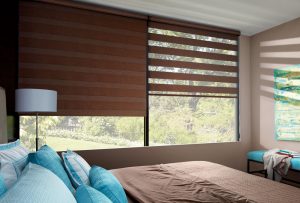 At first glance, these look like premier shadings, which is why this shade is one of our favorite newest products. Designer Banded Shades, which are a member of the roller shade family, are easy to use and simply stunning.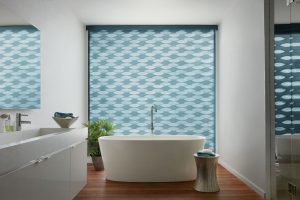 Choose from clean lines or geometric patterns for a fun, modern twist. They feature two layers of fabric with the capability of rotating. Simply adjust your shades so the opaque fabric backs the sheer shade. You can enjoy amazing light filtering, or add privacy. You can even add room-darkening solutions. It's customized for you!
Sonnette Shades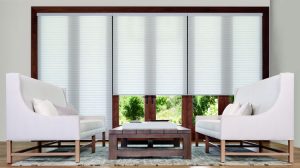 Imagine having a shade that functions as simply as a roller shade, but provides the amazing solutions of honeycombs. Well, one of our newest products has done it. Say "hello" to Sonnette shades!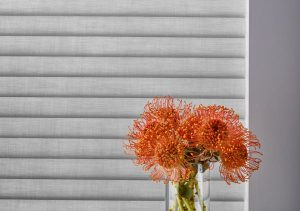 The easy-to-use operation combined with amazing features will completely change your window design. Create a stunning backdrop for your home and add incredible dimension. Great style? Check. Energy efficiency? You've got it. Easy to use? Yup! Let Sonnette shades transform your space.
SoftTouch Operating System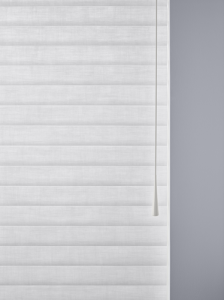 Our newest products are taking child safety to the next level. Cordless innovation has been a top priority of Hunter Douglas for many years. Keeping your loved ones safe, like children and pets, is also one of our priorities. We have a new option to present to you–and it's incredibly cool! The SoftTouch operating system offers a simple, sleek wand as a new type of motorization for your window treatments. All it needs is a gentle nudge to adjust your shades. But, don't worry–if it's pulled on by a child or pet, it will detach from its magnet, keeping your shade in place & your little one safe. Eliminate danger & worry by replacing hazardous cords with SoftTouch.
Love Our Newest Products?
Which one is your favorite? The amazing innovations and styles can take your home design to the next level. Experience them in person. We'd love to show you our newest products! Come take a look at one of our showrooms, or let us show you in the comfort of your home. Contact our team at One Stop Decorating for more information, or to schedule your free, in-home consultation.