We're more than halfway through 2017 already, and it's exciting to see what styles and decorating ideas have made their way to the forefront of the design world. We're absolutely loving the bedroom trends that are hot this year. Luxury, comfort, beauty, and more are packed into bedroom designs that make stylish dreams into real-life realities. Check out 2017's top five bedroom trends, and be inspired to bring new design elements to the spaces you snuggle into each and every night.
#1 Accenting with Wood
Wooden accents are on the rise in bedrooms this year. If some of your favorite shows are on HGTV, then you're definitely familiar with shiplap accent walls. Distressed and weathered wooden planks add a touch of farmhouse style while allowing other elements in the room to bring contemporary appeal. But walls aren't the only places where wood is cropping up. Unique furniture pieces, carved wooden lamp bases, and even branches are all major players in the realm of wooden accents for sleeping spaces. We've seen natural elements grow more and more popular every year in home decor. So, when it comes to bedroom trends, we don't expect that this one will be falling off the charts anytime soon.
#2 Adorning with Greenery
Speaking of natural elements, greenery has burst into the bedroom with refreshingly lively appeal this year. Since Pantone chose Greenery as its Color of the Year 2017, we expected to see it pop up in all areas of home design. Sure enough, it made its way beautifully into the places where we rest our heads. Beyond incorporating one of the top bedroom trends, adding actual greenery into your design brings a host of benefits. Plants can purify the air in your room and a number of them have been shown to promote quality sleep. Plus, they create a distinctive look. Whether real or artificial, elements of greenery will add dimension and refreshment to the bedrooms throughout your home.
#3 Walls of Wallpaper
That's right…wallpaper is back, and it's better than ever! As one of 2017's top bedroom trends, wallpaper transforms the spaces where you sleep into places of sheer beauty and luxury while delivering a dose of incredible personality. With options like sweeping florals and metallic damask prints, there's definitely a wallpaper out there that'll steal your heart. What's more? Modern technology and advancements have made wallpaper easier than ever to hang–and to remove when you're ready.
#4 Minimalist Simplicity
Today's world has us constantly on-the-go and often leaves us full of stress. When nighttime rolls around, winding down, falling asleep, and staying asleep can seem impossible. The best sleep comes when your mind is clear–which is why minimalist design has claimed a spot on this year's list of top bedroom trends. Clutter and room designs that feel busy can make us anxious and nervous. Creating a simplistic setting for sleep helps to calm your mind and improves the quality of your rest. Go to sleep in peace and quiet; wake up refreshed and ready. It is possible, and minimalist design can help take you there.
#5 Layer, Layer, Layer
Layering is one of the top bedroom trends this year, and it's not hard to see why. At the window, layers create beautiful dimension, add a touch of luxury, and maximize function. The look of waterfalling roman shades or our newest collection of Designer Banded Shades paired with flowing drapery panels is just gorgeous, and the function they provide is impressive. You can have filtered natural light, sleep-inducing darkness, and comfortable privacy anytime you want it. Then there's designing with layers of comfort. Custom bedding, accent pillows, and plush rugs bring eye-catching appeal and a soft embrace at the end of a long day. Sounds perfect, doesn't it?!
Bring the Top Bedroom Trends Home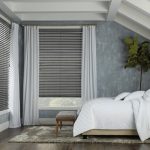 Are the bedrooms in your home due for a makeover? Which one of this year's top bedroom trends speaks to you? At One Stop Decorating, we have everything you need to create peaceful, stylish, and functional havens for sleep. From accents and wallpaper to custom bedding and window treatments, our design team can guide you toward elements that'll improve your quality of life and perfect the design of your spaces. Contact us for a free, in-home consultation today. You'll be so glad you did!