Gorgeous views, amazing light…is there anything better than floor to ceiling windows? First impressions are everything, and then there's reality. If you're living with large scale windows, you know that the beautiful view and extra natural light your home receives can be overwhelming. But you may not want to give either one of those characteristics up. After all, it's probably what made you fall in love with your home from the beginning. You need floor to ceiling window solutions that can offer your the balance you're looking for. Enjoy all the benefits, without suffering from the realities of living with large windows.
Too Much Light? Control It.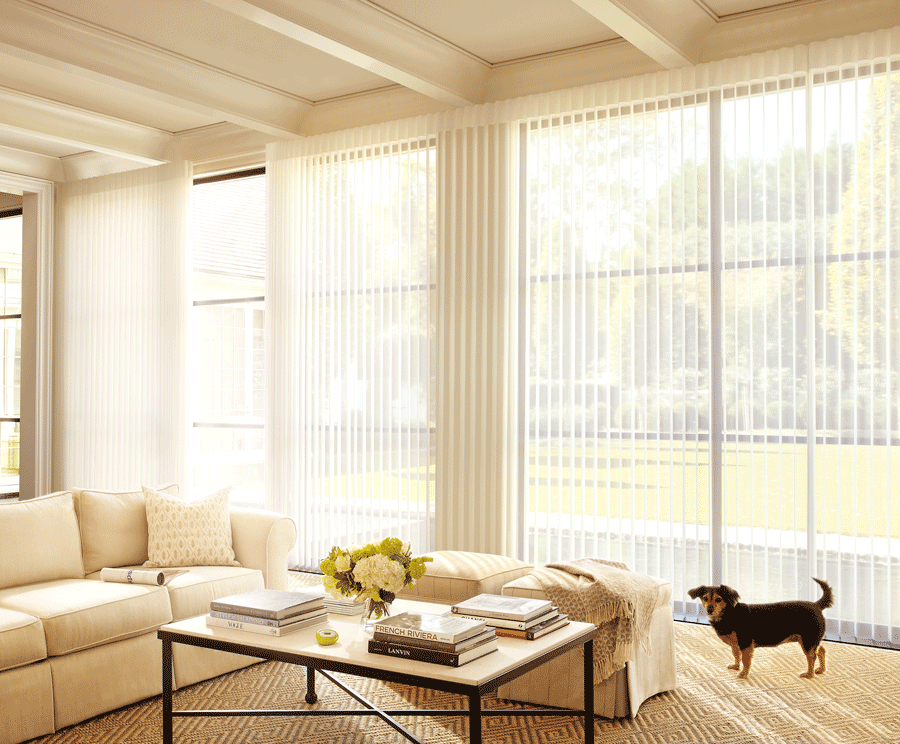 One of the problems you face with floor to ceiling windows is excessive light. It might not be an all-day occurrence, but when light blasts through your large windows, there's no escape. You might avoid specific rooms at certain times of day, hiding from the sun. You may feel like you're living in an oven during the hottest times of the year. Is that really how you want to live? Of course it isn't. Do you know you have options? Top down shades let you cover your floor to ceiling windows for privacy and light control, but you still can invite in as much natural light as you want. Our roller shades and screen shades offer you light control and glare reduction, with options for blackout if you need it. Large and low profile, roller shades are the perfect choice with sleek design.
Frustrating Temperatures? Get Solutions.
We see a range of temperatures in the Kansas City area. From the bitter chill of winter, to the scorching heat of summer, floor to ceiling windows can leave you feeling frustrated year-round. Experience comfort like never before with large-scale window coverings that bring solutions to your home. Energy efficient window coverings are not just for small size windows. You can add energy efficiency to your home for benefits throughout each season with window shades. Insulating properties of cellular technology will help maintain comfortable temperatures in your home, no matter what Mother Nature throws at you. And with motorized blinds and shades, you don't even need to be home to control them. PowerView motorization puts the control into your hand with an app on your phone or tablet. Even on days where the weather changes in an instant, you have control.  
Scared to Cover Up? You Can Have It All.
If you're feeling torn between enjoying your view and feeling comfortable in your home, you don't have to choose. We know you want the benefits of window coverings. We know you love the unique look these large windows bring to your home. Having window coverings and enjoying your view are not mutually exclusive–you can have it all! We have an entire collection of sheer shadings that give you the best of both worlds. The sheer fabrics protect you and your home from excessive light, harsh glare and harmful UV rays. They also enhance the atmosphere of your home by allowing you maximum view-through in the lowered position. Talk about the best of both worlds!
Floor to Ceiling Windows: Solutions for You!
We have a vast selection of window coverings that fit the largest openings….and they're gorgeous! We know you've been holding out on covering up your floor to ceiling windows because you don't want to miss out on the aspects you love, but you don't have to! Contact our team at One Stop Decorating today for your free, in-home consultation. Let us help you get started!