It's a breath of fresh air to get out and about. The weather is warm, and your outdoor space has again become the high-traffic zone that's just begging for functional solutions! Let us help you solve them with patio door, sliding glass door or french door shades. What are your biggest concerns? What questions do you have? We're here with answers and solutions that will coordinate your home's decor, while providing easy access to your outdoor space! And after you've solved your trickiest problems indoors, don't forget we've got your outdoor areas covered as well with exterior screen shades!
Let's Get Real: You Need Shades.
Just like large windows, your patio doors, french doors and sliding glass doors suffer harmful and unpleasant effects. Direct sunlight, glare, energy loss and UV rays treat these doors like wide open spaces. French door shades can solve these problems. But what about your gorgeous view? No problem. Our sheer shadings will offer the view-through you need to enjoy your breathtaking view while maintaining all the solutions you need. With large windows and doors, your window coverings provide a beautiful backdrop for your home. French door shades will vastly improve the atmosphere and function of your home.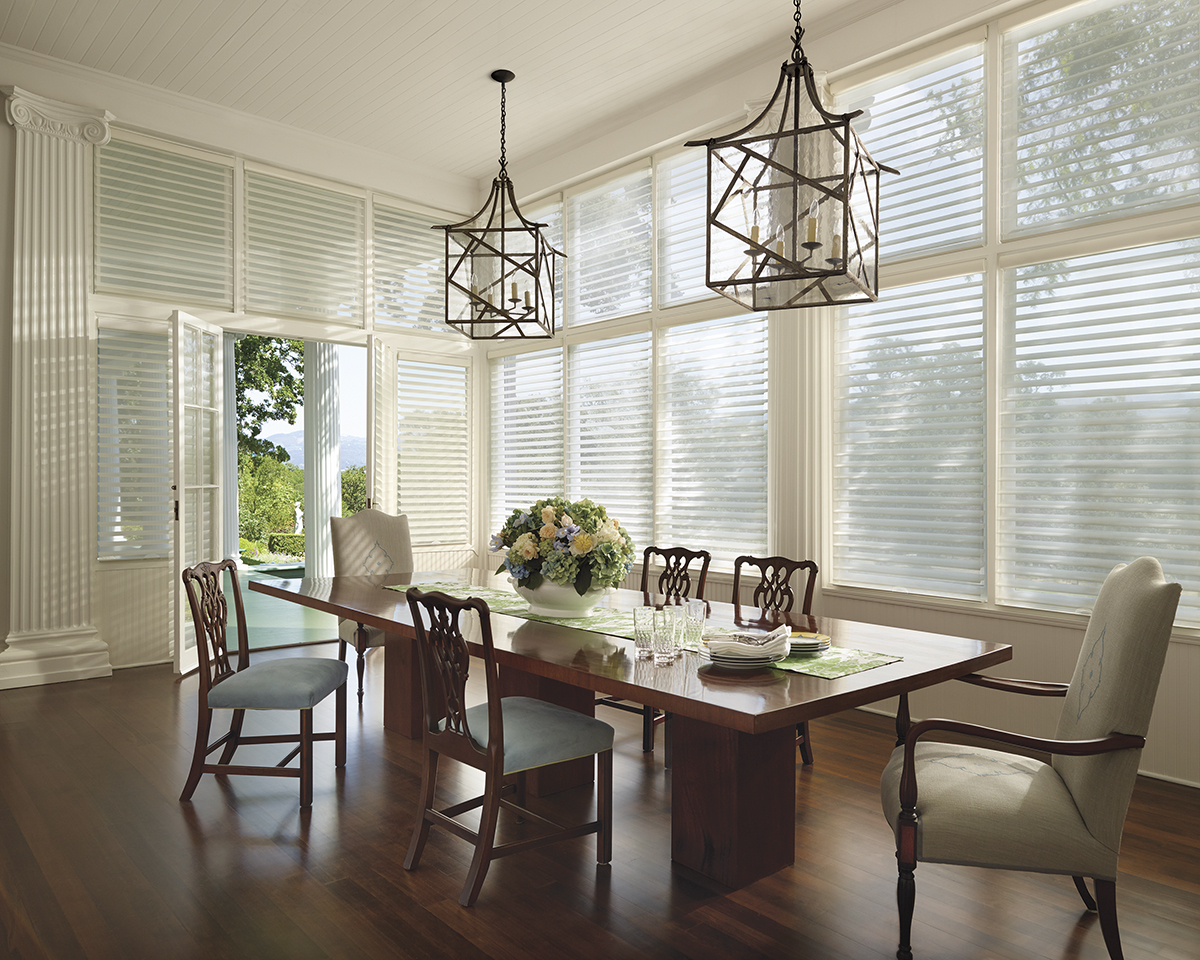 Cordless: Tidy and Child-Safe
Do you have kids? Pets? The outdoor areas of your home will be accessed from morning until night throughout the spring, summer and into the fall. French door shades can offer you simple, effective–and most importantly–safe function. Our LiteRise operating system means no dangling cords, just operating with a simple nudge up or pull down for light control and privacy options. With energy efficiency at the doors, you'll receive benefits all year long with the peace of mind you need as your family goes in and out.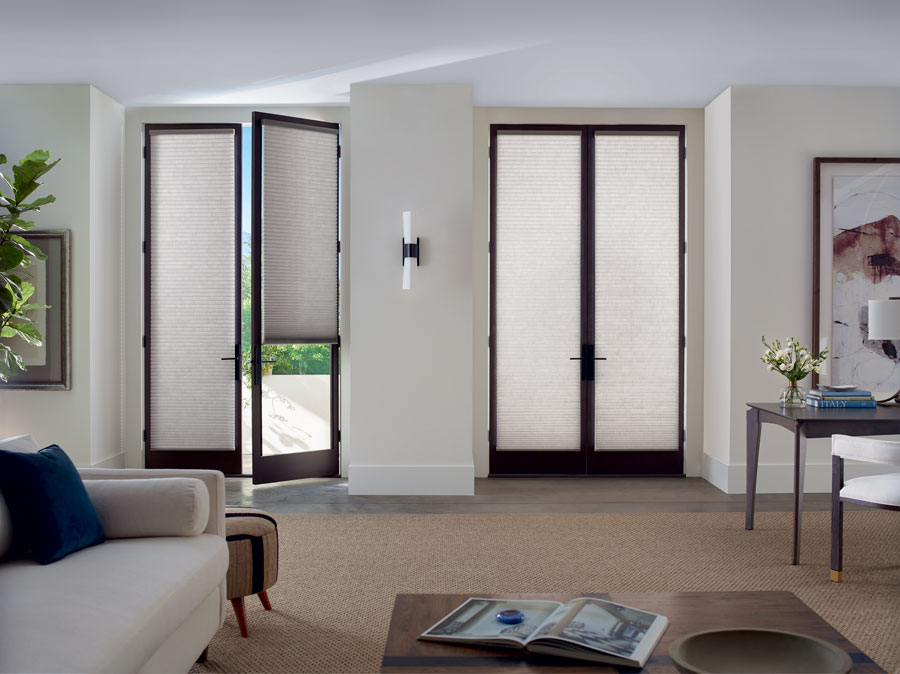 Motorization: Touch-of-a-Button Control
Your life can be chaotic. The constant 'in and out' of children and pets can almost make you crazy. With motorization of your sliding glass or french door shades, experience effortless control and child-safe operation. The adjustments are at your fingertips–positioning your shades for ideal light control and privacy from your favorite device, or the sleek design of the PowerView Pebble remote. After experiencing the difference PowerView automation can make, you'll understand the way your home responds to light at specific times of day–even setting a schedule with the Powerview App. It's the ultimate control.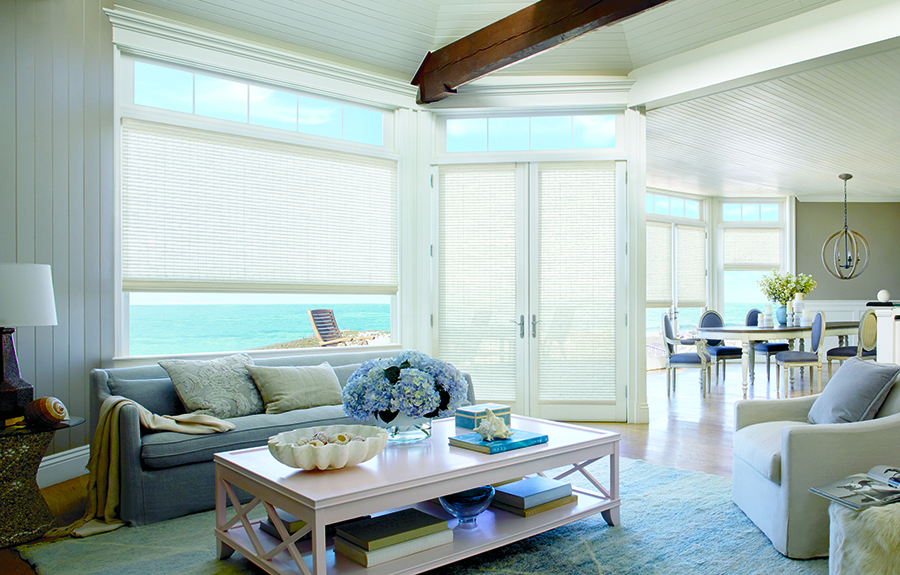 Vertical Solutions: Innovations You'll Love
The classic design of vertical shades is still a favorite in the Kansas City area–and with good reason! Vertical shades offer you great choices for large windows and patio doors, and they coordinate with the fabrics of windows in the same shared space for incredible design. One of our favorite vertical solutions in french door shades is Luminette Privacy Sheers. The rotating fabric vanes offer you a large range of levels of privacy and light control, while the soft fabrics bring beautiful elements of design to your home. One of the characteristics of Luminettes is the opportunity to enjoy your view while shielding your home from glare. And let's face it, with large windows and sliding glass doors, the direct sunlight can be intense!
Are you ready to enjoy the beautiful weather with convenient and effective solutions for access to your outdoor space? French door shades are one of many options for these high-traffic areas. Our helpful designers can come to you with ideas and inspiration for your home's unique design. Our free, in-home consultation is a great way to get started. Contact our team, at One Stop Decorating, today!