These are uncertain and stressful times. We're in the middle of something unknown. And, while it may be scary, finding a sense of normalcy in your home is the best way to get through it. Our team here at One Stop Decorating wants you to know that we're in this together. So, as most of us are staying home, in self-quarantine, practicing social distancing, we've compiled some tips for making the extra hours in your home feel a little less daunting.
A Healthy Home
Since you'll be spending a lot of time at home, until the foreseeable future, making sure that you have a healthy home is now more important than ever. But what makes a healthy home? Well, it starts with you! The Sleep Foundation created a list of ways to improve your sleep and overall life in order to be able to have a healthy home.
And if you're looking for more ideas, we've made our own list:
Maintain a Schedule.
Create Your Own Comfort.
Evaluate Your Space.
Get the Right Balance of sunshine.
Maintain a Schedule.
Being without your daily schedule can be very frustrating. While there's a lot you can't currently control, creating structure in your home is one way to take back some control.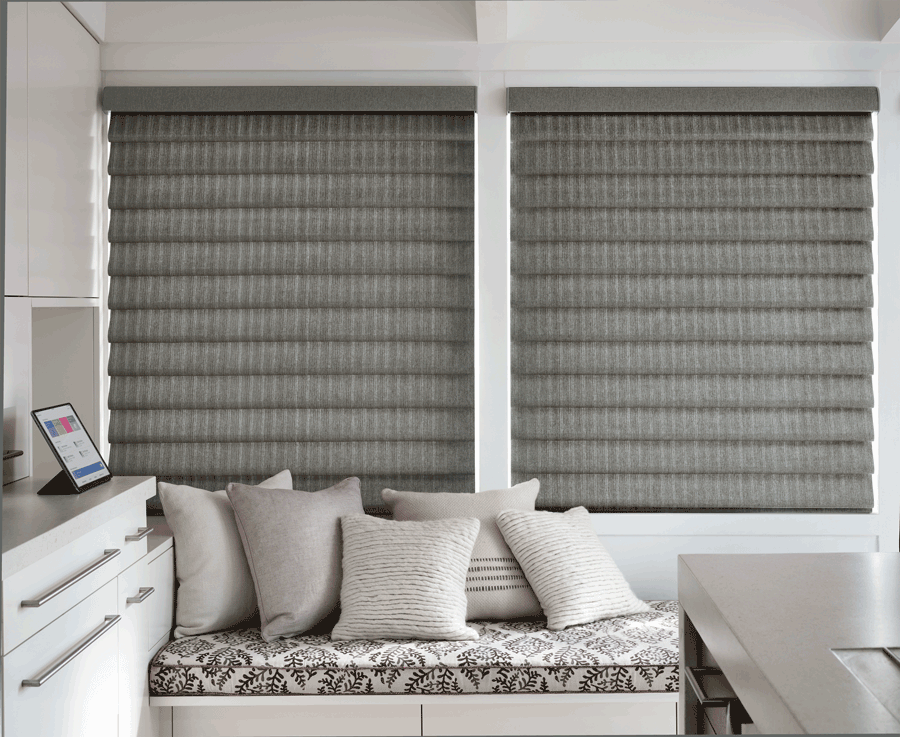 With programming that allows you to open your shades to wake you with the morning light, smart shades are one of those products that will help you take back control. From maintaining the interior temperature, to controlling the glare, there's so many possibilities with smart shade integration. It's an effortless way to keep the normalcy of your life.
Create Your Own Comfort.
Your home–more now than ever before–should be your sanctuary. Whether you're working from home, self-quarantining or practicing social distancing, the fact is–you'll be spending more and more time at home.
It might as well feature all the comforts you deserve. As you check things off your "to do" list, focus on making your home all you want it to be.
Evaluate Your Space.
Take a look at each room in your home and think, "What is it that I want from this room?"
Maybe its something along the lines of:
Better Sleep
Street Level Privacy
Large Window Challenges
Child Safety
Energy Savings
Get the Right Balance of Sunshine.
Feel like you're starting to have cabin fever after being inside for so long? One way to lessen that feeling is by bringing the outdoors in. It's springtime, and if it weren't for the current pandemic, we'd be experiencing all the great wonders of the outdoors. Vitamin D is essential for health and happiness. But, while natural light can help you enjoy the time you're spending indoors, too much of it can be a hassle.
Trying to find a balance between having glare and no light at all? Well, the proper window treatment is what you need. You want a space that still allows light to come in without feeling like your inside a light bulb. The right window treatments are the perfect solution. They allow you to have control of the light coming into your home and also give you a sense of privacy. And, with today's technology, a simple command to Alexa adjusts your automated window treatments in an instant.
We're In this Together
The current state of the world is changing minute by minute. What we can help with–is the health and happiness of you and your family. Our team, here at One Stop Decorating, would love to help. We're in this together, and that means trying to make these difficult times a little bit easier. We're making it easy for you to plan your projects with FaceTime calls, phone calls and emails. So, contact us today for your FREE consultation!