As one of the hardest working rooms in your home, the kitchen window coverings can have a huge impact on the atmosphere and function of the space–not to mention style. Let's take a tour of the most common spots and which choices are our favorites…
Above the Sink
Probably one of the most common windows we see is the one placed behind the sink. The tradition of standing at the sink washing dishes was the driving force behind this feature. And, even though the dishwasher is doing the bulk of the dishes, the feature still stands.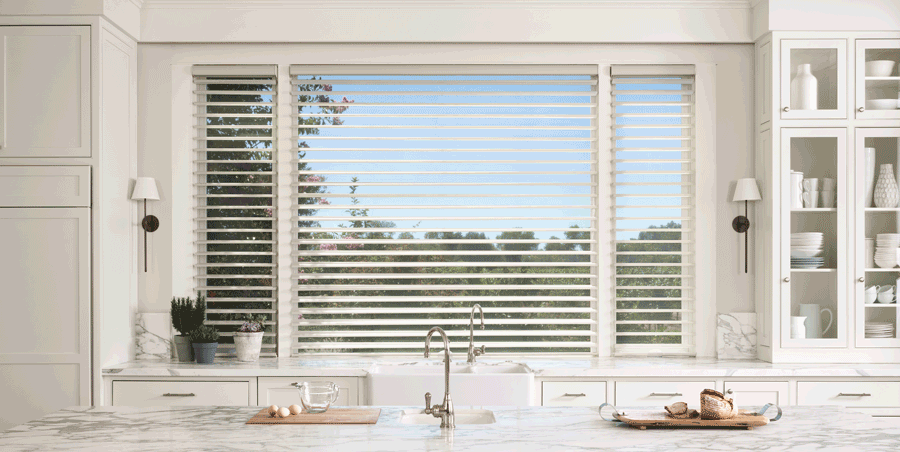 This window can let in an abundance of light–both direct and glaring–so an option for covering it is a must.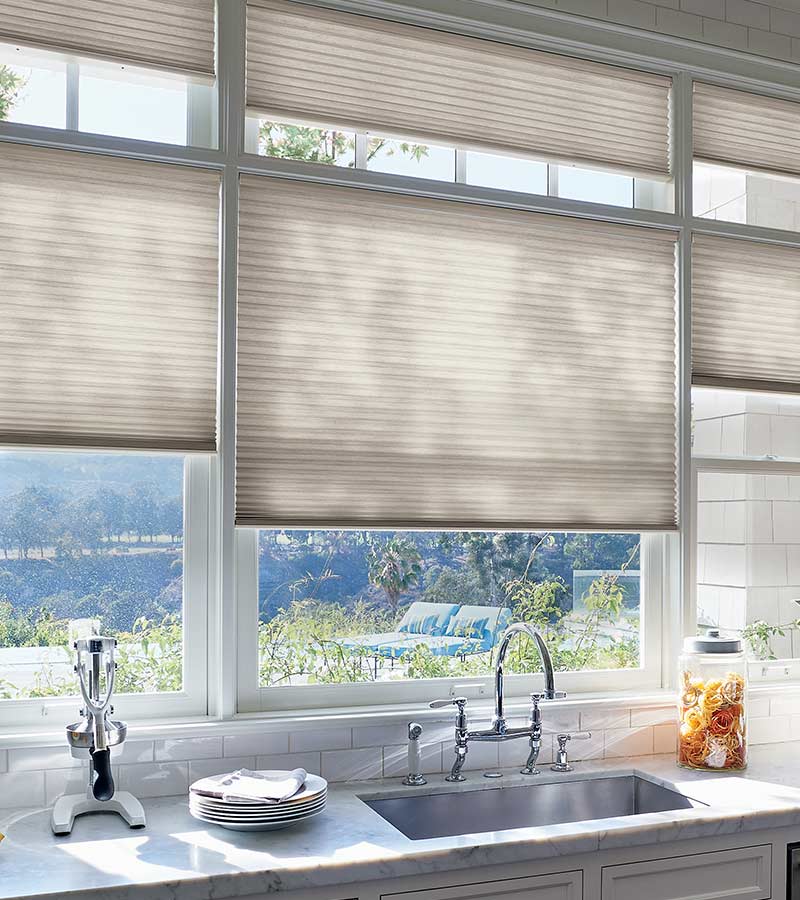 If you find yourself wanting to block the sunlight due to temperatures rising–in addition to the oven–make sure you choose something to insulate that window. The good news is that with top down bottom up, you can cover a majority of the window while still bringing in natural light.
The Dining Space
An eat-in kitchen area provides the perfect place to share a casual meal for the family. But, without the right kitchen window coverings, the light could be chasing the family away. If morning rays or the setting sun shine right into this space, it's going to dampen the mood. Cover the windows so that everyone can be comfortable–and no one gets stuck in the hot seat.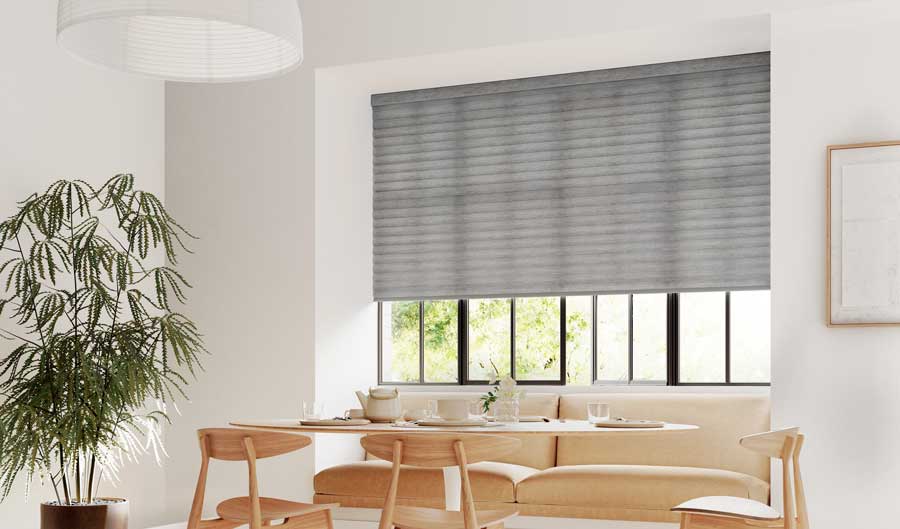 The Same Shared Space: Windows & Doors
The concept of open floor plans often brings doors and windows together in the same "room," not to mention, access to the grill for outdoor living. Because of this, many homeowners find themselves wondering which kitchen window coverings will also cover doors.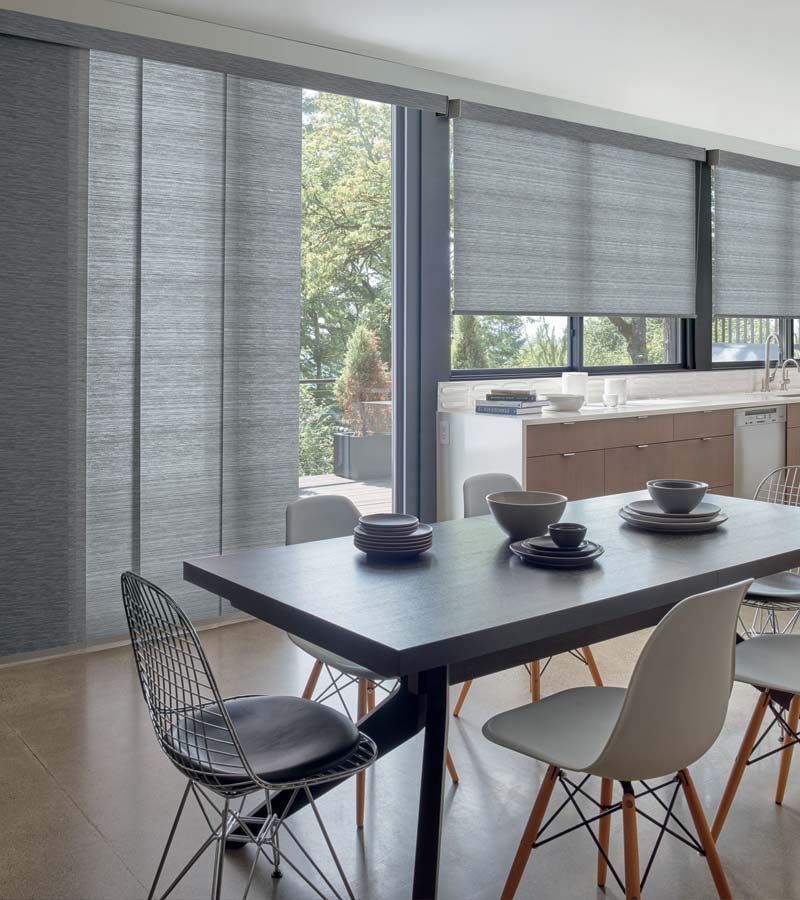 From sliding glass doors, to patio and french doors, you can have matching fabrics–or simply coordinate the fabrics with similar colors and textures. Our window covering specialists will help you discover the function that fits your doors, along with the style that will make everything come together.
Kitchen Window Coverings: The "Clean" Factor
It's a busy space, and messes happen fast. If you feel like your kitchen window coverings might be right in the middle of the mess zone, talk with your window covering specialist about your concerns. They'll guide you to the best options for easy clean-up. We have a number of blinds, shades and shutters that stand the test of time.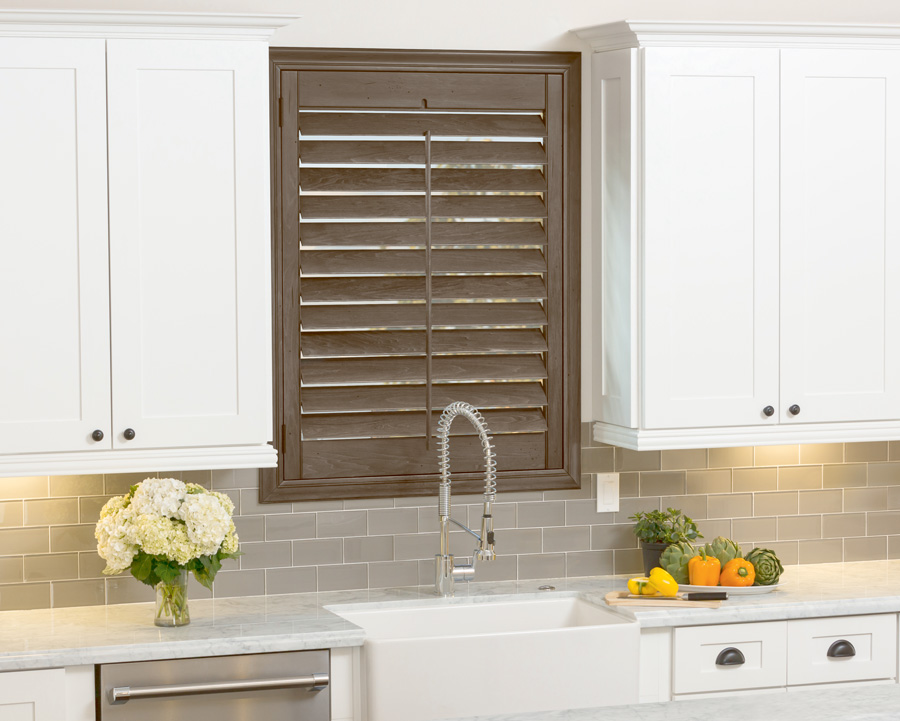 We are here for you–and your kitchen! We'd love to help style this space for beauty and function. Let's work together to make sure your kitchen atmosphere sets your whole family up for success. Get in touch with our team at One Stop Decorating today!