What boasts gorgeous views, illuminating natural light and a designer look, but can also be a big nuisance? You guessed it. Large windows. With our guidance and some large window covering ideas, we'll uncover which shades or blinds work best in solving common issues, such as glare, harsh sunshine and heat. Whether you have tall windows, wide windows or a wall of windows, covering them will enhance the atmosphere and complete the look of your home. In addition, we'll discuss measurement sizes so you know up front which styles are available for your largest windows.
* Depending on the window specifics such as depth, fabrics and features, sizing information can vary.
Control Sunshine & Heat
Do your windows face direct sunlight? Does the room heat up quickly, chasing you out until the sun goes down? No place is safe from the glare and heat of the sun, especially rooms with floor to ceiling windows. In your search for large window coverings, make sure you clearly identify issues and treat them with the proper window covering products.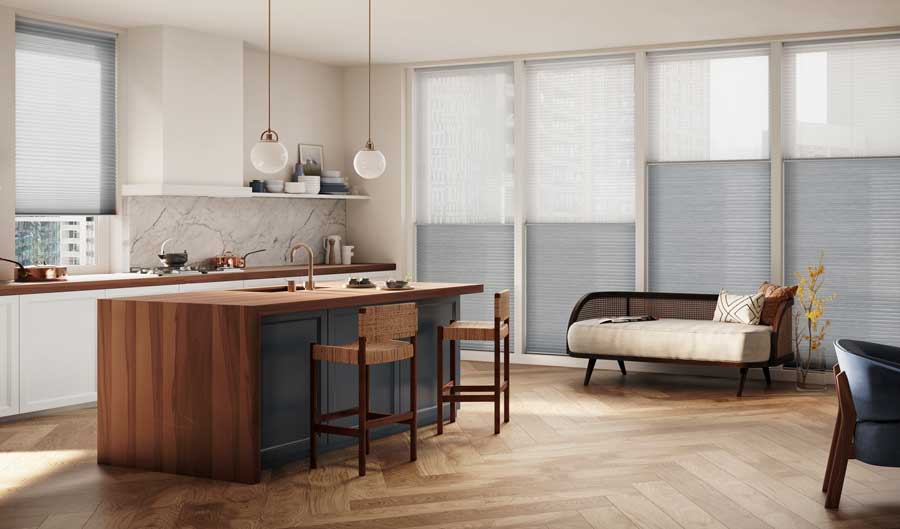 We believe our Honeycomb Shades are an excellent choice for your home. They allow light to filter through, while blocking the heat. Also known as cellulars, these shades offer a variety of problem solving features. Honeycombs are available in horizontal and vertical options and work beautifully in covering windows and doors. One of our favorite large window covering ideas to date.
Available for horizontal windows up to 14 feet wide, 12 feet tall.

Available for vertical windows up to 28 feet wide, 10 feet tall.
Life on Display
On the one hand, large windows provide magnificent views. On the other, they can make you feel on display to the outside world. How can you enjoy your outdoor landscape and also feel safe and secure?  Sheer shades offer dynamic solutions. They allow a view out, but reduce, or even block the view in to protect your privacy. Let's discover which large window covering ideas are best for providing privacy but keeping your view intact.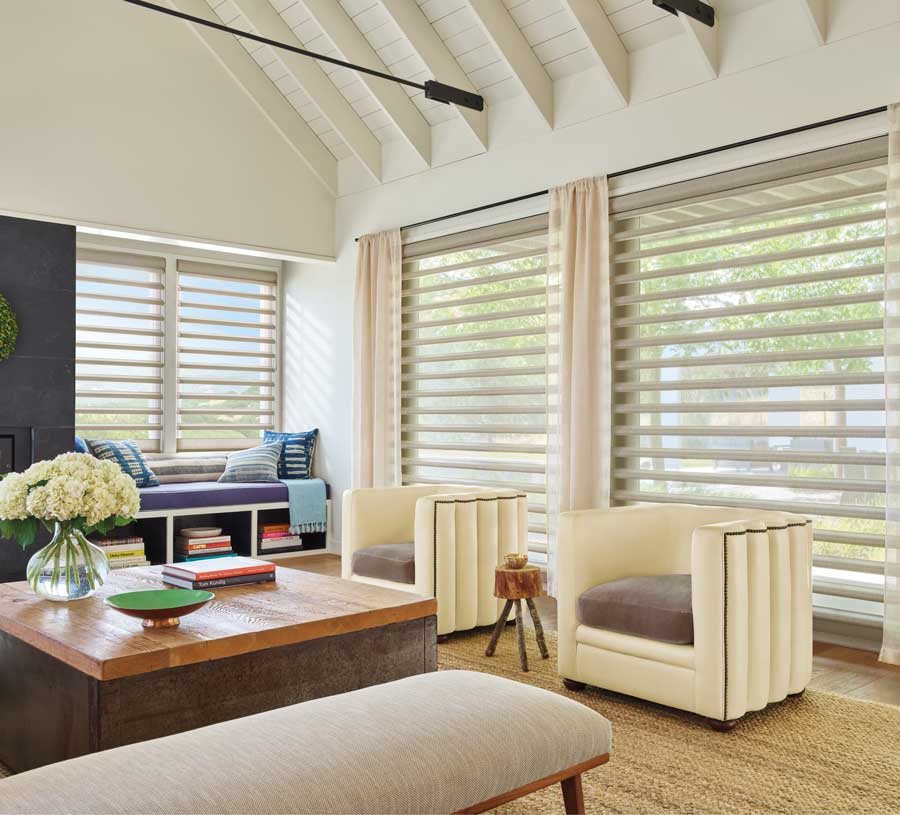 To begin, let's consider Pirouette Shades. The dual shade feature of Pirouettes offers a variety of privacy levels. First, you can show off the view, completely close off the view or roll the shades up and out of the way. When the solid vanes fold into place, they showcase your landscape. The sheer fabric invites filtered light, but protects your privacy indoors. When vanes are closed in place to cover the window, they are capable of room darkening. In addition, with pirouette shades, the entire shade can roll up and be hidden in the headrail.
Available for horizontal windows up to 12 feet wide, 12 feet tall.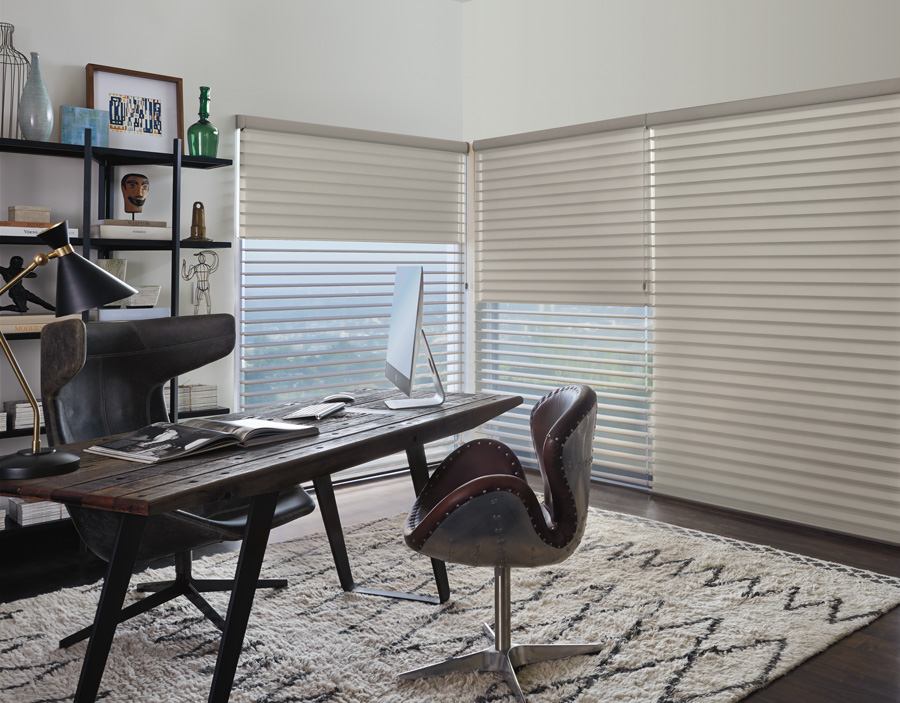 As a close relative to the Pirouette shade, the Silhouette Shade replaces the fabric fold function and offers a versatile tilt mechanism. Floating between two sheer fabric layers, subtle vanes tilt for levels of light exposure and privacy. Adjust the vanes for a wide open view with softened light or close them for daytime privacy as sheers reflect exterior views. Silhouettes can be paired with a dual shade to provide a wider range of lighting options, from light filtering to room darkening. 
Available for horizontal windows up to 12 feet wide, 11+ feet tall.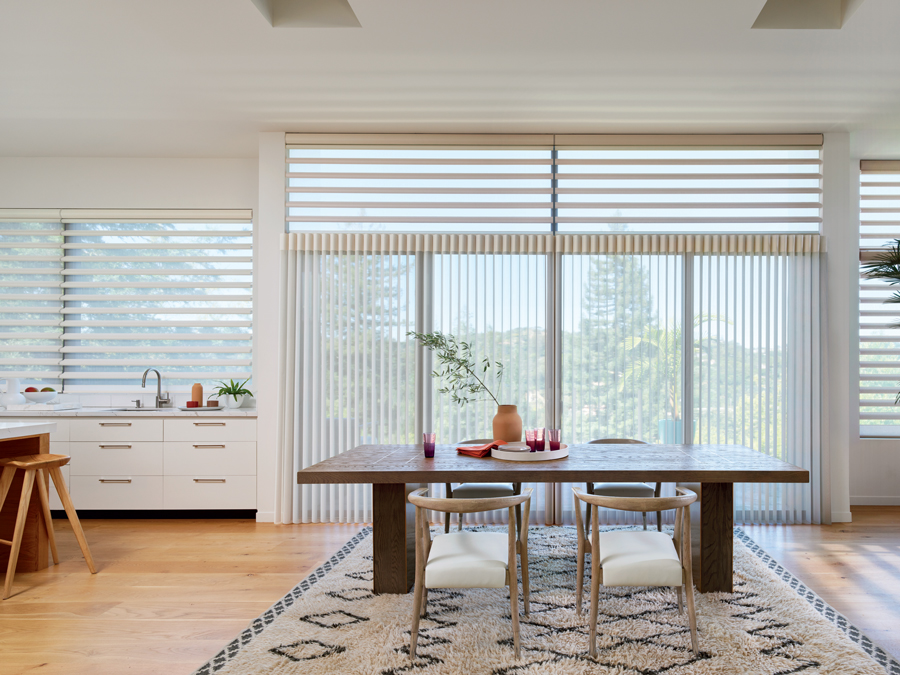 In addition, similar to Silhouettes, we offer Luminette Privacy Sheers for your vertical operation needs. Here, the solid vanes rotate for a sheer view-through, or a closed off controlled light experience. Simply adjust the vanes for complete privacy or room darkening. Luminettes offer a perfect solution for sliding glass doors or your widest windows. 
Available for vertical windows and doors, up to 16 feet wide, 10 feet tall.
Window Styling 
Large window covering ideas are an important consideration in the overall style of your home. At One Stop Decorating, we recommend roman shades to add visual interest. Romans offer a variety of colors and textures to add to any space. We have roman collections we'd love to share…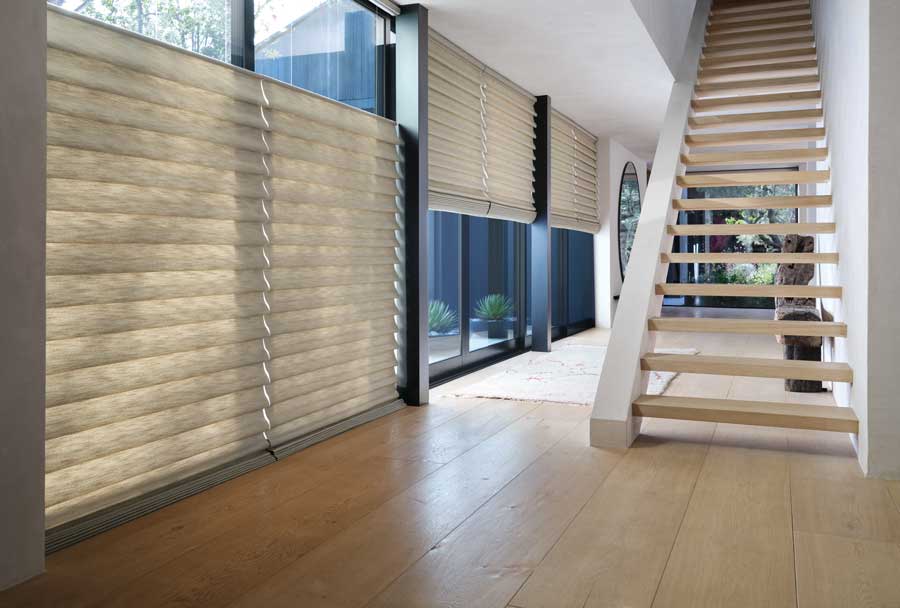 First, Vignette Modern Roman Shades are an incredible way to style large windows. They offer light control, privacy and style to your wall of windows. You can direct light, protect your furnishing and adjust your atmosphere with smart shade and top down bottom up features. 
Available for horizontal windows up to 11+ feet wide, 12 feet tall.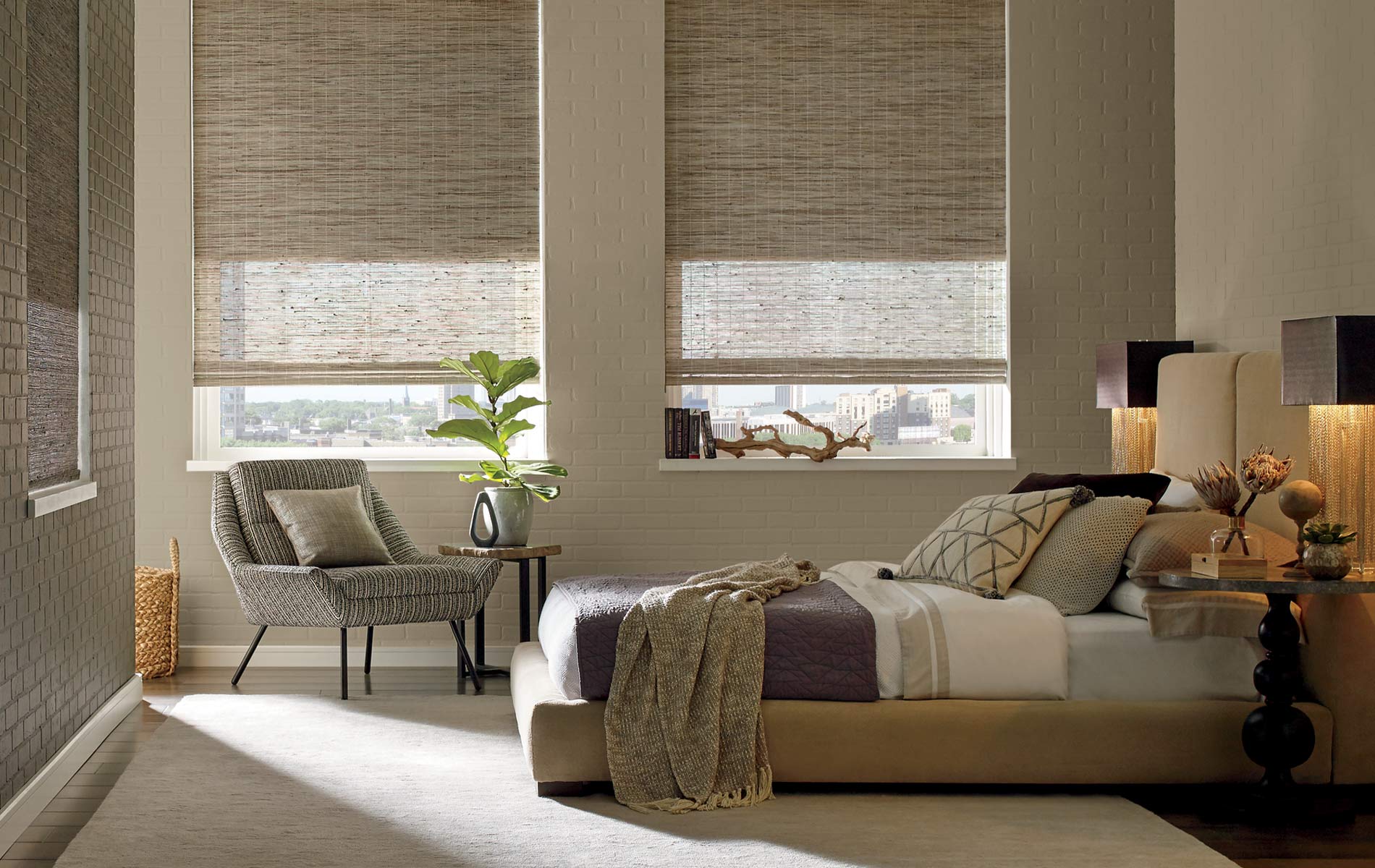 To add texture to the largest windows of your home, include Provenance Woven Woods. The woven materials retain privacy, while allowing filtered to spead across the room. Their beautiful statement making colors bring natural design elements inside your home. Customize the atmosphere with the dual shade or top down feature.
Available for horizontal windows up to 12 feet wide, 16 feet tall.

Available for vertical windows and doors, up to 9 feet wide, 9+ feet tall.

 
Keep a Low Profile
Whether your home style includes windows covered in custom patterned fabrics or sleek, modern designs we have the products for you. Style is personal. Roller shades offer a great solution for covering your largest windows by fitting close to the window-no fuss.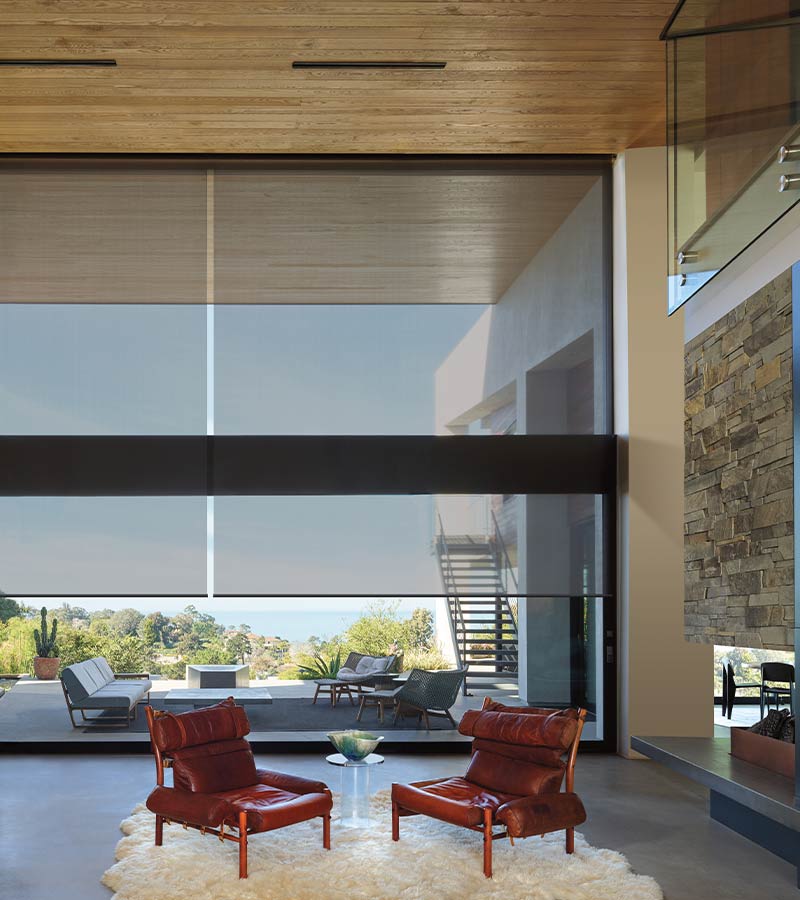 When you need protection from the elements, Solar Shades are the answer. Solars take a defensive position by reducing light and glare and adding UV protection resulting in a comfortable atmosphere. Smart features and the dual shade option will improve your light control experience when added.
Available for horizontal windows up to 16 feet wide, 12 feet tall.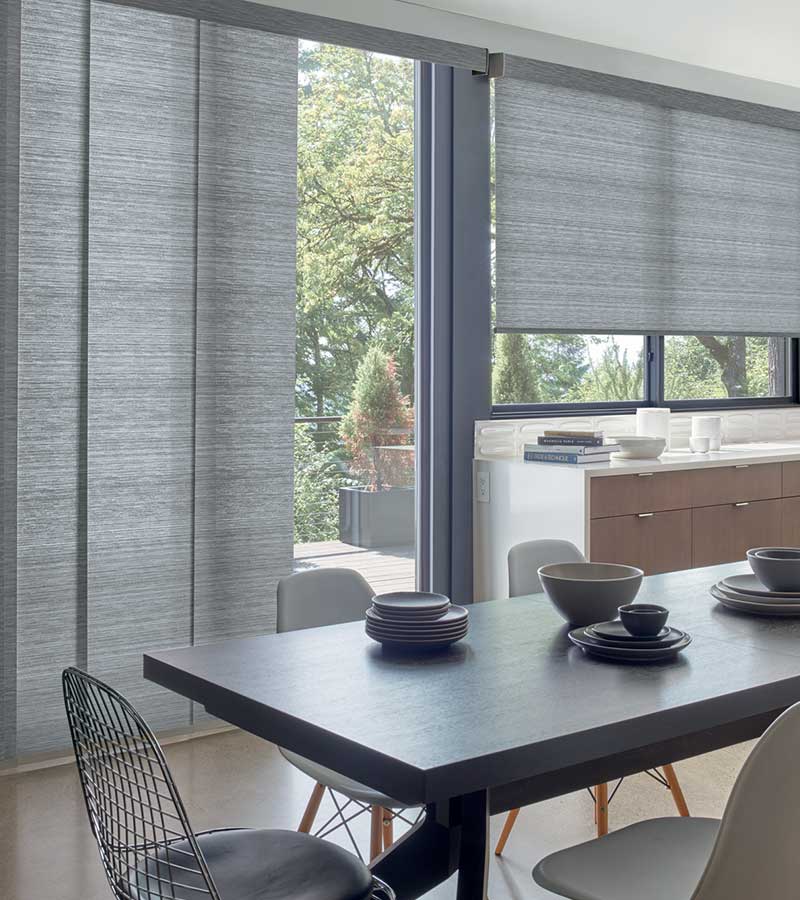 Skyline Gliding Window Panels  are another vertical window covering option. Our clients love to coordinate fabrics in open concept spaces and these panels work well with roller shades. 
Available for vertical windows and doors, up to 32 feet wide, 14 feet tall.
Large Window Covering Ideas are Here.
Make covering your large windows next on your to-do list. No matter how grand your windows are, we have solutions that will improve your life and create an incredible atmosphere. Call our window covering specialist today to schedule a FREE in-home or in showroom appointment and get started enjoying your home to its fullest potential.