Is your home ready for entertaining this holiday season? Let our entryway inspiration get you thinking of ways you can make the best first impression when welcoming guests into your home. By adding window and door coverings that elevate your sense of style, you'll be proud to say "welcome to our home…"
Keep it Clean & Contemporary 
There are two basic rules in entryway design, keep it neat and simple. Whether you need inspiration for inside or out, less is definitely more. Take a look below at how simply beautiful your front entrance can become.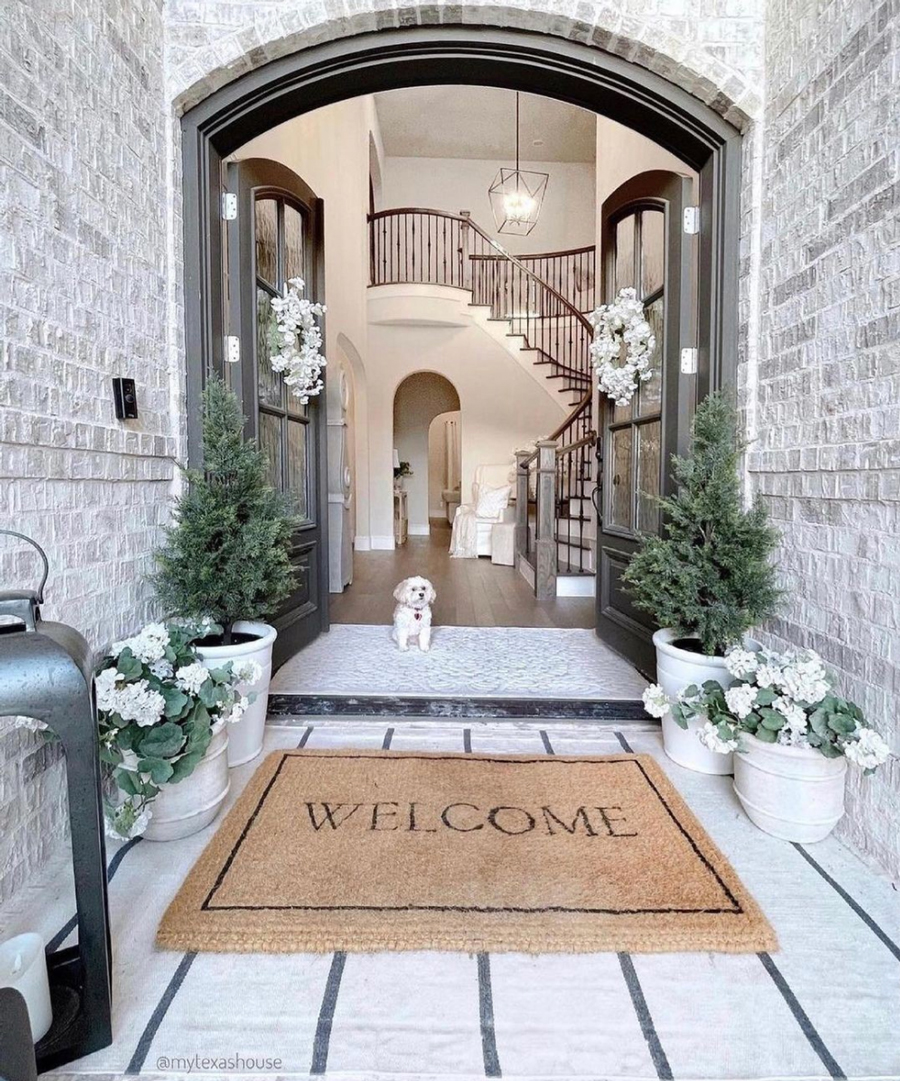 This entryway inspiration by Erin, of @mytexashouse on Instagram, achieves beauty and simplicity with decorative pottery in uniform color and varying dimensions–all with similar greenery to make it pop. A closely toned welcome mat and front door wreaths in white, bring the design together. It's clean and it's contemporary.
Space Wide Open 
An open floor plan home is ideal for entertaining large groups, but styling open space is often difficult. A pro tip is to begin by adding seating in one area and an entry table in another, this way you design the room intentionally, with defined spaces. But, it's not overwhelming or cluttered.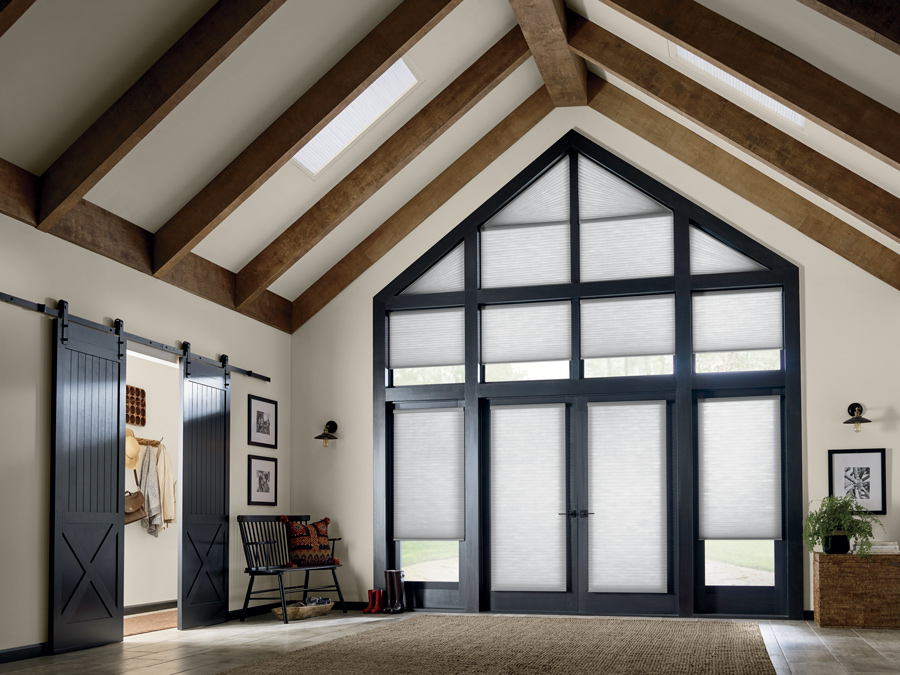 Also, remember that natural lighting is your friend in grand foyers.  By using sunlight to your benefit, you can create a comfortable atmosphere all day long. It's simple with the right automated window treatments. Shades will also protect from extreme sun exposure and blanket your space with soft filtered light. Allow window coverings to adjust throughout the day and make the space accommodating no matter where the sun is in the sky.
Window Covering Style
The front of your home has one very important feature–its windows. The correctly chosen treatments can elevate the style and overall atmosphere of your home, both inside & out. Features include:
Adjustable Light

Privacy & Security 

Custom Style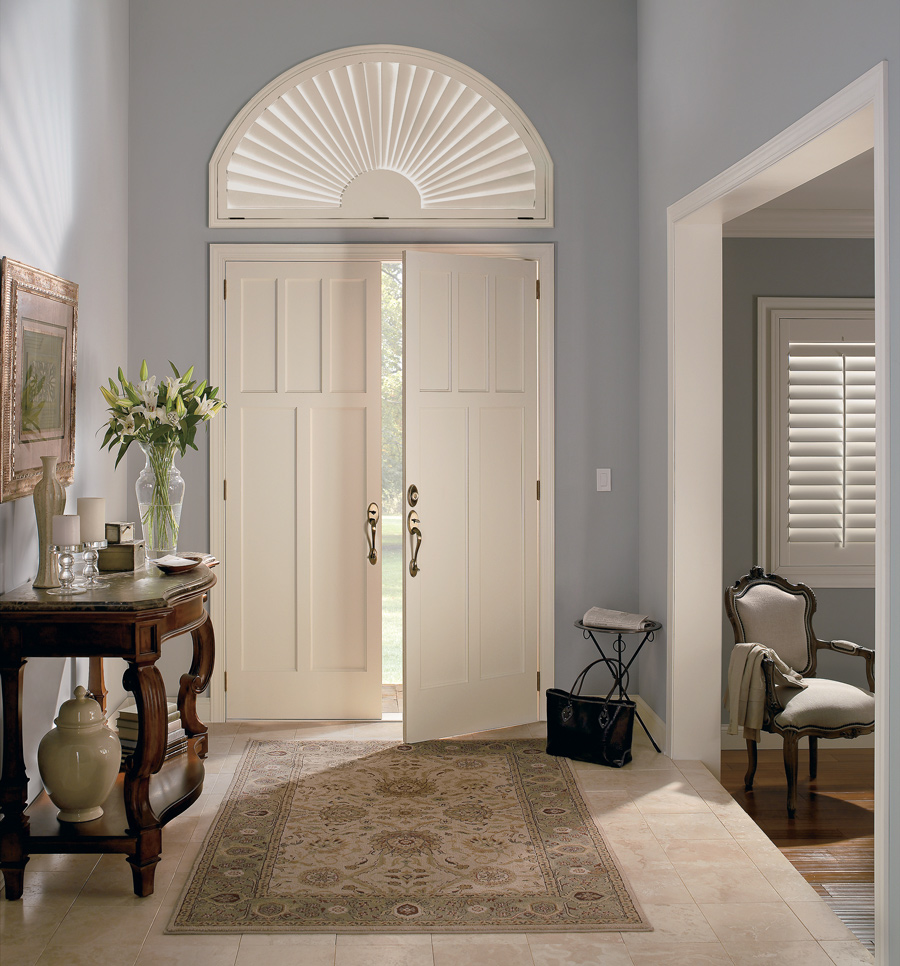 NewStyle® Hybrid Shutters
The outside of your home will benefit from custom window shades as well. The curb appeal of your home will be the envy of the neighborhood. With its clean, orderly and well-thought out profile. It's a "win win" inside & out. 
Everyone Needs Entryway Inspiration
Entryway inspiration is helpful to all clients, whether you have a newly constructed home that needs a finishing touch, or an older home being updated. We can help make the entrance memorable to all your guests this season. With our expert guidance and professional product advice, you will be on your way to creating the perfect atmosphere for this important space in your home. Contact us for your FREE Consultation in the Kansas City Area.