The one room where we often neglect the design is also the room that plays an important role throughout the day. It's the bathroom. From getting ready for the day, to winding down after a long one, there's a good amount of time spent. So, why does this room often take the back burner and become the last room in the house to see any design or styling? Implementing new bathroom features doesn't have to be a mundane or daunting task anymore, we're here to help! Keep in mind that that bathroom features such as privacy, temperature maintenance, light control, and style will work together to transform the space.
A Combo You'll Love
Are you wanting to take your bathroom from builder grade to a relaxing oasis that you love? Combining the importance of privacy and light control is key to selecting the right window treatments that will help you do just that!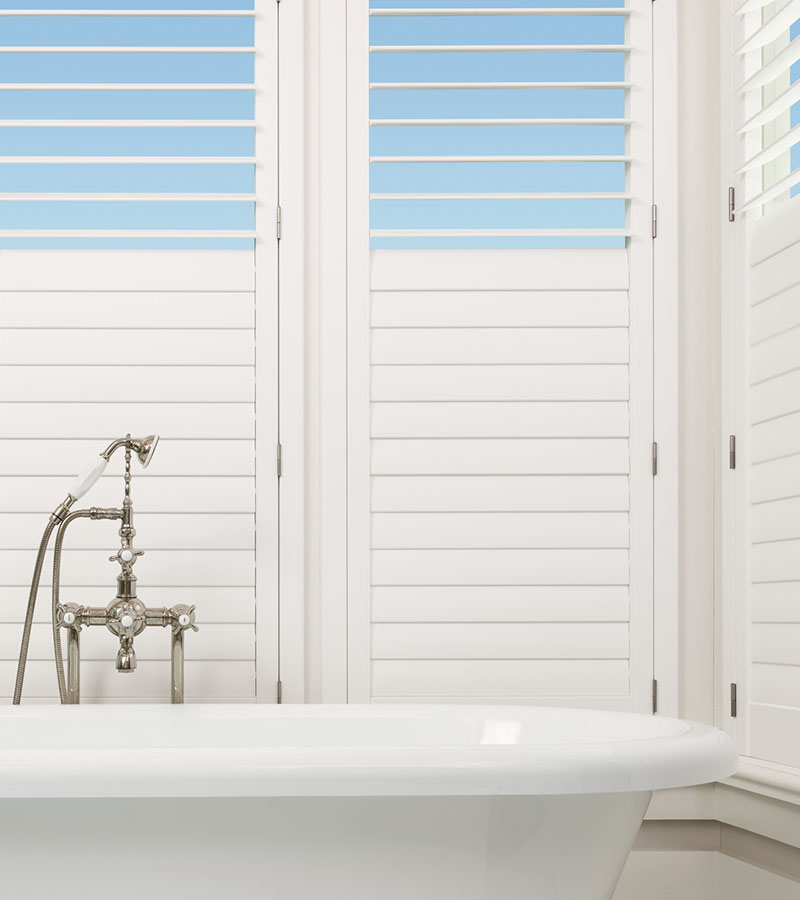 Top down bottom up window treatments provide security & privacy at the bottom of the window, while still allowing the beautiful natural light to fill your space from the top. Whether you like the look of shutters or shades, top down could be a great feature to implement! With the shutters you get the added bonus of the split tilt technology which helps you easily transition them no matter the time of day.
Window Direction Matters Too!
Depending on which way your bathroom faces, you're likely seeing the beating sun at a specific time of day. This is where considering window direction comes into play.
Bathrooms are one of those rooms where functionality matters just as much as style–if not a little more–when it comes to decorating. The right window treatments will contribute privacy, light control, energy efficiency, UV protection, and more… making your bathroom upgrades last through the ages.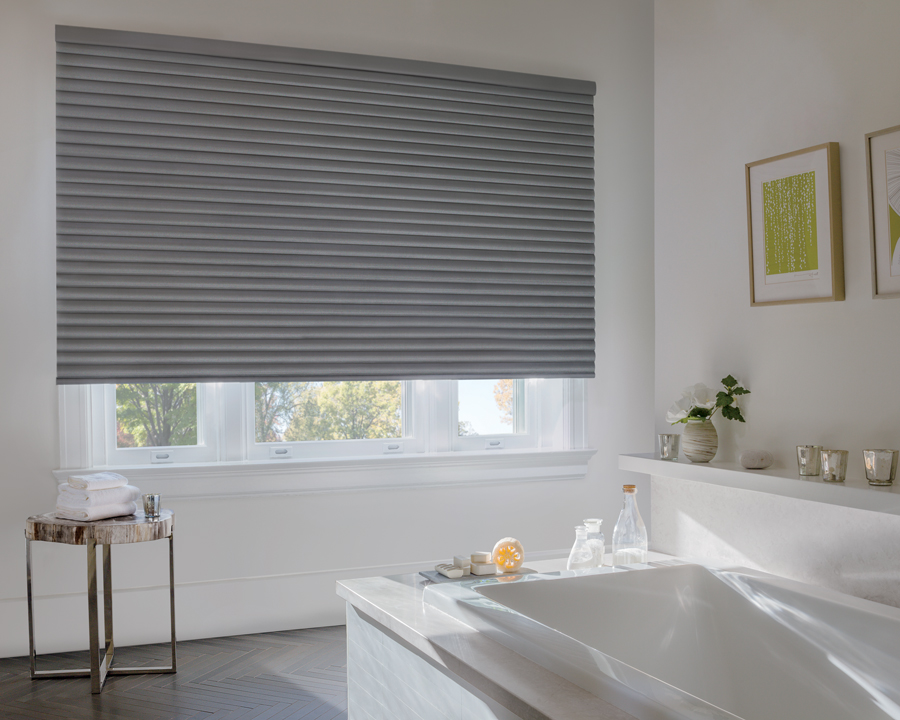 Speaking of energy efficiency, if there's one room where you need a comfortable temperature, it's the bathroom! Being in a drafty bathroom is no fun during the winter. And, the summer will bring exhausting temps into the space. Control is easy with window shades that have been designed to regulate the atmosphere.
Treatments for Large Windows
Large windows in bathrooms? Look at all the ways you can dress them with stunning, yet functional, treatments! When you want all the natural light and the view overlooking your backyard, simply raise up your shades. Then when you desire a bit more privacy and seclusion, dropping your coverings into place is simple!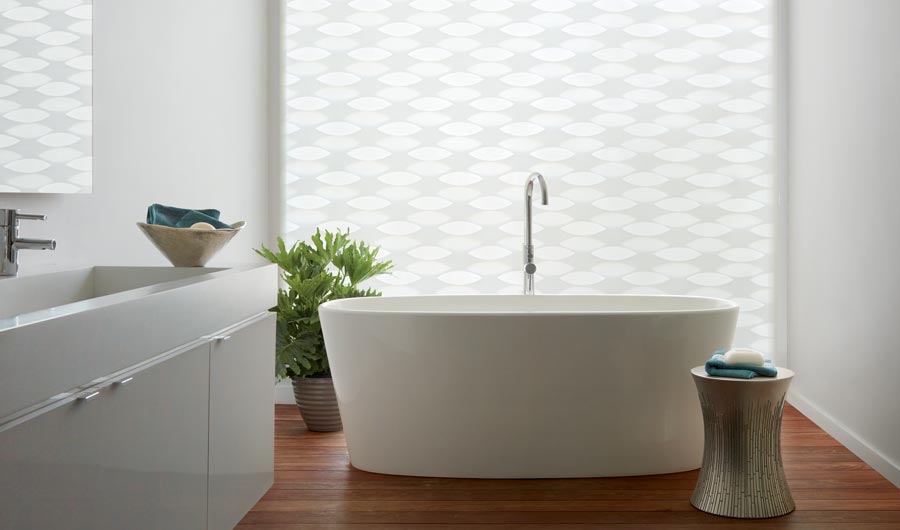 Notice how the Designer Banded Shades in the photo above add an extra touch to the otherwise blank wall? They can act as art when in use and easily raise into the headrail when you desire an unobstructed view.
Smaller Bathrooms Need Focus, Too
Whether you have a smaller bathroom, or just a smaller window in that bathroom, treatments shouldn't be forgotten in those spaces either! Our expert team can help you find the right coverings for you and your space that meet all your needs, your style preferences, and will not make your space feel any tighter.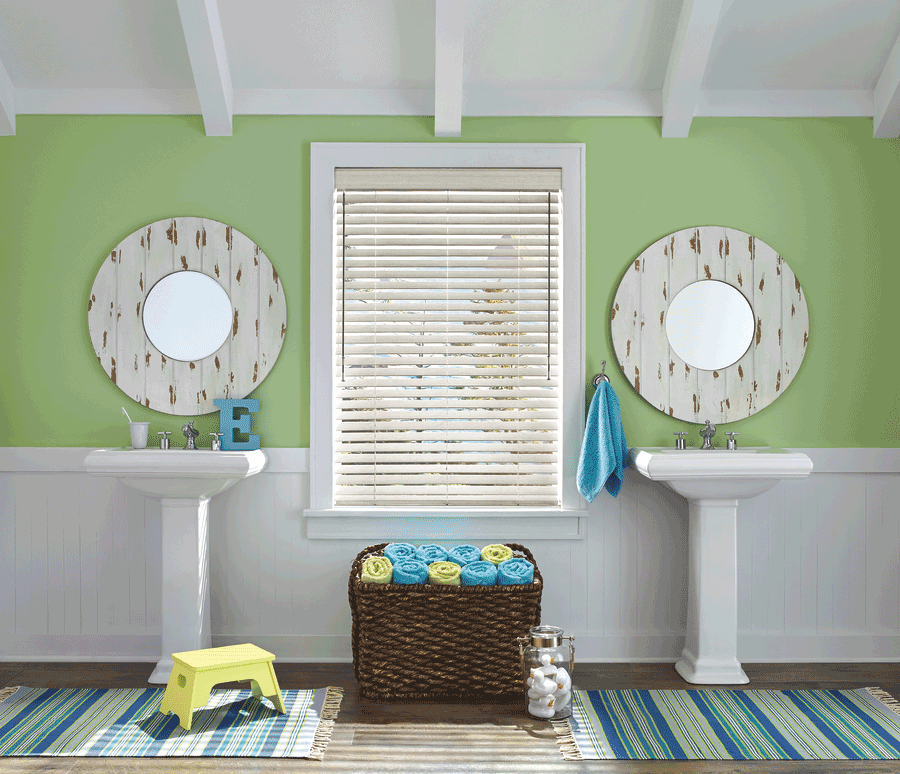 Selecting treatments that are easy to adjust for those guest bathrooms, kids' bathrooms, and powder rooms alike will have everyone thanking you. If you've ever thought about adding smart shades to your home, this can be a great place to start and try them out! The convenience is unmatched and will quickly and simply give anyone the privacy they want.
Bathroom Features to Elevate Your Space
Which bathroom features stand out to you the most? No matter if you're most intrigued by quick adjustments, energy efficiency, privacy, or anything in between, our team here at One Stop Decorating can help. Reach out to us today to elevate the bathrooms around your home into exactly the space you want to use every day. Contact us for your FREE consultation.