Roller shades are found in homes all over the world. They provide privacy, light control and look great, too. But, did you know there are 7 types of roller shades on the market? Let's explore the styles, differences and new options available within this ever popular window treatment category.  
New Style…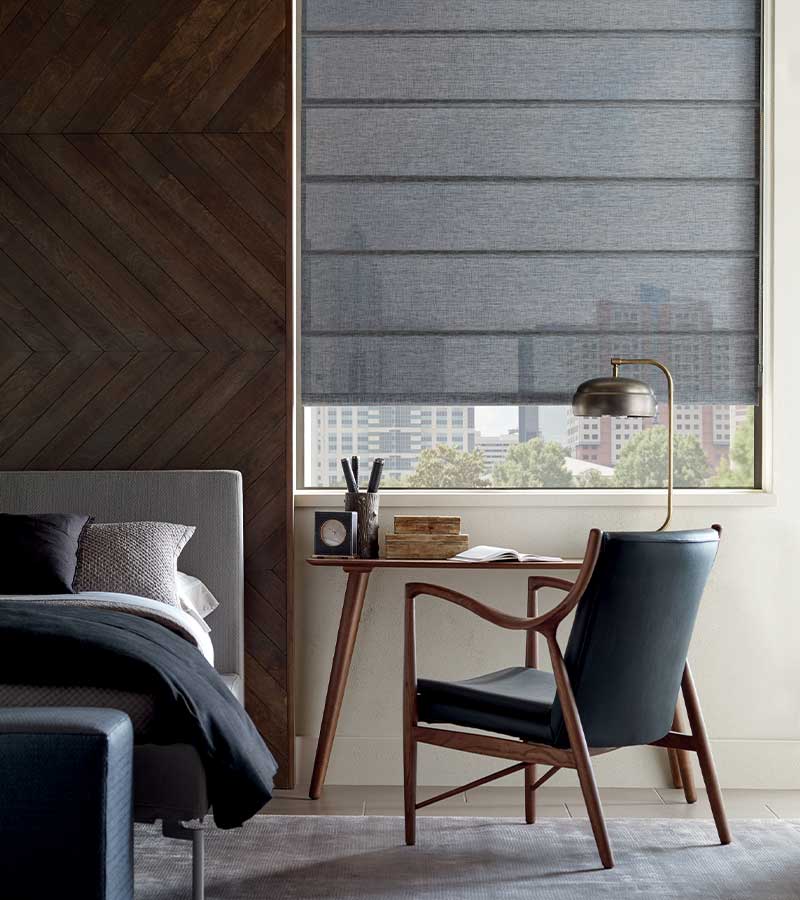 The sky's the limit with the types of roller shades available. Let's begin with the newest roller on the market, the Architectural Roller Shade. This luxury model has just recently joined the Hunter Douglas family and is making an impact. The exclusive Alustra® fabrics take the roller shades from ordinary to extraordinary. 
That's a Surprise!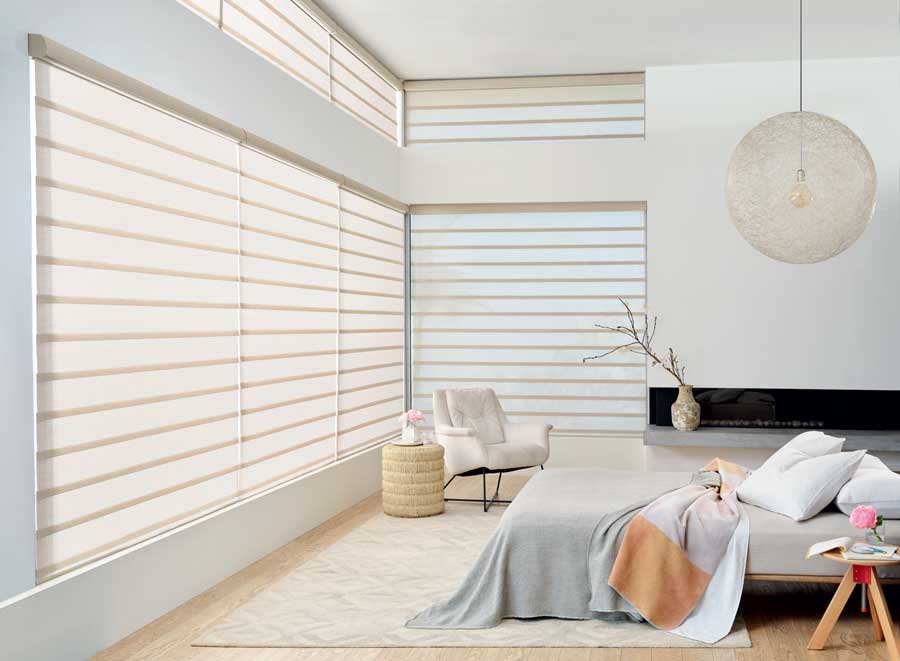 The types of roller shades available are full of surprises…how about a Roman Shade that can roll? Yes, you read that right. For those of you who love the crisp, tailored look of the roman shade, you can enjoy the rolling function, too. Ask for our selection of rolling romans!
Bold Geometrics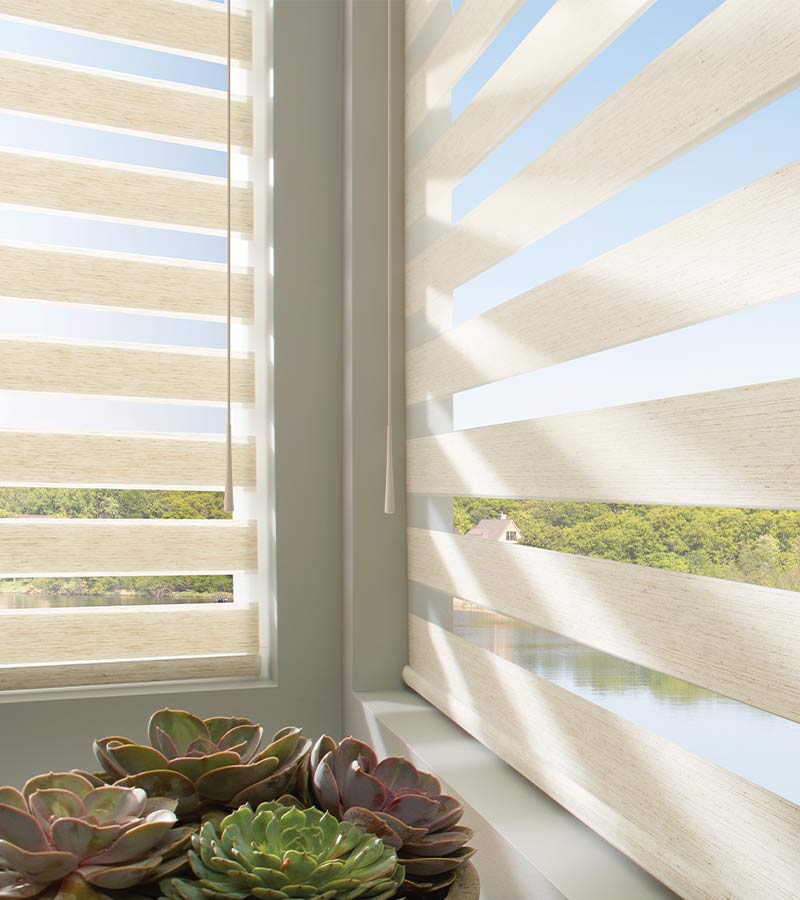 Designer Banded Shades top the list of popular types of roller shades. These shades not only roll, but rotate to display their geometric style. That's innovation! Take a look at the window shades above–they're adjusted to allow filtered light in, but rotate again, and they close for privacy. When the time comes for a wide-open, clear view to the outdoors, roll the designer banded shades up and out of the way! 
Woven Luxury Accents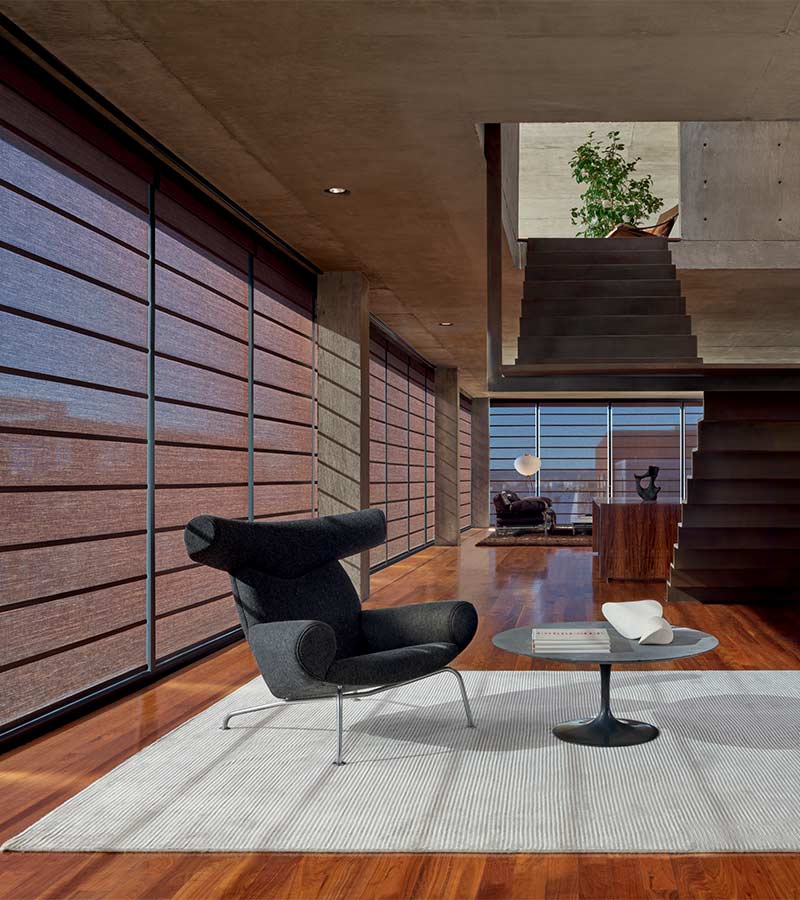 Now, Woven Roller Shades add to the design of your home by providing the subtle element of texture to your backdrop. Available in exclusive high-end fabrics, these roller shades will perform like no other and elevate your home's design to the next level.  
Rolling Cellular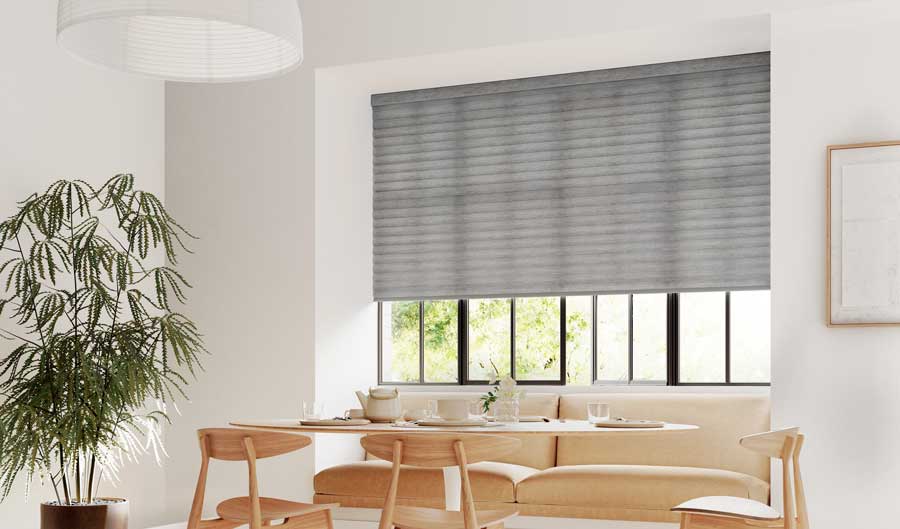 This just in! Sonnette™ Cellular Roller Shades provide energy efficiency. In the past, roller shades were a great solution for privacy and could also block the sun, but insulation wasn't their strong suit. As homeowner needs have changed, so has innovation of these types of roller shades. Now, we can depend on their honeycomb design to protect our homes from the elements and see a cost savings in our energy bills. Another added bonus is their space saving design, these shades flatten nicely, and roll up, disappearing into the head rail.
Your Personal Sanctuary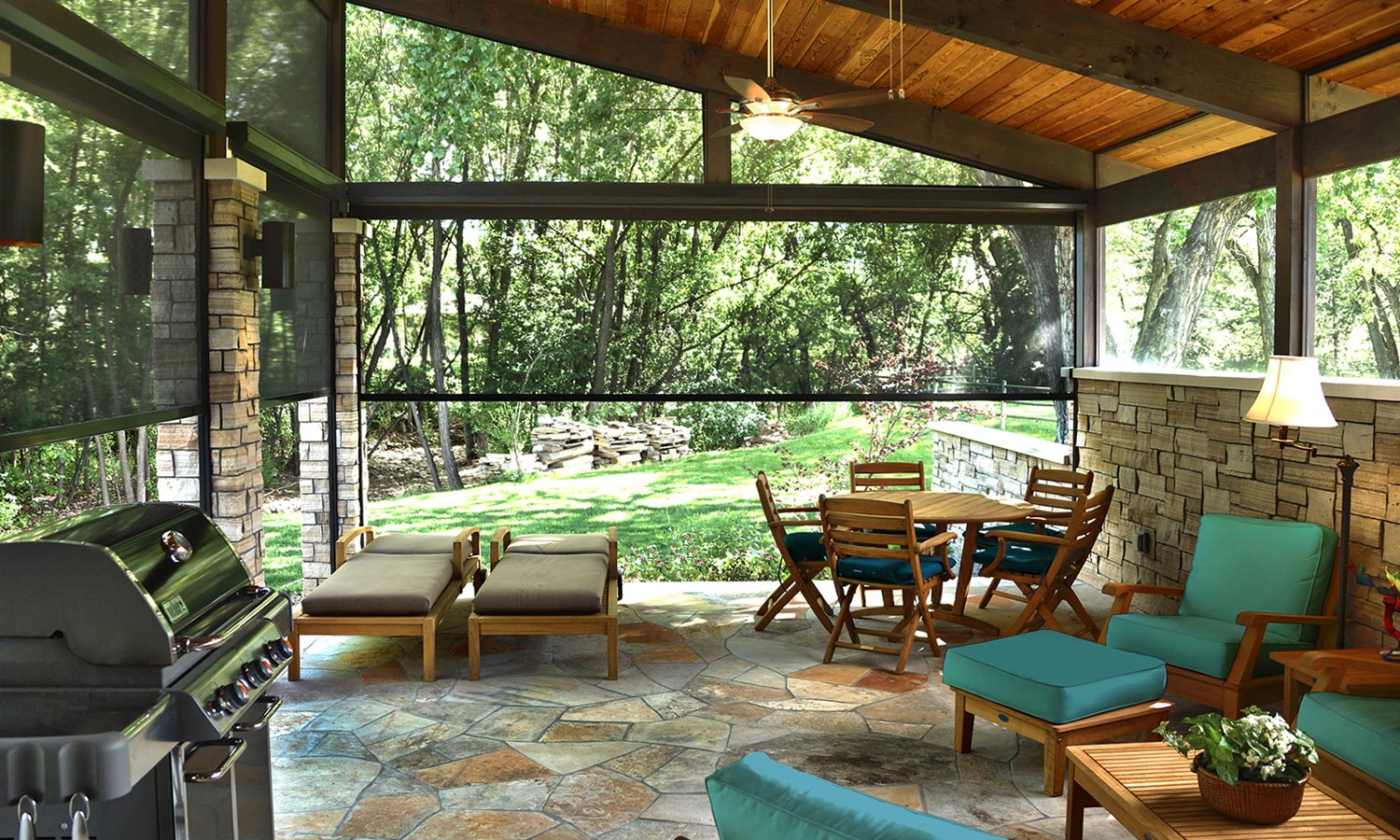 Today, with 7 types of roller shades, there is a solution for every window issue in your home. Or…even where you don't have windows! Our patio screen shades are a great addition to your outdoor sanctuary. An amazing source of UV protection, while reducing glare and direct sun, they can ward off both insects and golf balls alike! They'll enhance the view and let you relax in style.
Back to Basics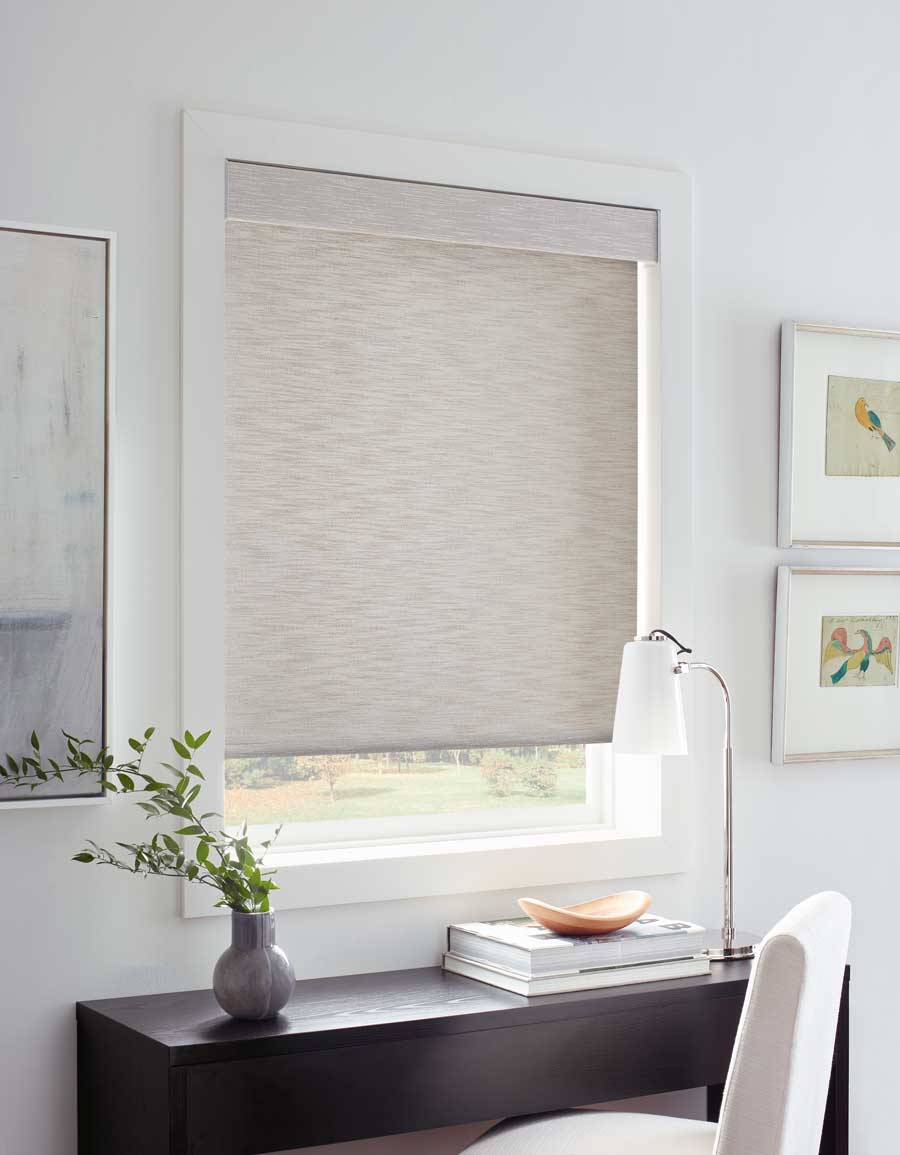 With so many choices in roller shades, the original Hunter Douglas collection shouldn't be forgotten. Designer Roller Shades make an impact in any room with their patterned fabrics and vibrant color choices. Add to your home's design with the incredible look of designer rollers.  
Don't Be Left Behind: Choose a Favorite
The time is right to refresh your window coverings with one of the many types of roller shades. Now that you have an idea of the products available to you, come in and visit one of our showrooms and meet with a designer. We offer FREE in-home consultations too! One Stop Decorating is your full service window treatment design resource! Contact us today.