Do you have tricky windows in your home? We identify them as any specialty shapes, windows with unique layout challenges or hard to reach placements. Window solutions are an important part of any home, and finding the perfect ones can make all the difference. Let's take a look at the tricky windows you might have in your home…
Specialty Windows vs Common Windows
What makes a window special? Well, unlike the common windows that are usually the first to pop into your mind, specialty windows come in all different shapes and sizes. From angles or arched windows, specialty windows can vary in a variety of ways. And because of that, they can tricky to work with. While they might make your home look beautiful, they can also cause some issues. Glare, overheating, and lack of privacy are just some of the problems uncovered specialty windows can have. 
Angled Windows 
Specialty features separate your home from the rest. Angled windows are a perfect example of this. But what about covering these tricky windows? No need to worry, we have some solutions. Window shades, plantation shutters, and blinds are just some of the options that would work with your specialty windows.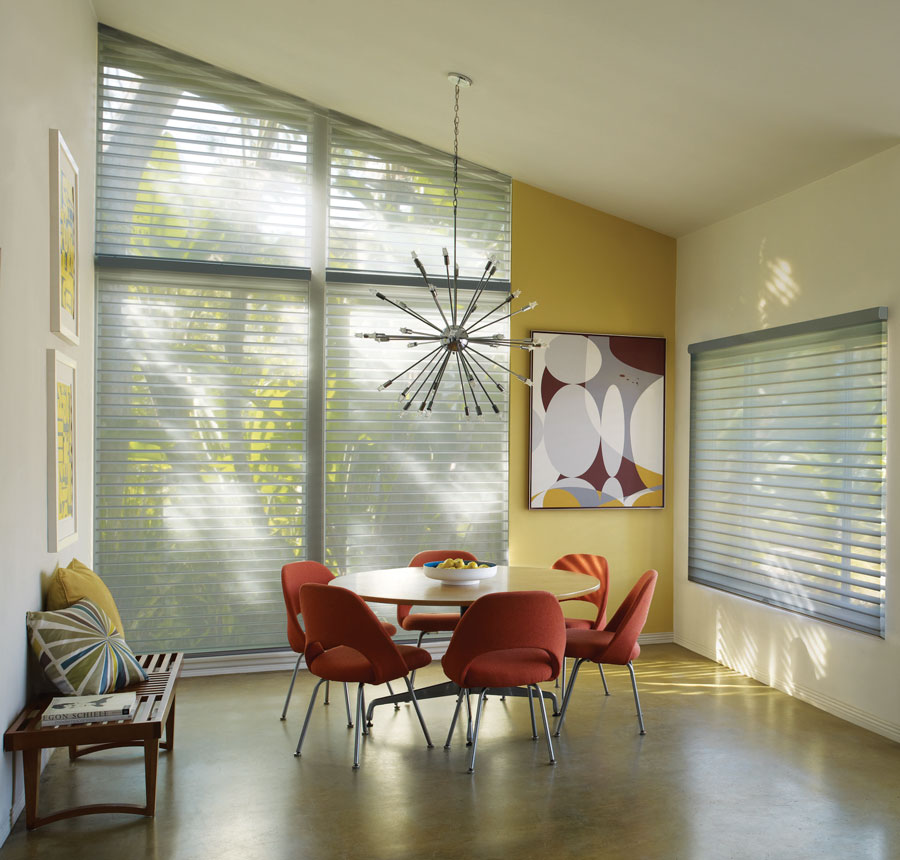 Arched Windows
If you're currently thinking about your other specialty windows and are worried about how they'll be covered, don't be! Our team is ready to take on even the most tricky windows like arched ones. Custom window treatments allow you to gain back light control and keep the character that your windows bring.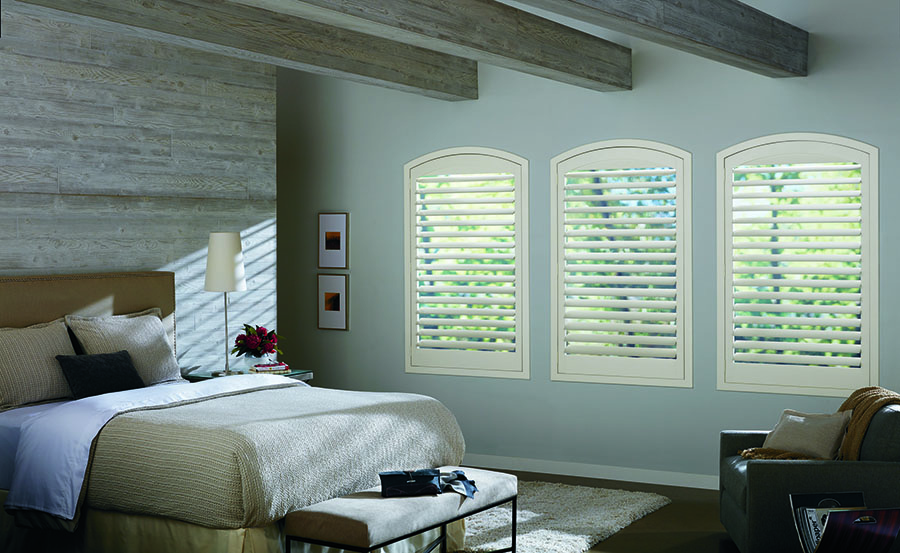 But, how exactly do our custom window treatments cover your windows? Well, that's up to you. Let's explore. Instead of covering the entire window, by leaving the top open, you gain privacy while still allowing natural light to flow through.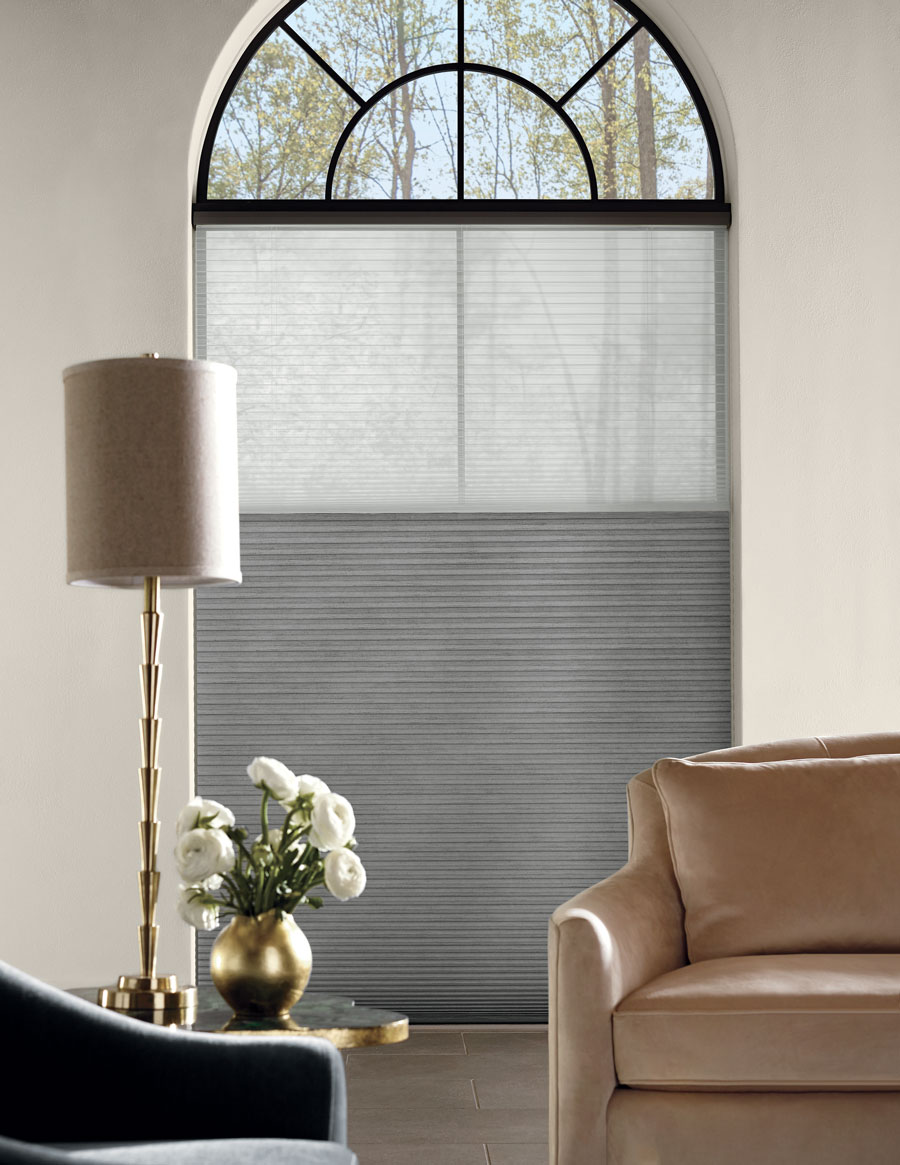 Tilt Turn Windows
This just in, European style windows are here, and we can't get enough of them! Also known as tilt turn windows, this new style of tricky windows has become a hit all across the country. And, we completely understand why! Easily create an open and airy atmosphere with easy access to the outdoors when you set these windows open like a door or tilted in at an angle. What about window treatments? Well, let's take a look.
When it comes to covering specialty windows, we know a thing or two about how tricky it can be. This is why we love the TrackGlide™ System. With this window treatment option, your windows are flawlessly covered. By running along the edge of the window frame, these shades easily slide up and down. This allows for light control,  room darkening, and added privacy, no matter the position of the window.
Tricky Windows Caused by Window Placements
How do standard windows become tricky windows? It's simple. It's all due to their placement. Windows hung close together can easily become a hassle. Covering up a wall of windows can cause a load of difficulties. 
Bay Windows
What's your favorite thing about your bay windows? You probably love how they add a unique design element to your home, right? Well, we do too! This is why any window treatments you add to them should improve their uniqueness, not take away from it. Incorporate your bays into the overall design of your home and get the perfect view of the outdoors.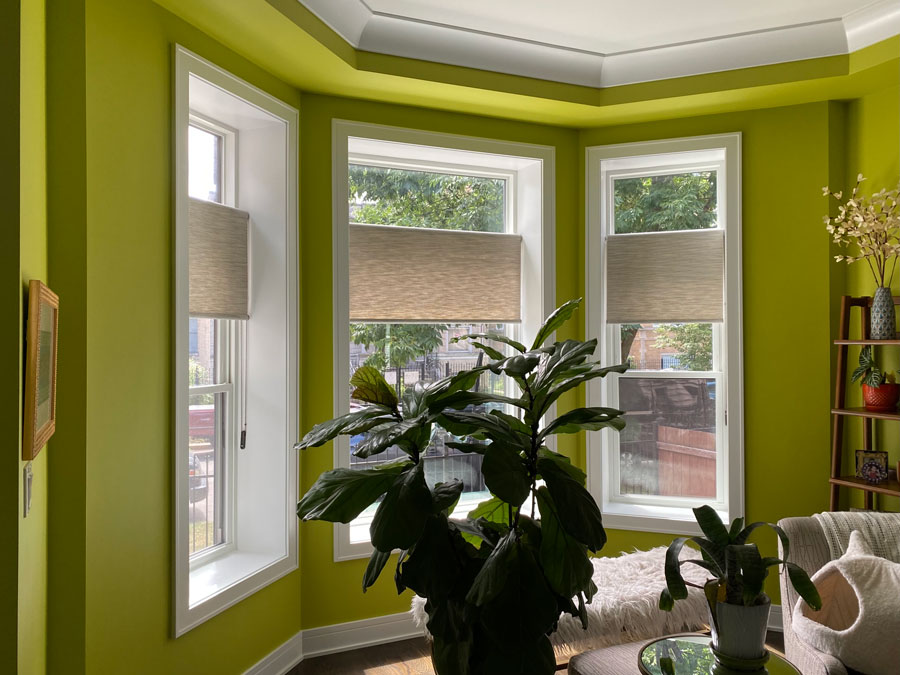 Corners = Tricky Windows
One of the most important things to remember when covering corner windows is to not cover up the open, refreshing feel they bring to the home. This is why we have some options for how to go about covering these tricky windows. Window treatments that allow for adjustments without getting in the way of each other is an important feature. It all comes down to custom fit.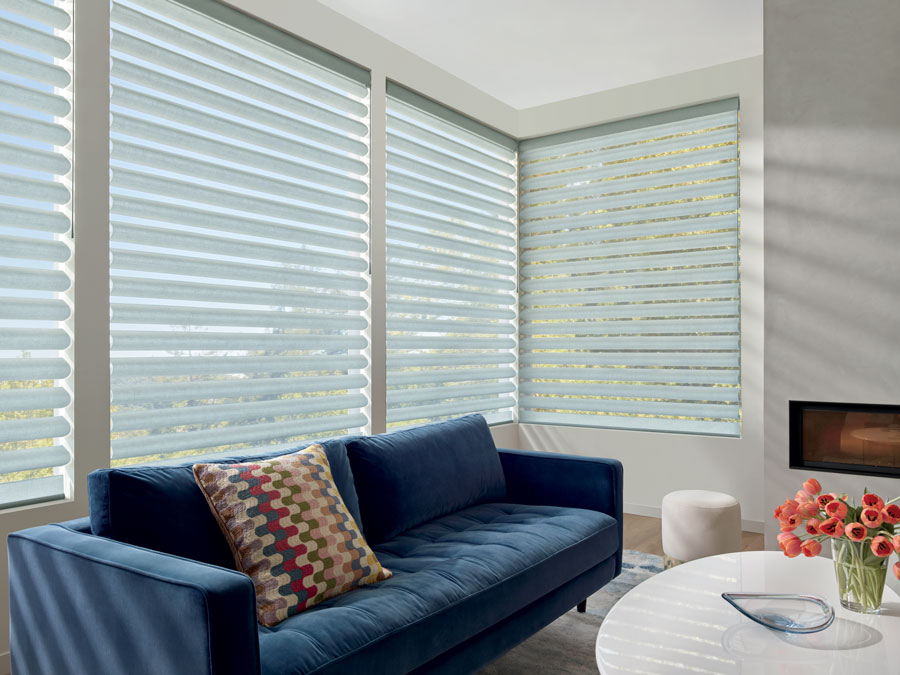 Transoms
One of the reasons we adore top down shades as much as we do is because of daylighting. What is daylighting? Well, it's the ability to spread light across the ceiling filling the room with a soft blanket of light. And the placement of transoms uses this phenomenon to their advantage. The beauty of them makes for a tough choice of covering them up or leaving them be. But in the end, there are reasons for both. Heat, light, and privacy concerns should all play a role in your decision.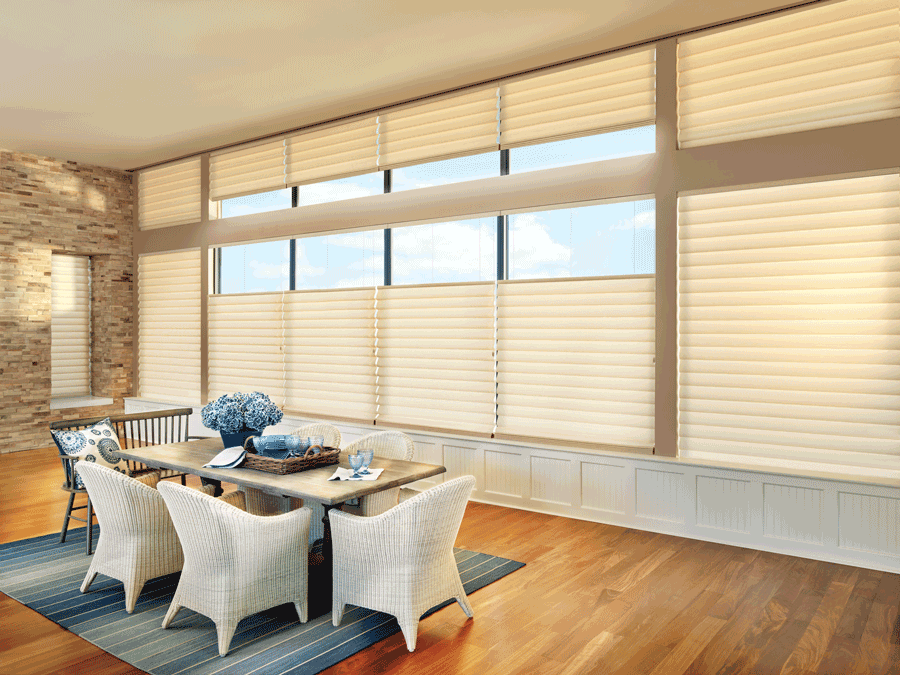 As shown in the picture above, the transoms are covered for light control, UV protection and energy efficiency, due to the direction the home faces. Outfitted with automation, these smart shades will adjust throughout the day to match the needs of the family that lives there.
In the picture below, the tree outside creates shade, and with a dark painted ceiling,  the interior might feel darker. Reasons like this are why it's important to consider your surroundings when choosing to leave transoms bare or not. While this room has an added element of shade, other rooms in this home might not, making their window covering needs different.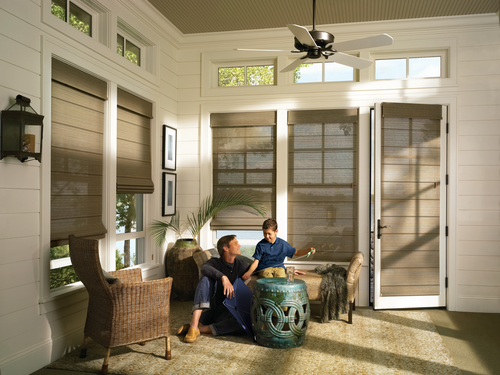 Skylights
Another unique window that can be tricky to cover is skylights. It might seem like a waste to cover up your skylights, but it's something to consider. Adding a window treatment–with the flexibility of easily opening and closing when needed–is a simple possibility.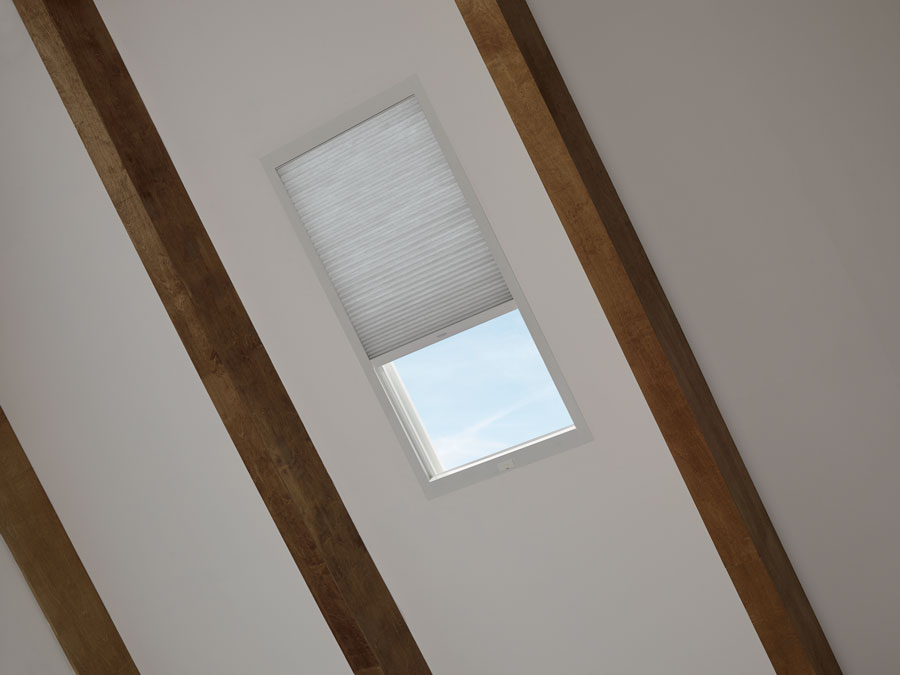 We're Here to Help!
Covering tricky windows can be a hassle. But there's no need to worry, our team here at One Stop Decorating is ready to help. Our experts are excited to be able to help you through every step of the process. Simply contact us today for your Free Consultation.