It's finally here! The time when the next year's forecasts for fashion and interior design get revealed. With the upcoming color palette 2022, we can honestly say that this collection of colors is our favorite yet. Whether you're looking for a bold, fresh look or something neutral to keep it light, there is something for every lifestyle, mood, and personality with ten bright colors and five beautiful neutral shades.
Tradition Gets a Makeover
It's always exciting to see how traditional color pairings get a new twist to them when these annual lists come out, and we especially love how this year the standard of red, black, and white, got reimagined in this beautiful outdoor patio area. Warm wood tones and a vivid pop of pink give character and life to the space. And who doesn't love a bright backdoor?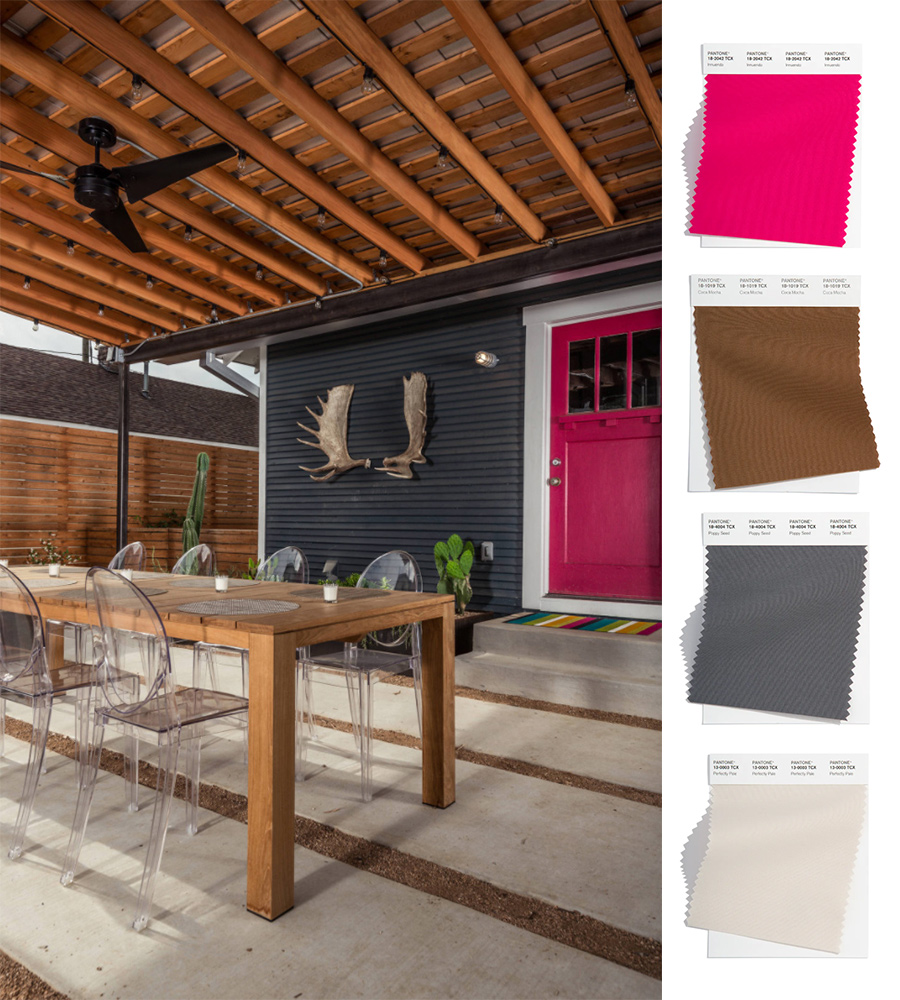 Color Outside the Lines
Taking risks might not be your speed, but seeing designers take polar opposite colors, like the sugary pink and bright red in this kitchen, put them together, and create a magazine-worthy room gets us excited about the endless possibilities. The perfect balance is achieved with the gray marble-ceramic backsplash and countertops and greenery placed throughout while the gorgeous mint green and cherry red light fixtures serve as the centerpiece.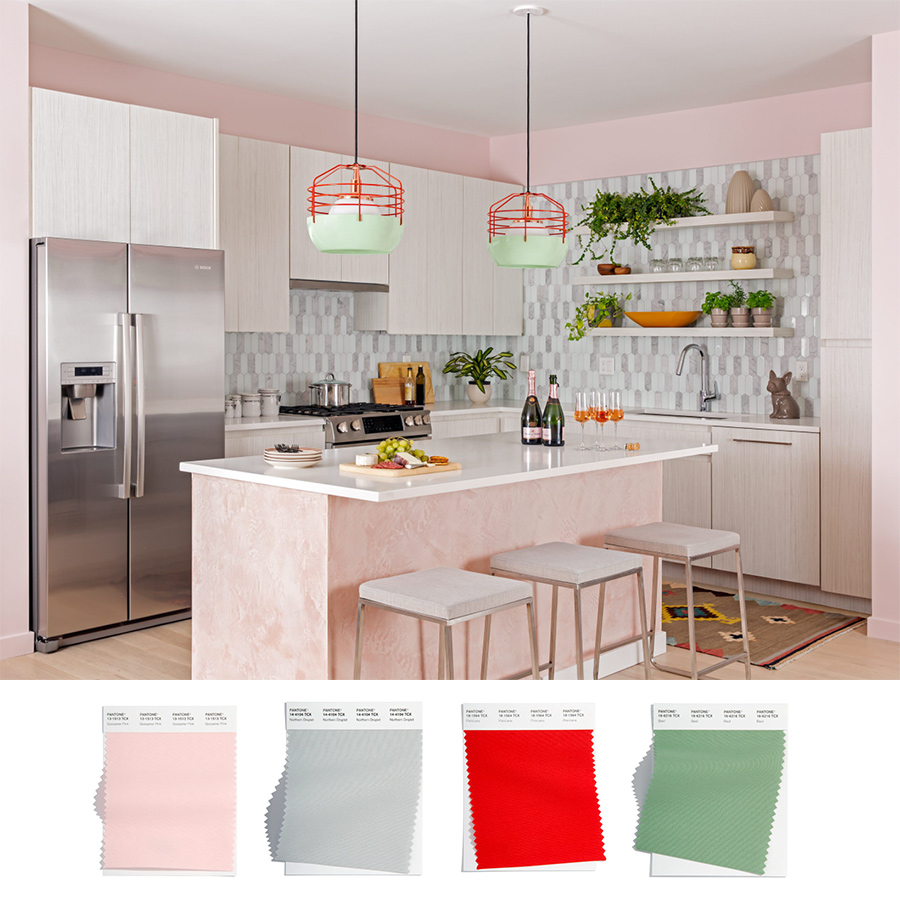 Something for Everyone
There are certain colors that you just love to use which is why the upcoming color palette 2022 has quickly become our favorite because there is truly a shade for everyone. With gray getting the top spot last year as color of the year, we've seen that neutrals have gotten more popular. And pairing a shade you love with a neutral palette? Seems like a winner to us.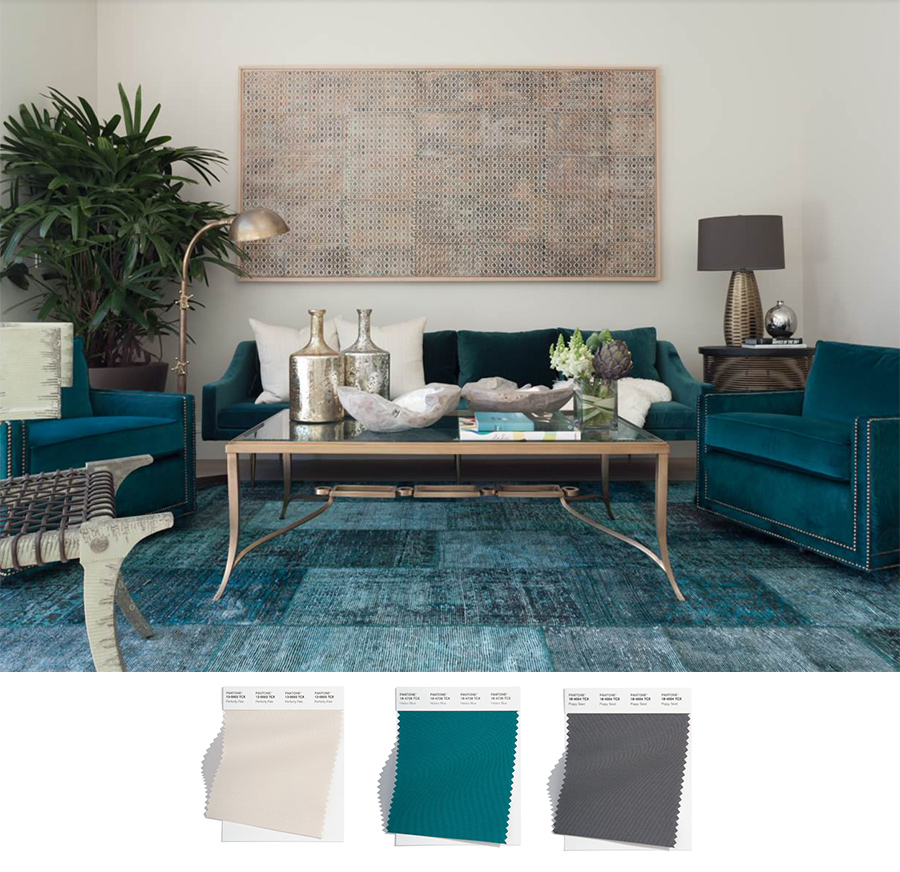 Make Bold Moves in Your Kitchen
We've gotten the same kitchen trends year after year, but the forecast for the future is looking bright! Striking reds and yellows, soft blues and greens, even black hues have become choices that homeowners are gravitating towards. Classic white and wood grain cabinetry isn't going away, but we're loving the bold, tasteful looks coming from the kitchen.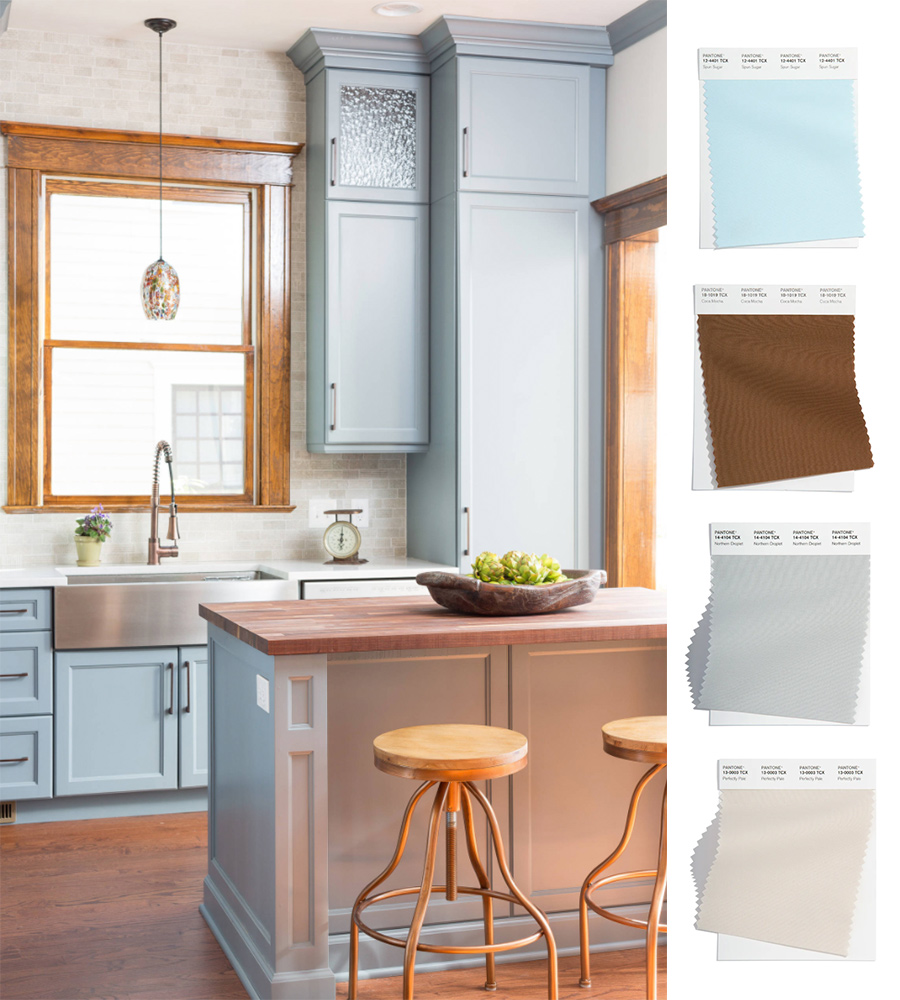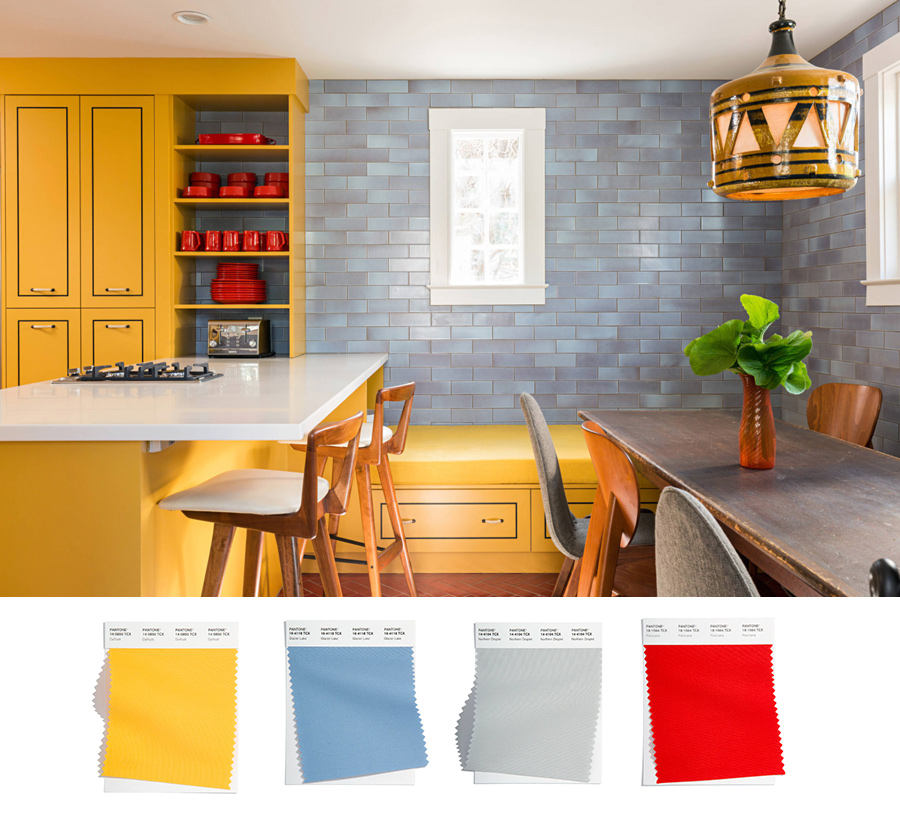 Easy and Breezy
Designing with the upcoming color palette 2022 gives you plenty of options to create a low-key, relaxed mood with colors like basil and spun sugar that harmonize well for a playful feel or even a laid-back luxurious atmosphere.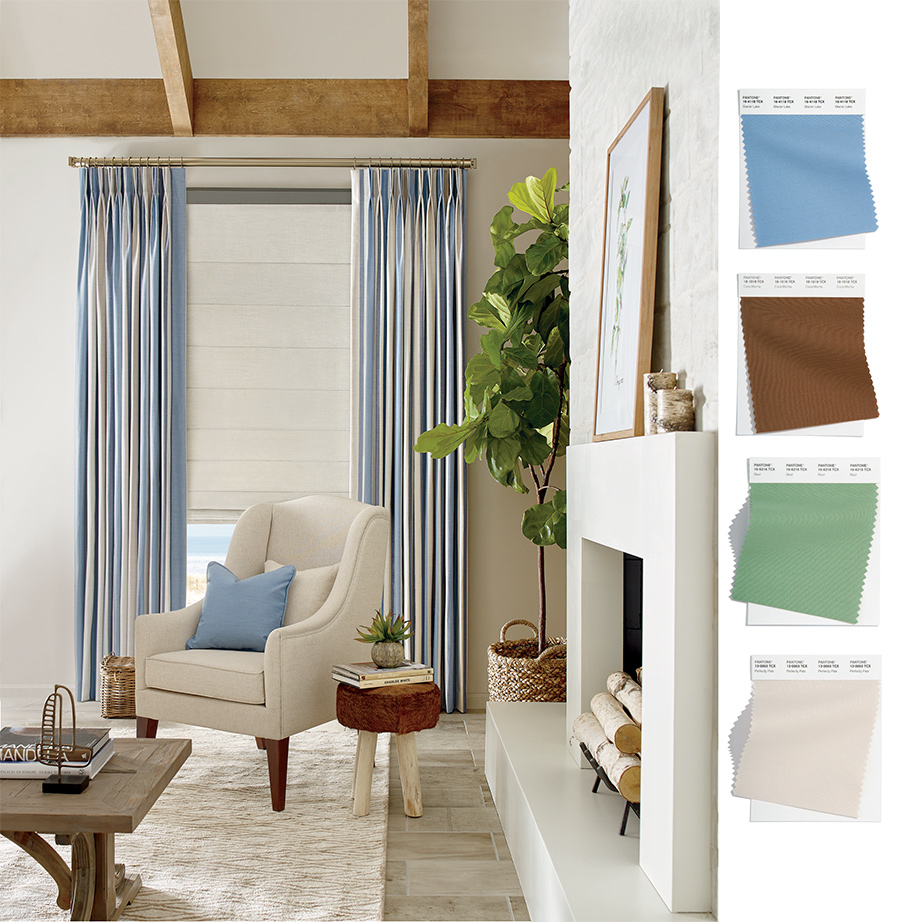 Rhythm + Blues
Blue is such a fan favorite of color enthusiasts, and it's not hard to see why. It can express so many things within its range of tones. It really is a mood-setting color and the upcoming color palette 2022 features not just one but four shades of blue from light and sweet to dark and dusky. This transitional dining room with its grasscloth wallpaper and navy walls is rich and elegant featuring undertones of green and brown throughout that we absolutely can't get enough of.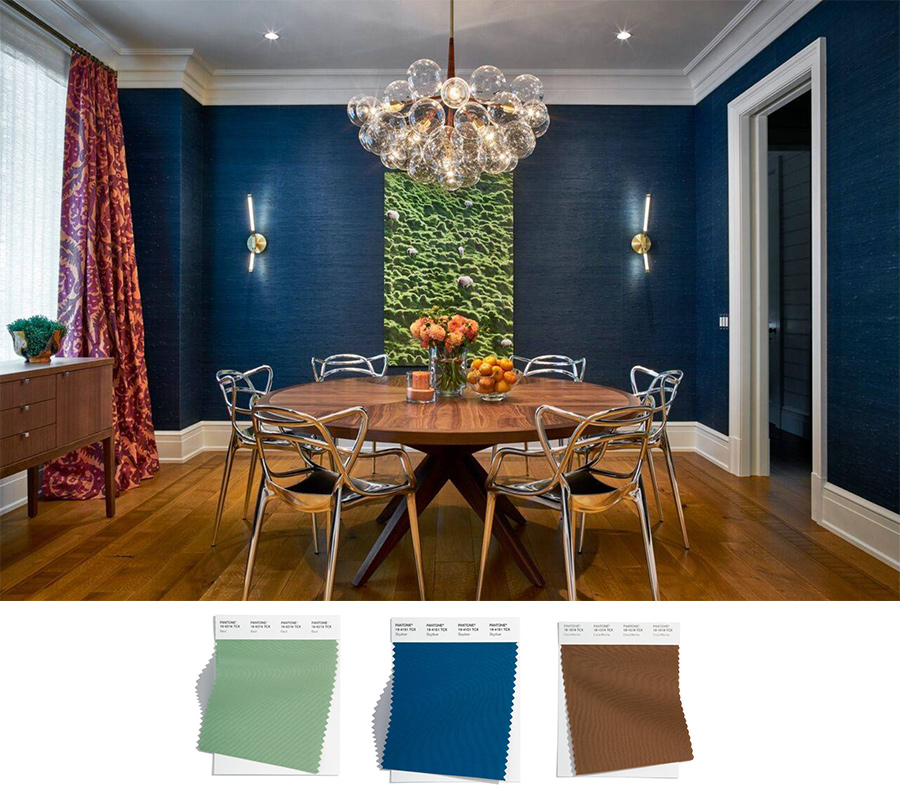 Get Loud.
Making headlines in your home with colors and design is more acceptable than ever. The ability to show your unique character in the spaces you inhabit is part of what makes it feel like YOU. Surround yourself with colors, patterns, and textures that make you happy and feel your best. With funky light fixtures, quirky rugs, and custom art pieces, there is no limit to how far you can go.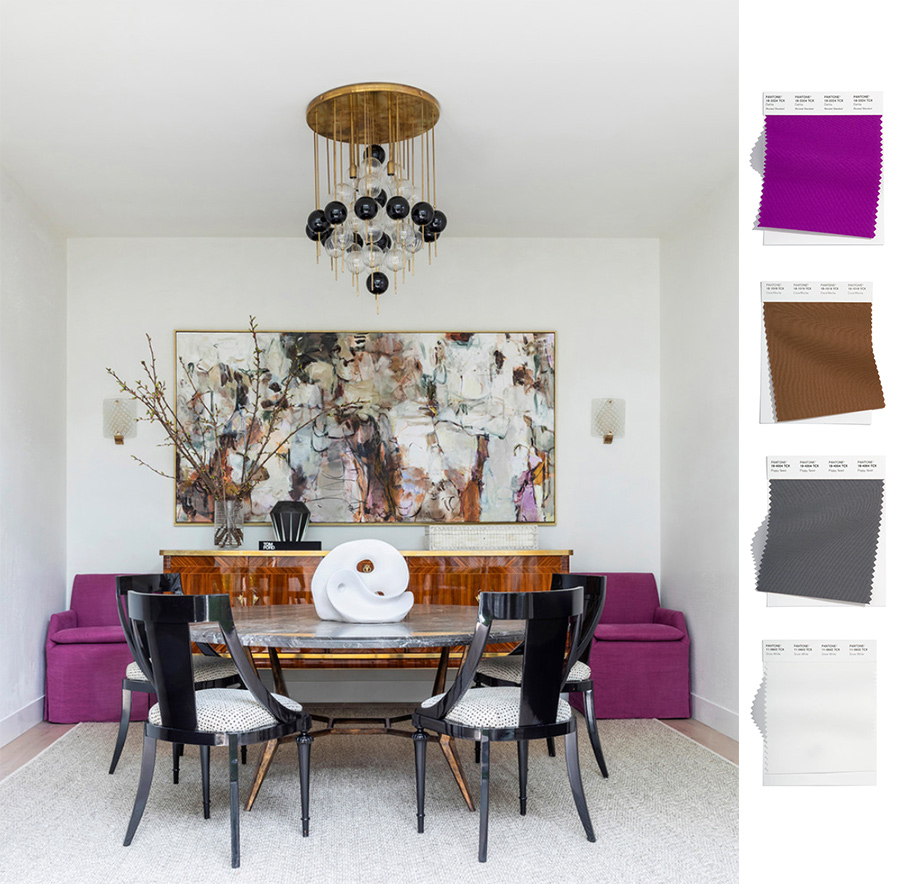 The Upcoming Color Palette 2022: Which Hue gets YOU Excited?
It's always a thrill to see the forecast for which colors will be the rising stars of the next year. With a host of colors ranging from demure to seriously daring it's going to be fun to watch how new designs emerge. Which color is getting you excited? At One Stop Decorating we embrace the beauty of designing your home for life. Ready to finish that project you've been putting off? Contact our team for a FREE consultation.