When it comes to style, it's important to be current. Window covering style is an important piece of the puzzle and can be instrumental in achieving a modern look. At One Stop Decorating, we are here to help our clients determine what's in–and what's out–and provide ways to update your space!  
It's Time to Go
It's hard to say "Goodbye," but when it comes to outdated window covering style, it's necessary. To create a home that is a reflection of you and a place to relax and unwind, it's necessary to refresh the look of your space to enjoy your surroundings. 
Inherited Window Treatments
Did the previous owners leave their window treatments behind? This may seem like a bonus at first, one less thing to think about when getting settled in your new home. Before you get too comfortable with hand-me-downs, determine if they are fulfilling all your needs. Are they solving lighting, privacy or heat issues? Are they in good condition? Are they the window covering style you prefer? If not, make the decision to update.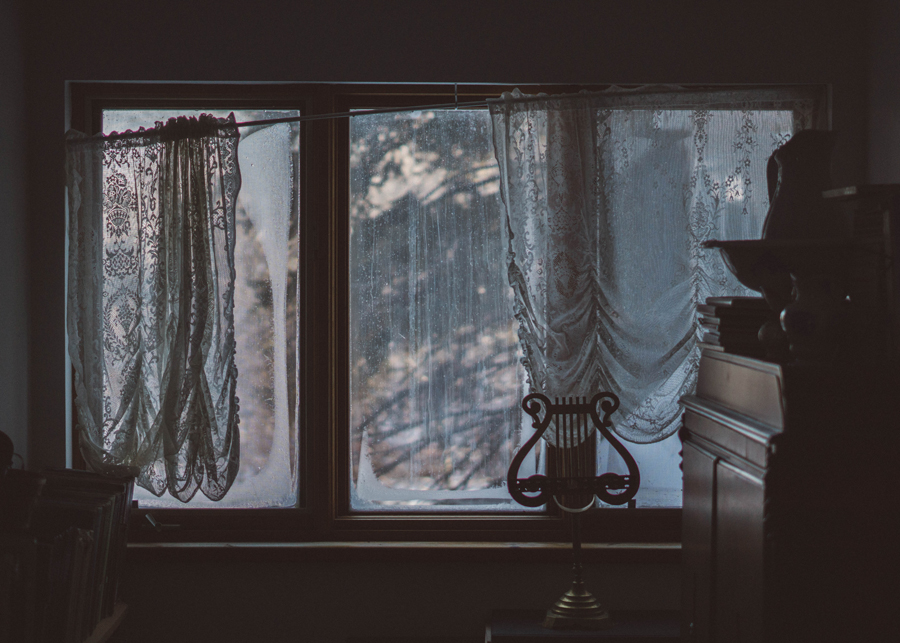 Broken Blinds
We can all agree, broken blinds are NOT a good look–from the inside or the outside of your home. Over time, window treatments are affected by the continual wear and tear of family, pets and high traffic areas. If your blinds are damaged, they are probably no longer functioning as they should, and they may even be hazardous to kids and pets. It's time to replace them. Be sure to choose a new window covering style that updates the look of your home decor. That's a bonus!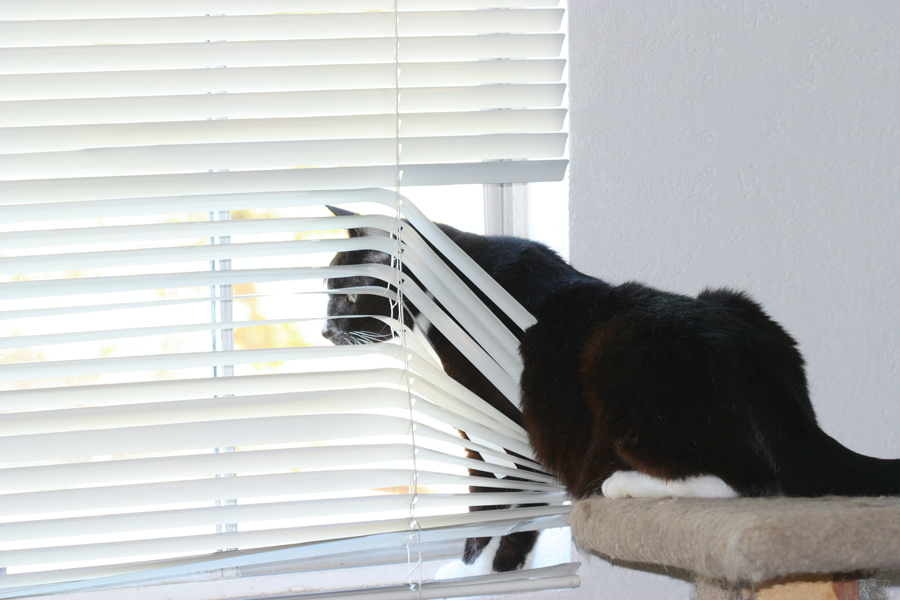 Matching Window Treatments
Yes, matching is important, but you don't have to take it to the extreme. There are plenty of ways to choose a window covering style that flows throughout the home without using the exact same treatments. Consider coordinating styles instead. By coordinating your windows, you can select functional benefits specific to each room. A treatment that works for the North side of your home, may not work on the South side. Focus more on achieving comfort through window treatments instead of everything being matchy-matchy!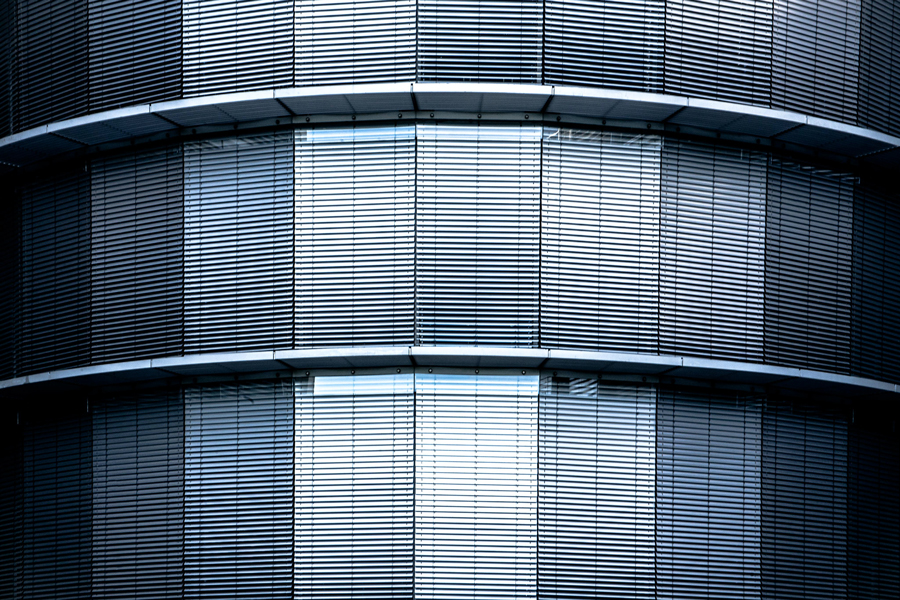 Going Bare
You've seen the look–beautiful windows, the sun streaming in, no window coverings to be seen. What's it like to live there? In the Kansas City area? Probably stressful. Intense sunshine and extreme temperatures would make your home a miserable place to be. What's really important to think about is why you want bare windows. Is it the view? The natural light? The architectural window design? We have window treatments that can offer solutions without you sacrificing what you love.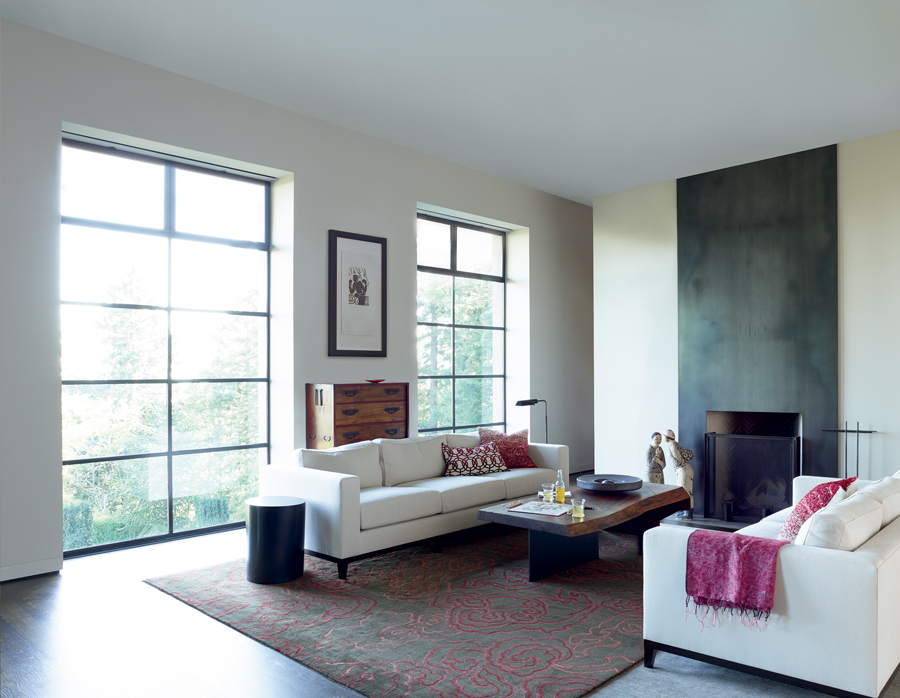 Now for What's In
It's all about form, function & fashion in window covering style today! Let's take a look.
Dual Shades
The concept of "dual shades" has hit the window treatment market by storm. Now available in a wide variety of window covering styles, they are a top choice for many homeowners. Our clients want control of their home's atmosphere from morning 'til night and dual shades provide the style and function needed to solve any comfort issues.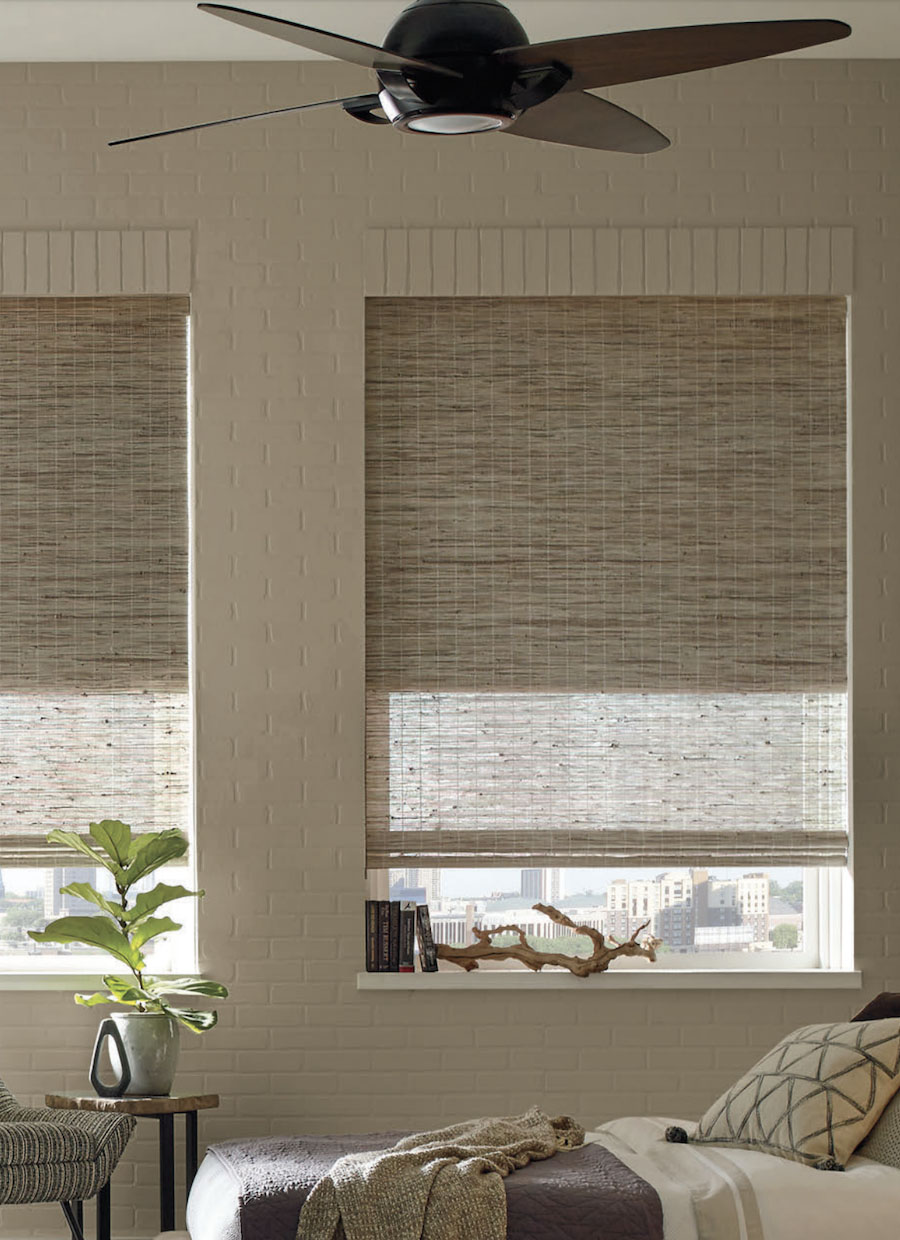 Smart Home Integration
As clients get more and more comfortable with automation, the convenience of remote control blinds & motorized shades is in high demand. The technology is state-of-the-art, seamlessly connecting with other smart home devices in your home. Simply use voice commands or set a schedule to open shades, and create the perfect atmosphere throughout the day. Enjoy sleeping in on weekends or escaping to a dark room for an afternoon nap—your life, your schedule.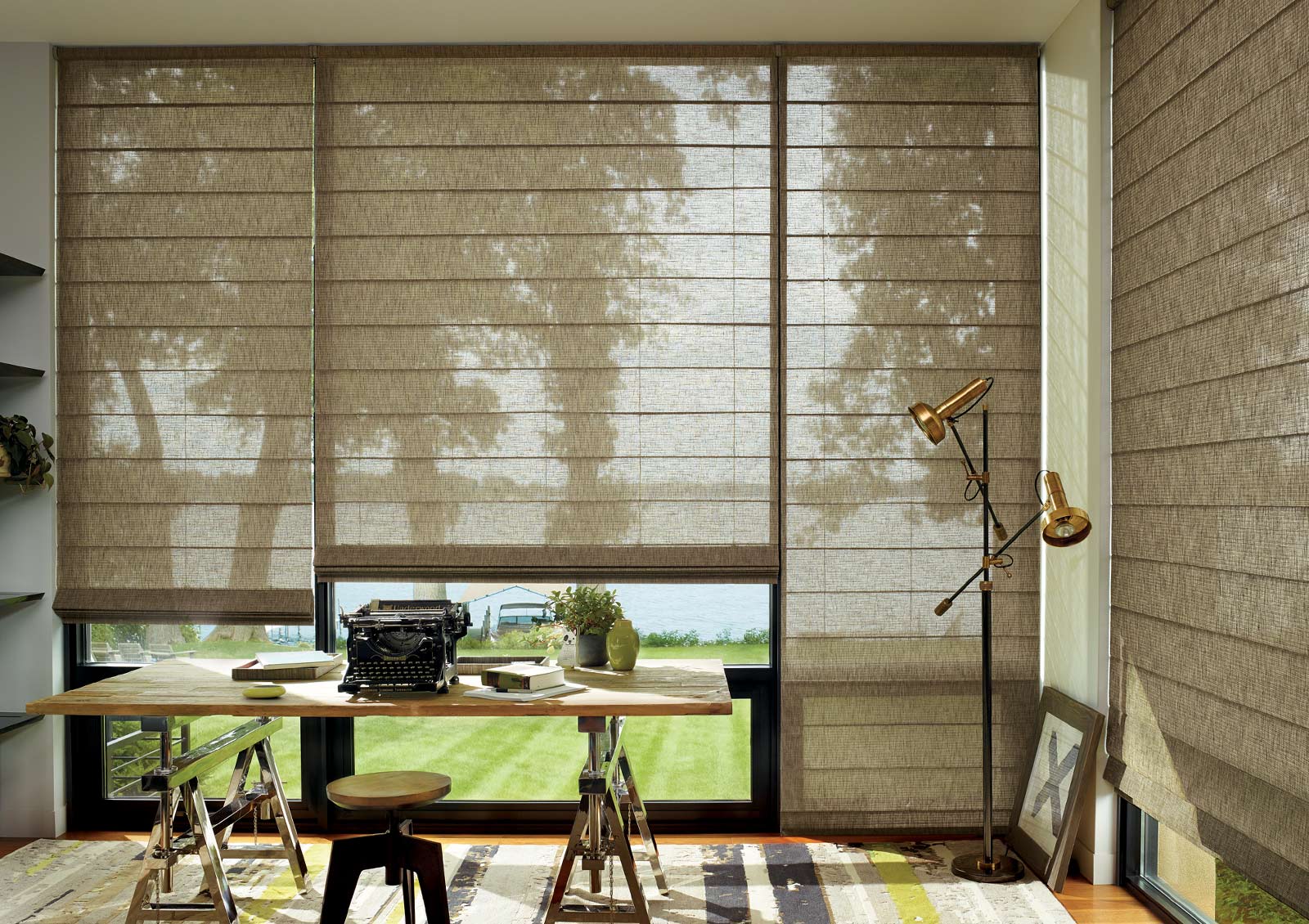 Black Window Trim
It's all the rage, but what does it have to do with window covering style? Installing new windows–or even just painting existing trim–is a big investment. You want to enjoy this sophisticated look. That means you need careful consideration for which window coverings will help you showcase this stunning look while offering the solutions you need.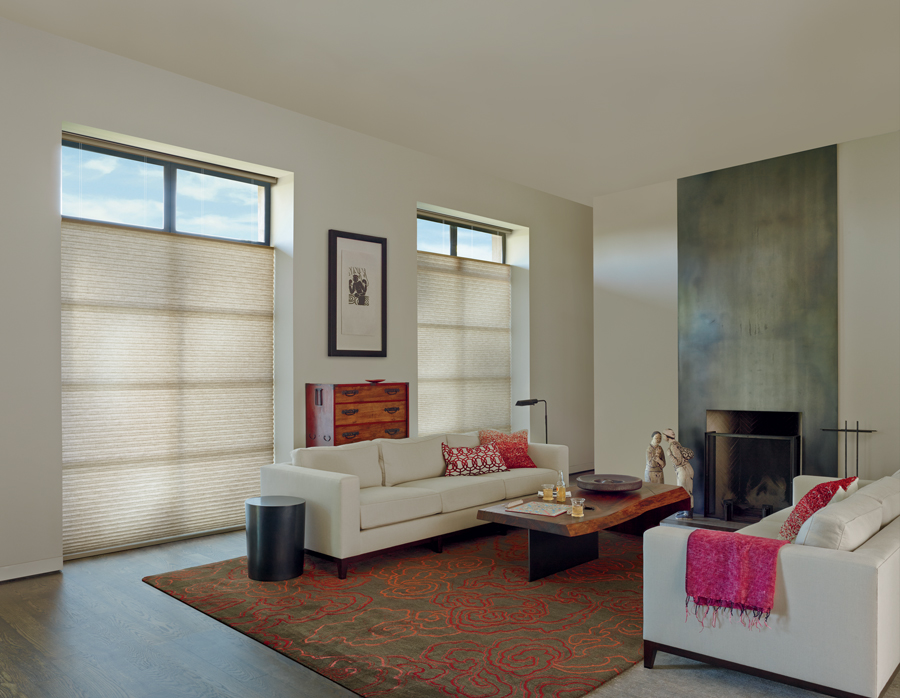 Coordinating Style
We've learned that "matchy matchy" is O-U-T! But don't be discouraged if that's your comfort zone. We all want to create a home that works for us and feels just right. By focusing more on coordination, we strike a perfect balance of function and symmetry. At One Stop Decorating we can show you how to coordinate treatments with fabrics that cross collections. You can have privacy on the front of your home and enjoy landscape views out back. Why not pair plantation shutters with fabric draperies? The layered look is the ideal blend of style & function. You can meet your needs throughout your home with a little imagination and guidance from our professionals.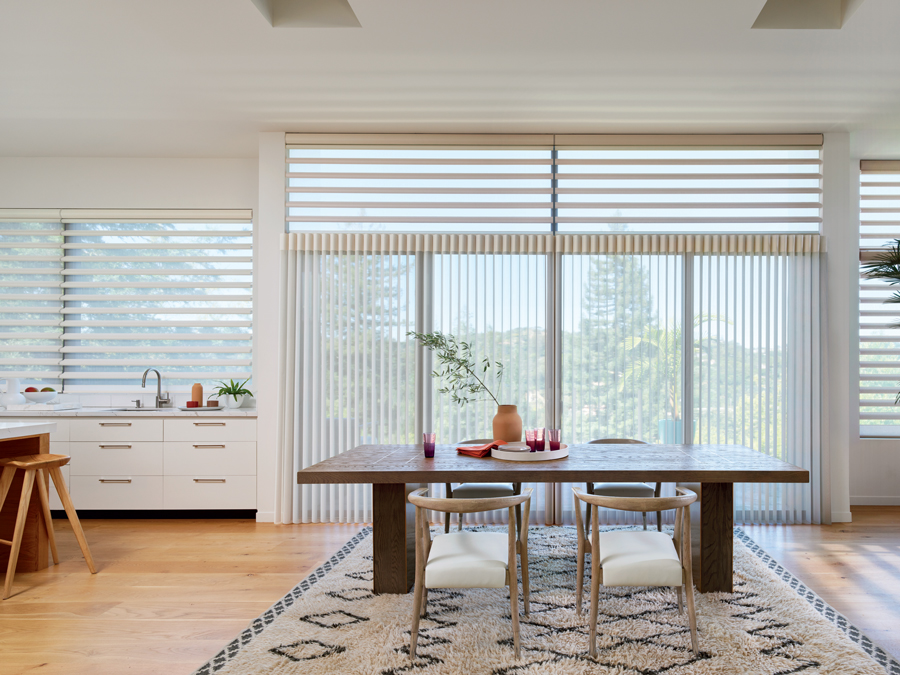 Does Your Window Covering Style Need Updating?
Our team at One Stop Decorating knows what's in and what's out. We have the most current window covering styles in the industry, featuring all the functionality your home requires. We truly understand the process of choosing window treatments and look at each home–taking everything into consideration. We will deliver the most beautiful results that will transform the look and feel of your home. Come visit one of our showrooms, and schedule a FREE consultation today. Let's get started updating your home today!