Have you opened the Apple HomeKit app on your iPhone? If not, you're seriously missing out on the ease of smart home control. Siri could be creating the perfect home atmosphere for you with simple voice requests. And you could be managing the comfort and security of your home from the palm of your hand. Intrigued? Let's learn more…
Apple HomeKit: What Is It?
The Apple HomeKit app allows you to access all of your digital devices in one spot. It's smart home integration made super easy. From doorbells, thermostats, and security systems to lighting, fans, and automated shades, control is always at your fingertips. And adding accessories happens with just a single scan (read on to see how we can help with this).
Benefits of Motorization
With automated, motorized shades, your life is happier and way less complicated. Why? Well, you can always count on entering light being comfortable. When your thermostat reaches a set temperature, your shades will close for efficiency. And, room darkening shades lower automatically before your kids' little feet climb into bed for naps and nighttime.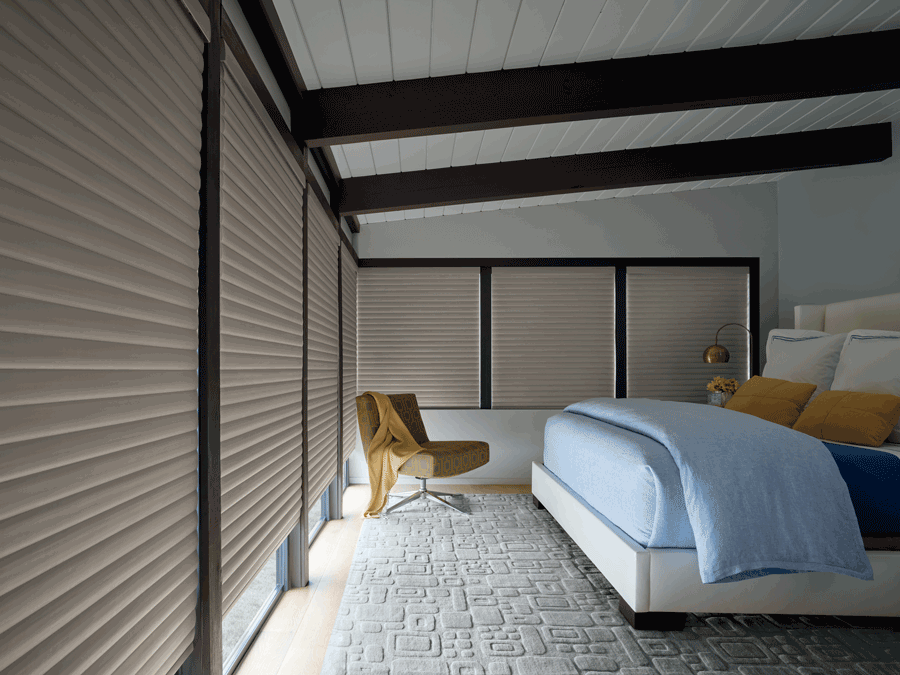 But that's not all! When the weekend rolls around, your shades stay closed a little longer than they do Monday through Friday so everyone can catch a few extra Zzzs. An automated home can even save your vacation! How? When you're sitting at the airport and it suddenly dawns on you that your AC is going to be running round-the-clock while you're gone (oops!), you can adjust it in a snap. Apple HomeKit provides peace of mind and a lower energy bill!
Easy Start Guide
Getting started with Apple HomeKit is a breeze. First, find and tap the app on your phone. You'll see the "Welcome Home" screen. Then, by touching the "Get Started" button, you're all set to begin building your personalized smart home!
So, what accessories are compatible? You can visit Apple Home on the web to view a comprehensive list. And, we can tell you that Hunter Douglas motorized shades are able to be integrated into your Apple HomeKit app. Here's how:
On this screen of icons, the "Windows" button will take you directly to information from Hunter Douglas on how to enable your shades. Even better, when your automated shades are installed in your home, our window covering specialists can walk you through the process of adding your Hunter Douglas motorized shades to your Apple HomeKit.
Smart Shades, Blinds & Shutters: Convenience You Deserve
Hunter Douglas PowerView Motorization brings ease, convenience, and happiness to your home and your life. And control can happen effortlessly with Apple HomeKit along with a huge range of other smart home integration systems.
Ready to get started with smart home technology? Our team here at One Stop Decorating would love to help and show you all that's possible. Get in touch with us for your FREE, in-home consultation.