When we asked our One Stop Decorating design experts which room poses the most challenges, we were quite surprised to hear that it's often the bathroom. Design and function can sometimes seem to conflict, and that causes lots of frustration and hassle. Are you struggling with bathroom design issues in your own home? We're here to help. Take a look at what our experts have to say about solutions.
When it comes to bathroom design, what's the #1 solution people are looking for?
Privacy. Plain and simple…except that it's not. Sure, solving privacy issues is easy. The hard part comes when you then consider everything else in the bathroom design.
Can you explain?
Well, it seems simple: to gain privacy, just cover the windows. But, covered windows can bring up a whole new set of problems…like making your small space feel even smaller or causing a lack of natural light. The key is balance. And that comes through the function and features of your window coverings.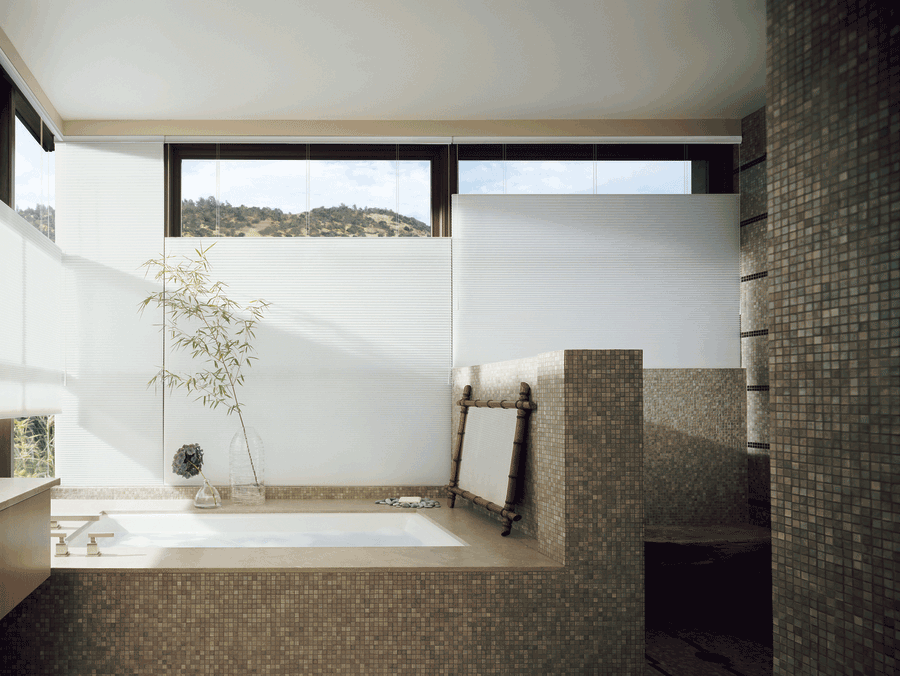 Top down shades are favorites for bathroom design because they welcome in natural light and sky views while maintaining your privacy.
So, are top down shades right for everyone?
No, not exactly. A lot of factors come into play–like the layout of the bathroom and the placement of the windows. If someone has a small window that's within reach, an easy up and down will often work well. Privacy is yours when you need it, and the rest of the time you can enjoy your light and view.
For windows over the tub, it's nice to have coverings that you don't have to adjust everyday. Top down shades give you that option, but so do our plantation shutters with split tilt. We love that Hunter Douglas gives you options. You can enjoy light, privacy, and the style that you prefer!
Can you speak to another challenge that people face?
Yes. Let's talk about space. Over and over again, we see problems arise with space, and how it's used, in bathroom design. There's a lot you can do with layout and styling to alleviate some of the frustrations with small bathrooms or with larger ones that just feel too big.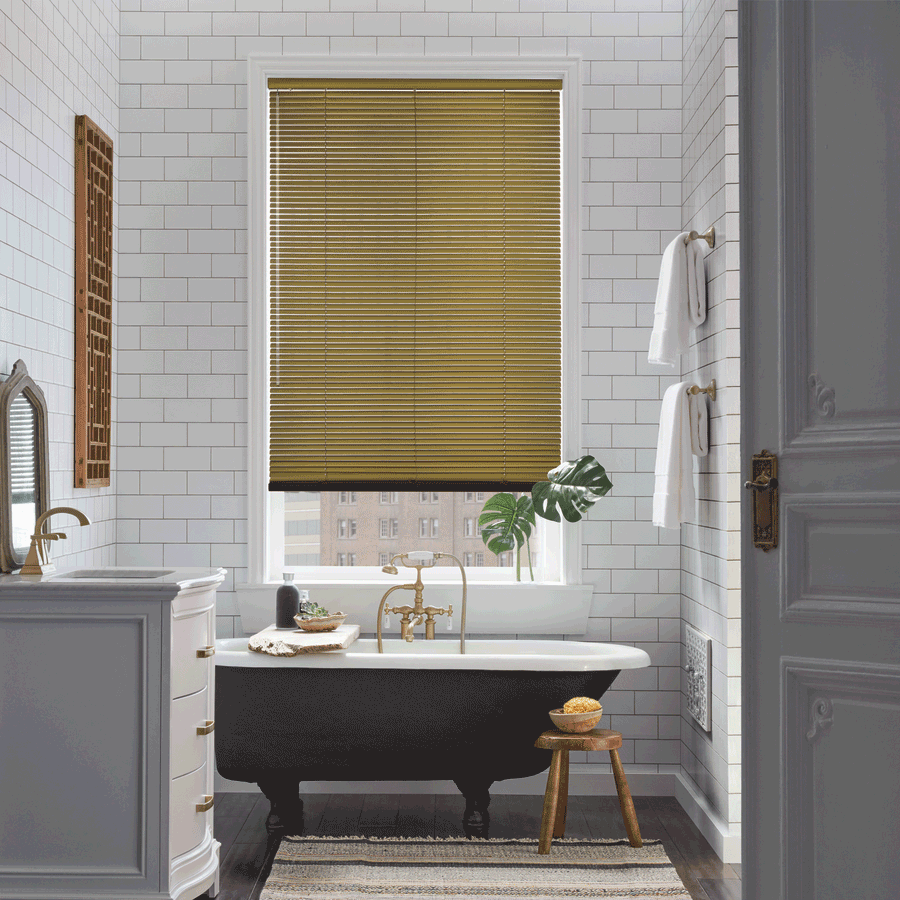 We love to show our clients how choosing custom fit blinds, shutters, or shades with the right features can make a world of difference. They increase the beauty and function of your bathroom immediately. They're out of the way, easy to adjust, completely safe, and absolutely beautiful…it doesn't get much better than that!
You mentioned operating features. Which ones do you recommend?
To start, we always recommend cordless and cord-safe features for homes with children. And we're proud to say that all of our blinds, shutters, and shades are available with these features.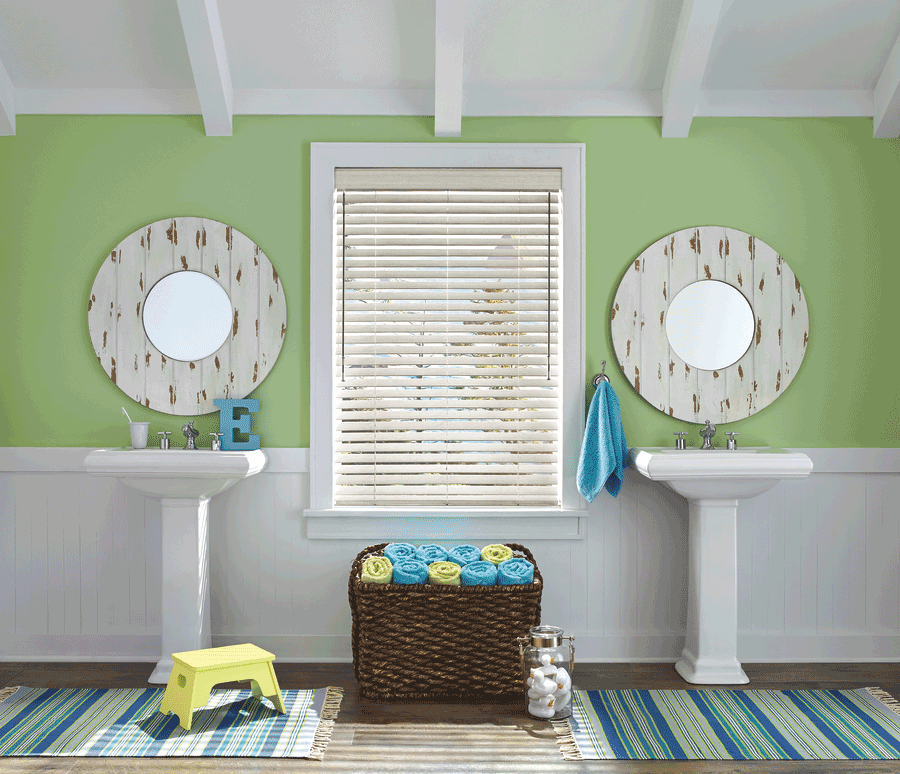 Our LiteRise cordless system works by pushing or pulling the bottom rail of your shades to move them exactly where you want. For blinds, our SimpleLift cordless system features a push button on the bottom rail to raise and lower your blinds and a wand for tilting the slats. No more dangerous, dangling cords! And, we're finding more and more that people are opting for motorization in their bathroom design.
Wait. Motorization…in the bathroom?
It might seem surprising at first, but if you stop and think about it, it really does make a lot of sense. Convenience is a top priority in the bathroom, and motorized window coverings definitely offer that! Pairing with the latest technology, motorization allows you to integrate with Alexa, Google Home, and other smart home devices. Voice control, automatic adjustments, favorite settings, and more are all yours!
Bathroom Design: Get the Solutions You Deserve
If you're dealing with tricky bathroom design challenges, the experts at One Stop Decorating are here for you! We will listen and work with you to help you find the solutions you deserve. Come visit one of our showrooms to talk to our team and see the latest operating features and design trends first-hand. Or, let us come right to your Kansas City area home for a free consultation. Get in touch with us today!