Elegant, formal, sophisticated…words often used to describe the look and feel of french doors. There is a mysterious romance to them, a je ne sais quoi effect when they appear in the threshold. That stylish sophistication escalates Kansas City homes to a whole new level of fashion intrigue with window treatments from Hunter Douglas.
Depending on the location of your french doors, you will have different opinions of style, endeavor and function. For the french door opening that leads to the outside, whether it is an upstairs balcony, or the doors leading to your backyard patio, ***your concerns will be light control, energy efficiency and complementary style to fit with the windows that share the same space. If you are increasing the privacy or style components of interior rooms, your concerns will be met with solutions for innovative design. In either case, doors are doors – they must be functional as well as fashion forward. Most of the new shades have NEW magnet door tie downs that immediately pull the shade and hold it in place. We have several favorites that would permit both a style statement and sought after functional features. Here are just a few – noting functional qualities and design options:
Duette Shades for French Doors:
These shades boast energy efficiency with privacy and light control at the forefront of window coverings.  The cordless option means ease of operation combined with child safety. With translucency options available in many colors and textures, the fine detailing of textures can be an added element of style. Enjoy the exquisite look of your french doors with the luxurious richness of Duettes.
Roller Shades for French Doors:
These shades function with light control and privacy in mind. Ease of operation is as effortless as one movement.. The low profile design features fabric which lies flat and straight, allowing for movement past those handles. With an endless array of color choices and patterns, enjoy room-darkening options and complementary design for adjacent windows.
Vignette Roman Shades for French Doors: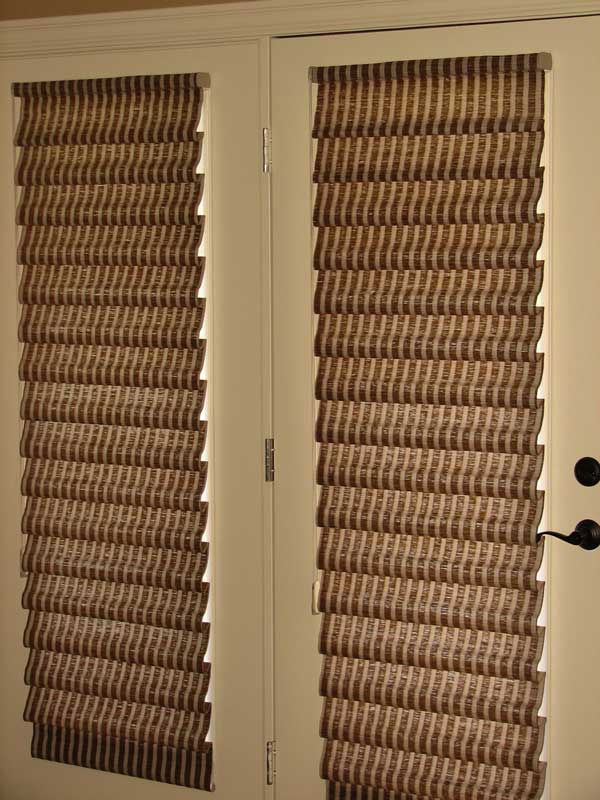 Flat features and movement make these a perfect option to add a designer look to your home. Soft levels of privacy, with view through options available, the designer look of these shades will bring levels of warmth and comfort. Adding to the interior design, the look of Vignette Roman Shades easily complements furniture and matches window treatments.
Shutters for French Doors:
Fitted and structured for high traffic doors, shutters offer elegance for your french doors, with the functional movement customized for your usage. Shutters cling to your door with magnetic properties, allowing for movement only when you choose. Handle cut-outs increase the functional usage, also adding that distinctive custom look to set your home apart.
From elegant to design to romantic charm, window coverings for french doors offer an endless world of possibility. The professionals at One Stop Decorating can help you discover all the beautiful options available for your Kansas City home. Contact us for a free, in-home consultation
.