Dining rooms are unique in every home. Some homes have an entire room dedicated for dining, while open floor plans combine the island and dining area. No matter what the layout is like in your home, there is one thing that most dining areas have: natural lighting. Dining room window treatments can transform the entire atmosphere of your space. Take a look…
Choosing the Right Dining Room Window Treatments
Enhancing the design of your dining room may be one of your top priorities when you start looking for dining room window treatments. Window coverings can add gorgeous style to your space, pulling the design together. But, there are a few other things to consider: What issues do you notice in your dining area? What solutions do you need? What type of function are you looking for?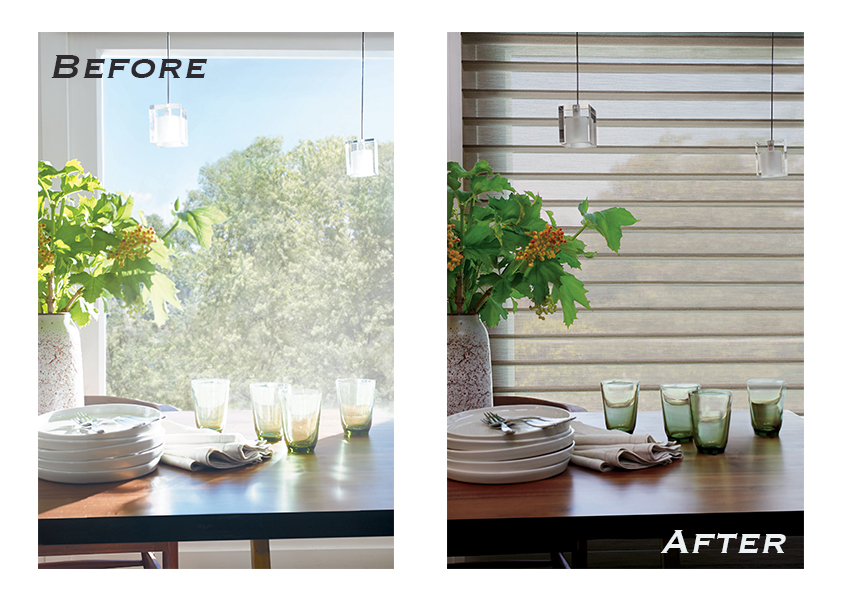 This dining area, without window treatments, would rarely be used. The light is way too bright, there's no privacy, and there's no temperature control. With window treatments added, the area is transformed with control and style. So, what type of treatments are best for your home? Here are a few options.
Layered Window Treatments
Layering your window treatments with drapery will bring a softness to your overall design. The flowing fabrics frame the window beautifully, while the window treatment itself gives you control over the atmosphere.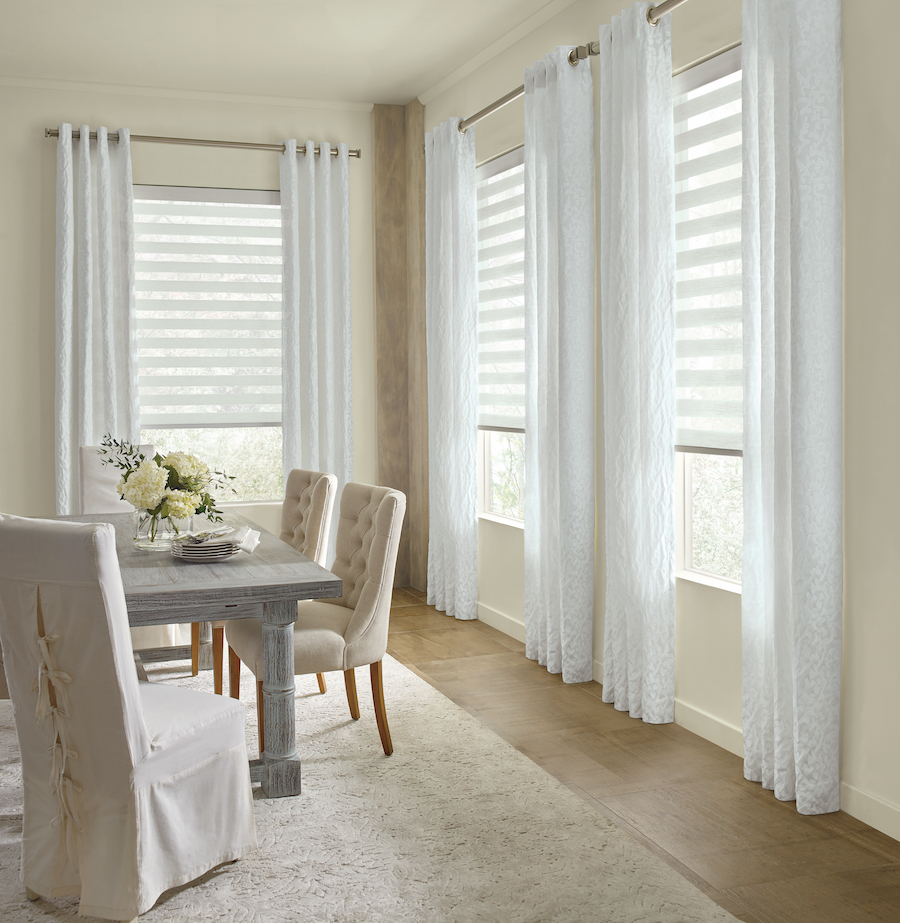 The space featured here has Designer Banded Shades paired with Design Studio drapery side panels. The shades offer control over the light that enters, as well as privacy. The panels add that designer style, giving you even more options for view and light. 
Complete Control
Uncontrolled light can ruin an entire room. There's glare, heat, lack of privacy–the list goes on. Dining areas are meant for gathering and enjoying a meal with loved ones. Can you imagine having to squint through dinner? Talk about uncomfortable!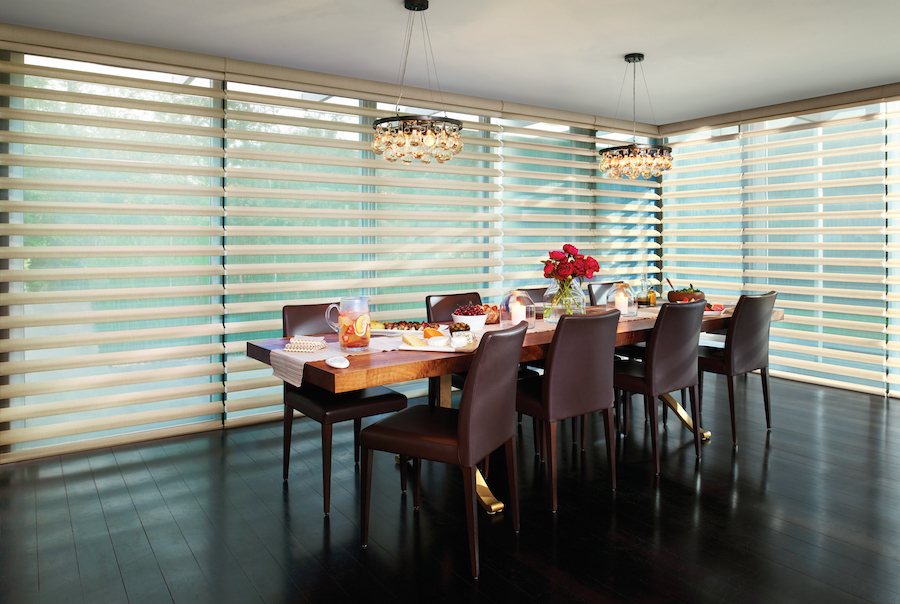 The right dining room window treatments will allow you to control your space with ease. The shades pictured here, called Pirouettes, are the perfect example. The vanes open to allow light to shine through, but there is a fabric in place to help diffuse. They also close for complete privacy and UV protection. 
Privacy & Light…Enjoy Both
Depending on the location of your home and dining area, you might need solutions for privacy throughout the day. There's nothing more distracting than somebody walking outside your window during dinnertime! Luckily, there are dining room window treatments that will allow you to have both privacy and light control. Top down bottom up shades are a great option. They block off the majority of the window while letting light to shine through the top.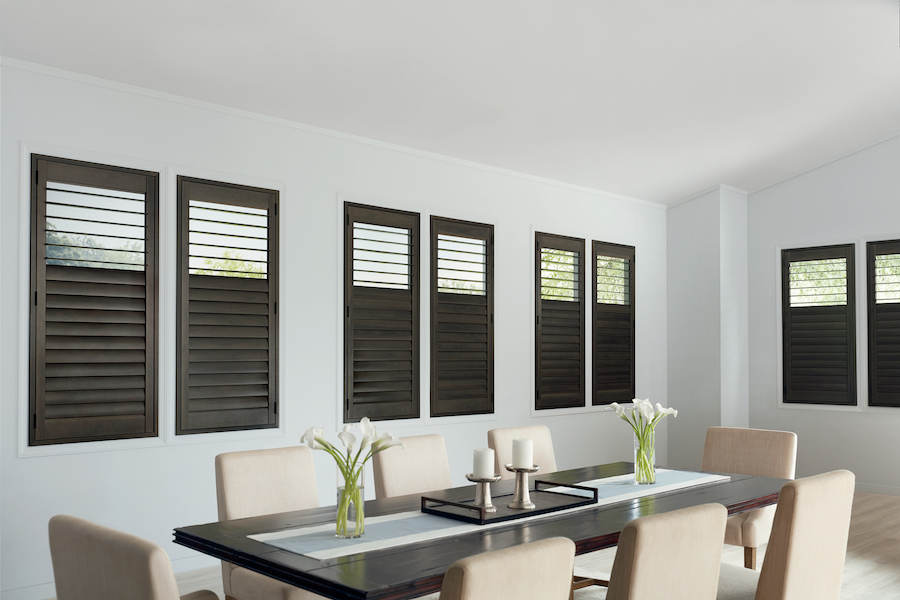 Another great option for dining areas is shutters. The "split tilt" works like a top down bottom up shade–the top opens, allowing light into the space, while the rest of the louvers remain shut for privacy. With different designs to choose from, you'll find something that fits your home and style. 
The Best Window Treatments for You
Your dining room window treatments should enhance the styling of your space while offering solutions that are unique to your home. Are you ready to experience the benefits of custom shades? We want to help you find the best fit! Contact our team at One Stop Decorating today for your FREE design consultation.