Even the most talented DIYer can benefit from inviting a window treatment specialist into their home. Beyond simply covering windows, a design consultant will address concerns and listen to your needs and desires to create the best atmosphere for your home. We'll focus on everything–from style preference & layout, to window direction and beyond. Let's begin to explore the right window treatment for every room with a little help from a friend.
Enter Here
Each entryway is an important space in your home–not to be overlooked. They set the tone. To make this specialized area more inviting, it's best to add fashionable & functional window treatments. Ask yourself these questions before you begin. Do you need privacy? Do you need to control the glare of sunshine? What about the placement of your entryway windows? Are they up high and a nuisance to adjust? The answers to these questions will direct you to the proper solutions. 
The Hardest Working Room
Our kitchens have taken on more responsibility lately. Once, simply a place to gather at meal time has become more of a transformative space. The heart of our home can go from craft room to classroom to gathering space throughout the course of the day. It's time we consider how to manage the ever-changing atmosphere to benefit our family's unique needs with window coverings. By recognizing how natural light moves throughout the day, we can add treatments that adjust with your lifestyle to create a comfortable, working atmosphere all day long.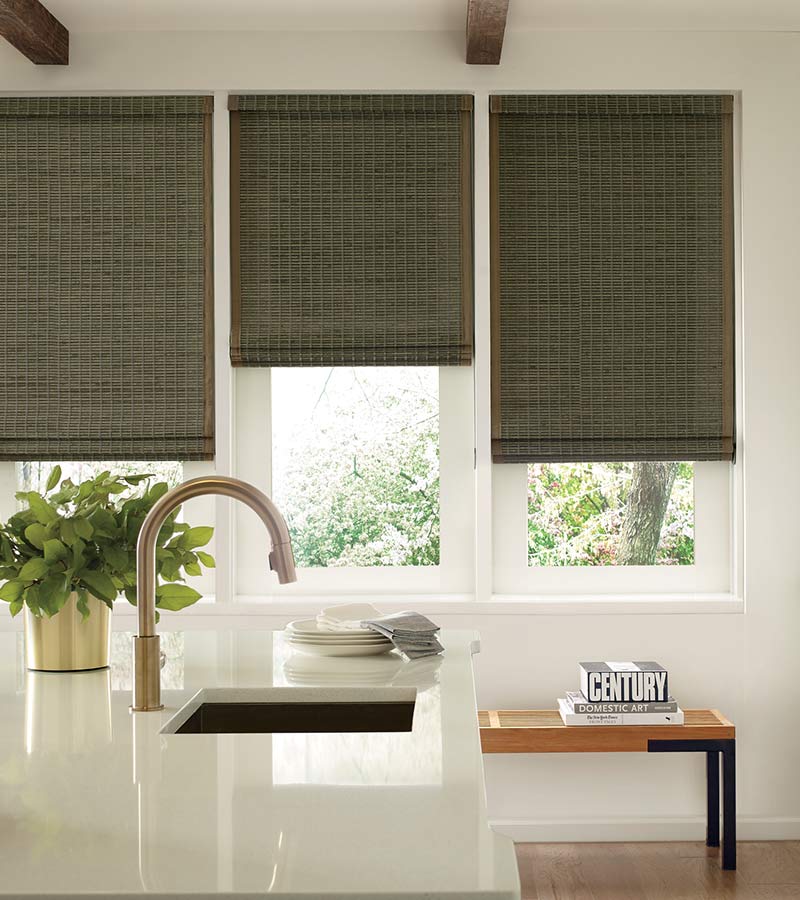 Today's Dining Rooms
Is your dining room a formal showplace only used on special occasions, or is it an extension of an open floor plan? Either way, it's important to create a home that reflects your family's routine. Add window treatments that can transform its function and make it more of a useful space. Dining rooms aren't just for Sundays anymore, equip them with the proper window treatments capable of varying lighting levels and diversify the function of your dining room.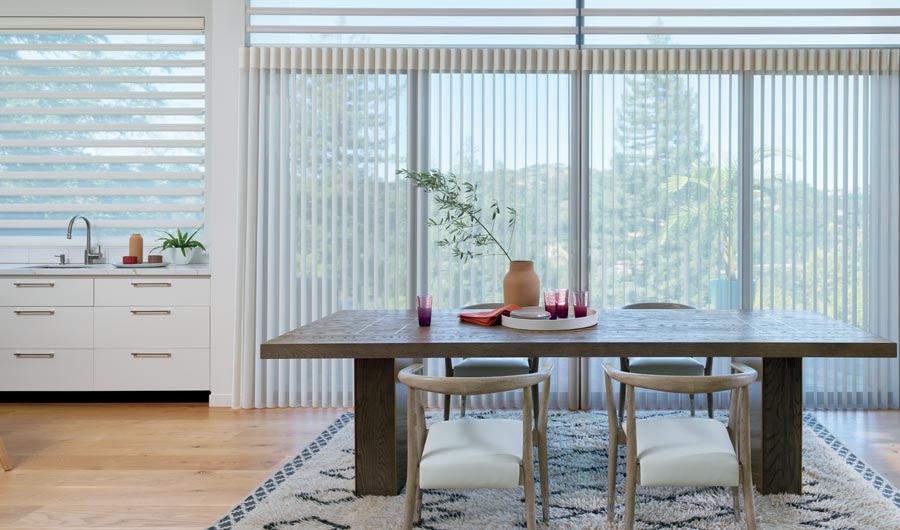 Living Rooms Are for Living
Another popular room in the home is our living room or family room–a large casual space where family gathers to spend time together. It's a difficult task to decide on window treatments for every room in your home, but when it comes to large living areas choose wisely. Be sure to consider the rooms daily (and nightly) use and the specific needs of your family members.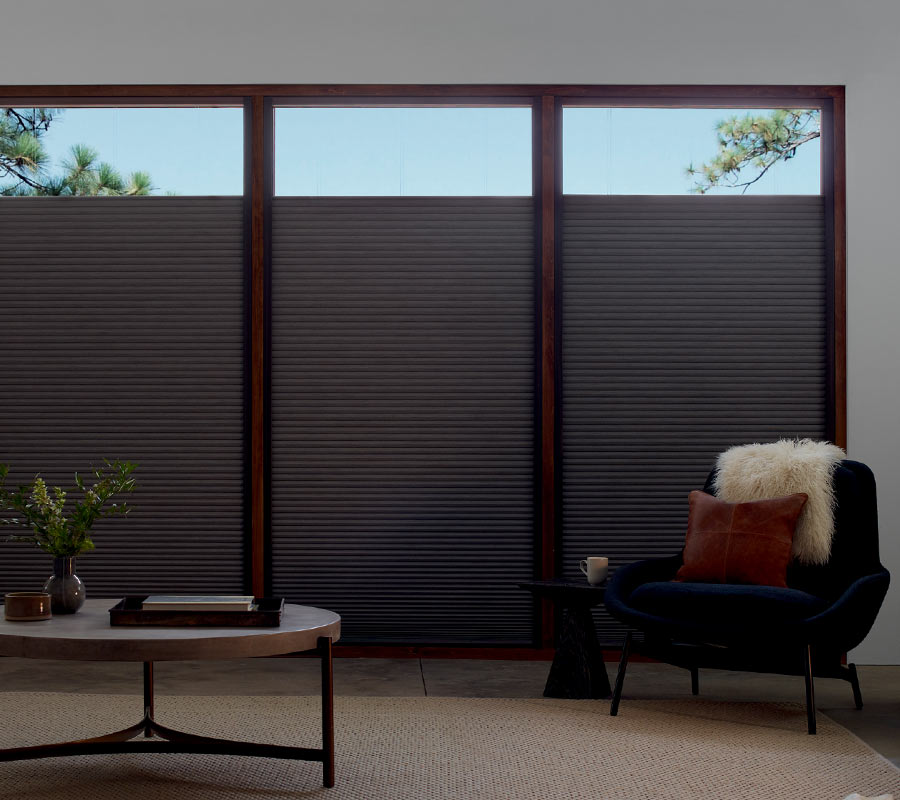 Consider this, our clients with young families love the idea of room darkening shades to convert their space for afternoon movies or nap-time. Others enjoy subtle coverage to reduce strong glare, resulting in enhanced personal comfort and privacy at night, we suggest sheer shades in this case.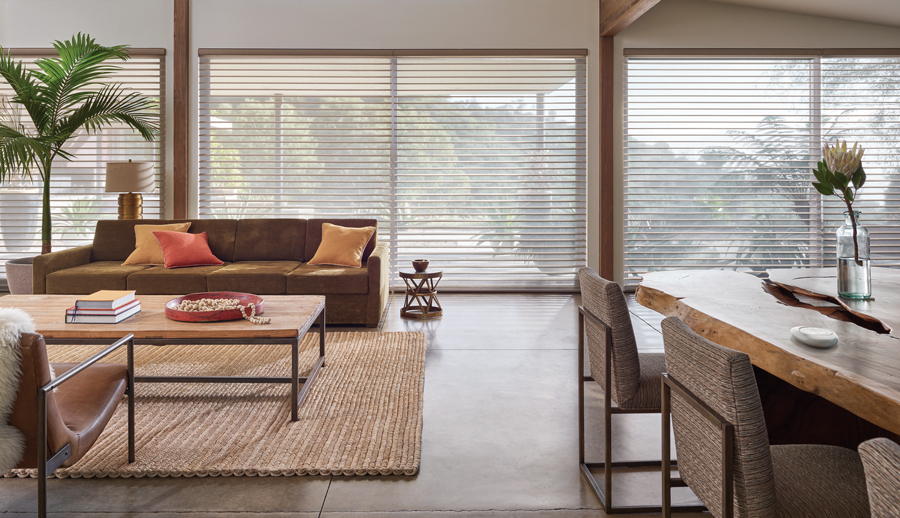 For the Bedrooms
It may come as no surprise that one of the most common rooms for window treatment services is the bedroom. This is a room that needs options. Luckily with so many featured styles, each bedroom in your home can be customized with the same functional needs of privacy and room darkening, but with completely different styles. Roman shades? Draperies? This is when a visit from our window specialist is called for.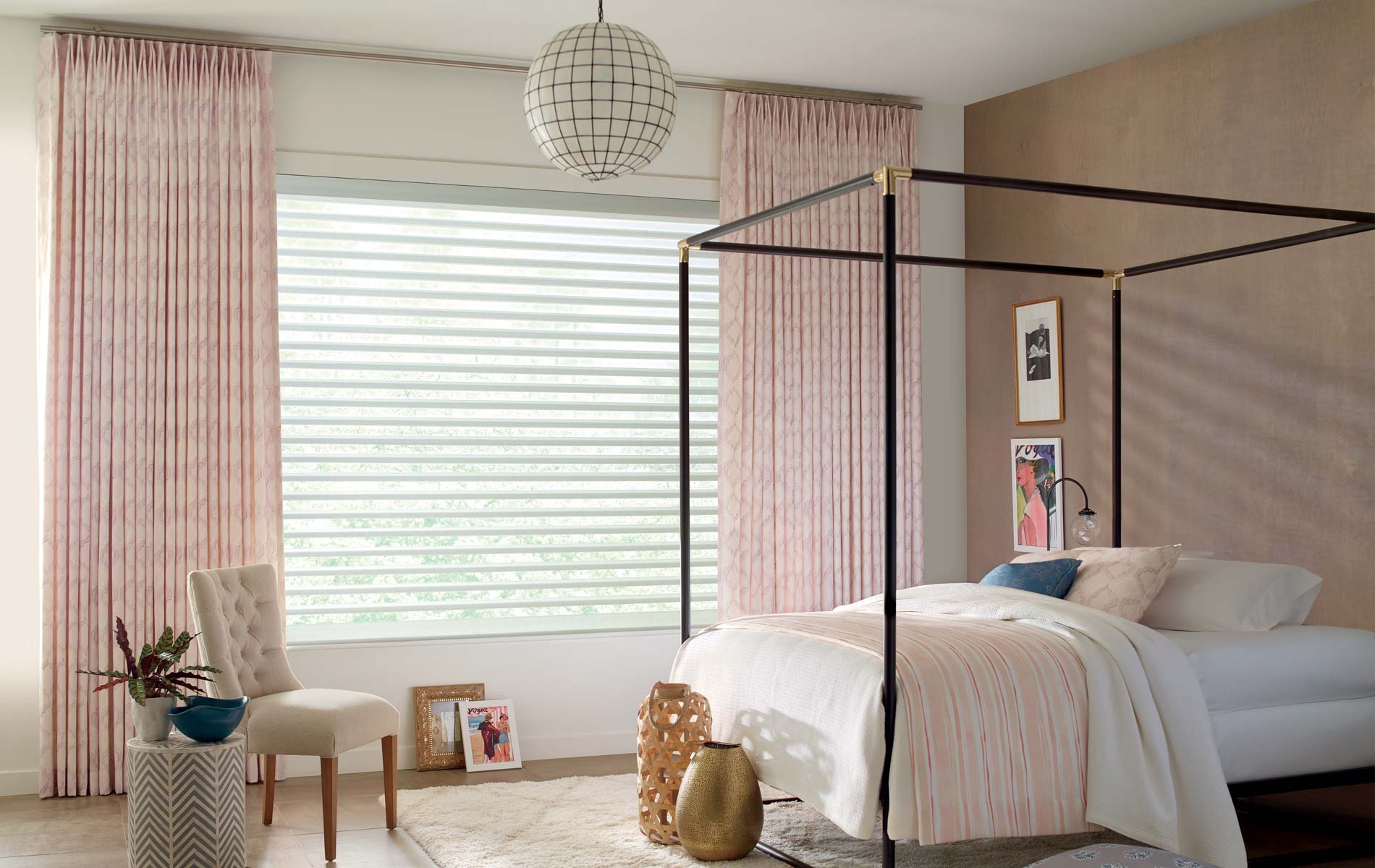 Bathroom Needs
Choosing window treatments for every room may seem like a daunting task. But, take it slow. For now, let's focus on the most unique space in the home, our bathrooms. Each bathroom is completely  different, but most clients agree, a simple operating system is important. Achieve the perfect lighting and privacy with the touch of a button in any bathroom. Adjusting is easy, guests and kids will have no problem getting the privacy they need, and there's no muss, no fuss.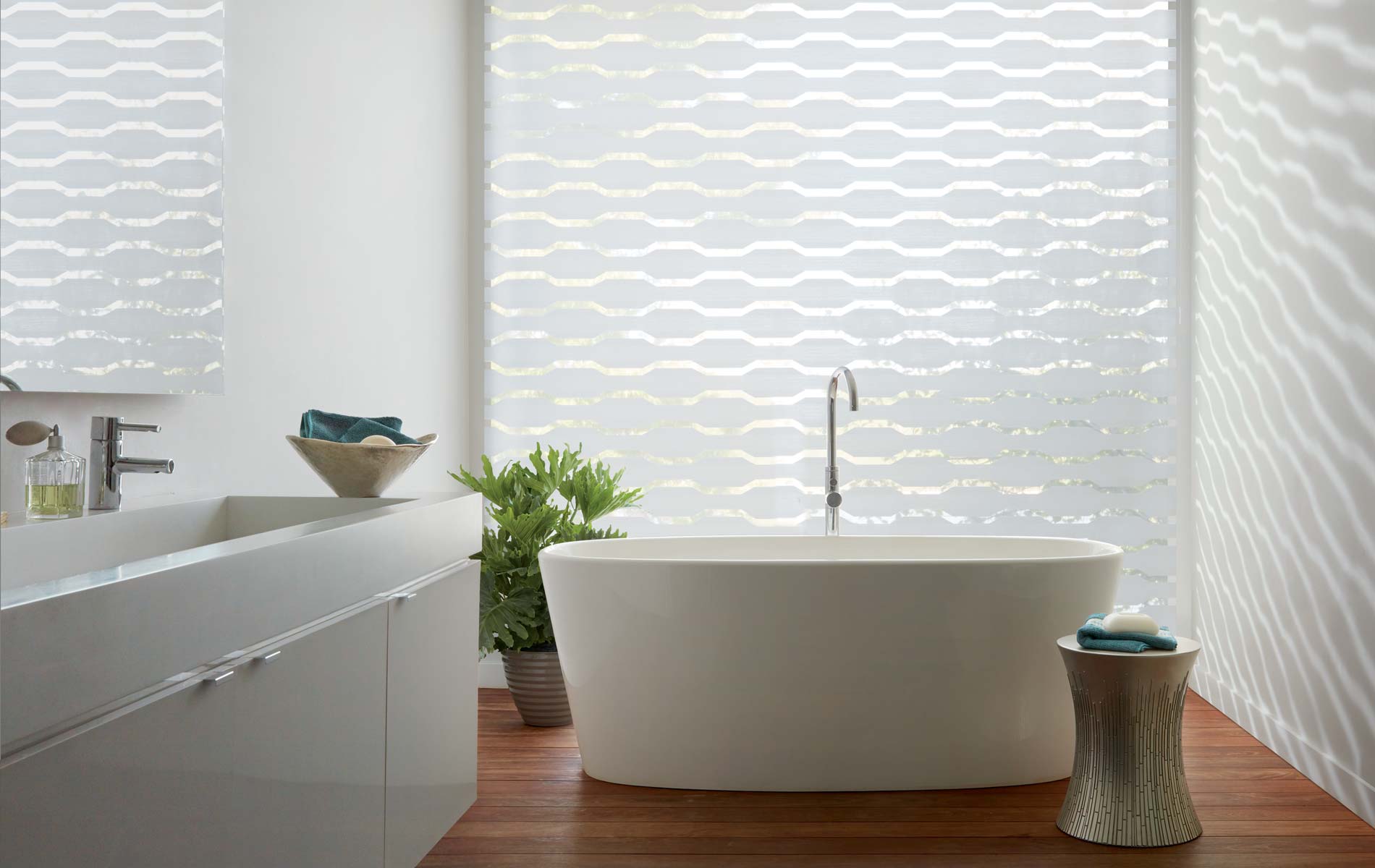 Designer Banded Shades
Window Treatments for Every Room!
Don't be intimidated by the scale of your project, whether it's one room or the whole home we are here to help. One Stop Decorating can guide you through the process of finding the right window treatments for every room. Together we can evaluate your home, prioritize your needs and design a beautiful, comfortable space for your family to enjoy. Never underestimate the impact of beautiful window treatments. Get in touch for your FREE consultation. We'd love to share our industry knowledge with you-let's talk fabrics, features and operating systems today!